Born on August 20, 1972, in San Diego, California, Cameron Michelle Diaz aka Cameron Diaz is an accomplished actress, author, producer, and model. She landed in a contract with Elite Model Management at the age of 16 and has experience of working with the companies like Levi's and Calvin Klein.
As the gorgeous and the beautiful lady earns a huge amount of from her career and her current net worth is $140 million to be exact. So, if it was a surprising figure than stick with us to know about her net worth, salary, earnings, house, and cars.
Cameron Diaz Net worth and earnings
Well, Cameron Diaz does seems to have a pretty great life, and while the money is not everything, it probably does not hurt to have a huge bank balance right? According to Daily Mail, Cameron has an estimated net worth of $140 million.
Must Read: Age 45, Hollywood Actress Cameron Diaz Married To Benji Madden Since 2015; Is The Couple Planning For a Baby?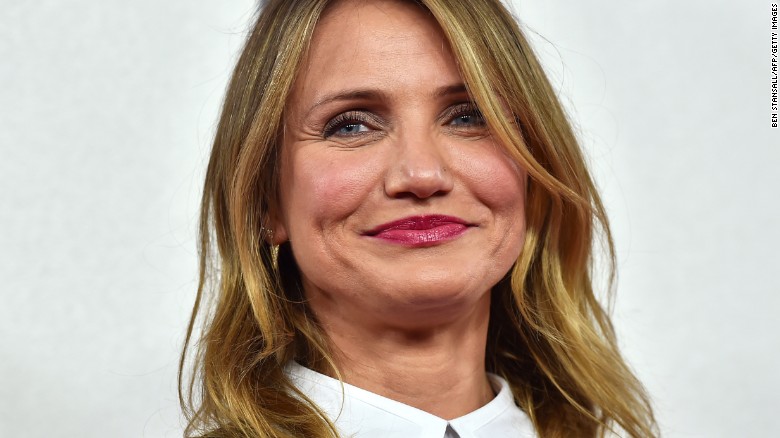 CAPTION: Cameron Diaz
SOURCE: CNN.com
Though the number has not been confirmed by Diaz, it certainly seems as though it could be accurate. Cameron has been in the spotlight for the over a decade. Started modeling at the age of 16 and got her first acting role in The Mask in 1994 which suddenly got her into the media attention. Well, the movie has grossed over $343.9 million worldwide later turning to be one of the Holywood's best Cults.
Must Read: Disclose American Singer Benji Madden's Net Worth, Awards, and Achievements

CAPTION: Cameron Diaz
SOURCE: Metro
She also has appeared in many mega-hits like My Best Friend's Weeding which grossed over $299 million worldwide. There is something About Mary, which has grossed $369 million and got her Golden Globe nomination too.
Must Read: Drew Barrymore Quits Raya After A Hilarious Fail
CAPTION: Cameron Diaz
SOURCE: Metro
Further, the famous action comedy Charlie's Angles grossed over $264 million worldwide; The Shrek Franchise, with the Shrek 2 grossing $919 million, and Gangs of New York which made $193 million are a few of her hist that topped the golden marks.
Must Read: After three Failed Marriages, Who is Drew Barrymore currently Dating?
CAPTION: Cameron Diaz
SOURCE: Harper's Bazaar
Most of the fortune of Cameron comes from her movie. It was estimated that altogether of her movies has earned $3 billion. In 1990, Cameron has made $20 million from her role in the movie Charlie's Angles which and she became the third ever actress to charge that much for a movie. Diaz was paid $10 million for her voice acting in Shrek alone.
Must Read: Drew Barrymore talks about her divorce from Will Kopelman.
Forbes Declared Cameron Diaz as the second richest actress
There is also some fact that Diaz has done more than just star in the blockbuster movies. She released The Body Book: The science of Strength, The Law of Hunger, and Other Ways to Love Your Amazing body in 2013. The Longevity Book: The Biology of Strength, The Science of Aging, and The Privilege of Time and all her books got huge acceptance and many of her publications turned out to be the best sellers too.
Must Read: Lucy Liu Mother at 46, Who Is her Husband? Has Long List of Past Affairs and Boyfriends
Cameron Diaz Cars collection
As for the beautiful actress Cameron's cars, she loves driving branded cars and also owns a few of them which includes a Toyota Prius which price is $34,100, Maserati Quattroporte which market value price is $148,300, Tesla Model S which price is $110,700. Let's take a look at all her cars on a video shared below:
YouTube: Cameron Diaz Cars collection
Meanwhile, she also owns a BMW priced $103,225 and a Bugatti Veyron which price is around $2.6 million.
Must Read: Actress Kristen Wiig Played The Best Game Of 'Heads Up!' On 'Ellen' along with Melissa McCarthy
Cameron Diaz House
As for the house of Cameron, after two years of marriage with the singer Benji Madden they finally bought a house for $2.178 million in L.A's Studio City which was built in 1964.
Must Read: Actress And Mother of Newly Born Child, Lucy Liu's Engagement Rumor, Getting Married To Boyfriend

CAPTION: Cameron and Benji Madden House
SOURCE: House and Home
The house was spread in 2,483 square foot which features includes a spacious motor court and canyon views, an indoor-outdoor aesthetic which is complemented with the sleek.
Ten Facts about Cameron Diaz
1. Cameron Diaz was born in 1972 in California, United States, San Diego.
2. As a child, Cameron friends nickname her 'Skeletor', because she was skinny.
3. Cameron was raised in Long Beach and attended Long Beach Polytechnic High.
4. She left home at the age of 16 for 5 years.
5. When she was 17 years old, she appeared on the cover of Seventeen magazine.
6. Cameron lived with the video producer Carlos De La Torre From 1990 to 1995.
7. Her role in The Mas elevated her to the big stage.
8. Cameron was considered for the role of Dorothy Boyd in the Jerry Maguire.
9. She dated actor Matt Dillon, baseball star Alex Rodriguez, and actor Jared Leto.
10. People Magazine named her as one of the 50 most Beautiful Women"