Millie Bobby Brown's Popularity on Social Media and Her Career Achievement
Millie Bobby Brown's Popularity on Social Media and Her Career Achievement
If you landed on this article today, I bet you're already a fan of today's young star Millie Bobby Brown. If you've watched the Netflix original series 'Stranger Things', there's no chance that you don't love Millie, aka Eleven. In such a short time, she has been able to gather millions of fans with her amazing acting skills.
For a fourteen-year-old, Millie has received a huge success and her current net worth is somewhere around seven million dollars. It's not been so long that she has been dating Jacob Sartorius, her current boyfriend, but today in this article, we will not be talking about her dating life and affairs but about how she gained such popularity in a short time as well as the career achievements she's collected till date.
Millie's popularity on social media
Millie Bobby Brown has already taken over Dwayne Johnson's no.1 position on the top most popular actor based on the social media like Facebook, Instagram, Google Plus and YouTube. A regular British schoolgirl who struggled hard at the start of her career has now become one of the most searched celebrities of all time.
Also, read: Five Interesting Facts about Dwayne Johnson, wife, The Rock, football, wrestler
CAPTION: Millie Bobby Brown's twitter display picture
SOURCE: Twitter
Also, read: Millie Bobby Brown's Popularity on Social Media and Her Career Achievement
Well, most of the credit for her popularity goes to the Netflix series, 'Stranger Things', because without it she might not have gained as much success as she has received now. The first season of the series reached over 22 million viewers alone in the United States.
Millie's career achievements
Millie Bobby Brown made her debut in acting in the ABC fantasy series 'Once upon a time in Wonderland' in 2013. Then after a year, she played in another series Intruders. She has appeared in guest roles in many other series like NCIS, Modern Family, Grey's Anatomy, etc. Then in 2016, she landed on a role of Eleven in Stranger Things after which she became gained most of her popularity.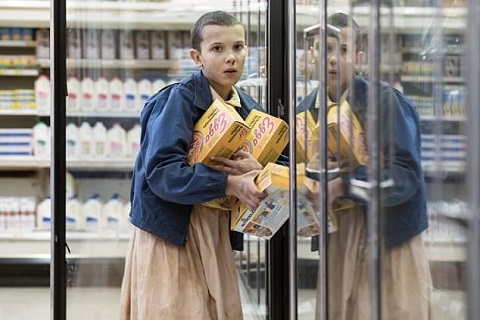 CAPTION: Millie Bobby Brown as Eleven
SOURCE: Daily Mail
Another thing you might not know about her is that she is a very good singer. In November 2016, she featured Birdy's song, Sigma. She has appeared in many commercial advertisements as well. She has also signed to the agency named IMG Models, which proves that she also does modeling. Similarly, she made her film debut in the movie, 'Godzilla: King of the Monsters'.
CAPTION: Millie Bobby Brown
SOURCE: Insider
The awards for which she has been nominated are 2016 as well as 2017 'Screen Actors Guild Awards' for outstanding performance by a female actor and for outstanding performance by an ensemble in a drama series. Not only this but she has also been nominated for 2017 Emmy award for outstanding supporting actress in a drama series. However, the award she won is the 2016 Screen Actors Guild Awards for outstanding performance by an ensemble in a Drama Series.