As the stranger things star Millie Bobby Brown with her rising popularity has stepped in teenager phase, her personal standings and love life are now a subject of interest for everyone.
With the release of the second season of Stranger things, her character "eleven" in the show is portrayed in a different manner. The way she justifies her character, she is undoubtedly one of the talented child artist American television industry has. Her On and off-screen compatibility with her co-stars has been the talk of the town recently.
The teens growing Love interest: The lost Will or Mike who found her
The developing love interest of her character with another character Mike Wheeler which is played by child actor Finn Wolfhard was shown from the first season which was cute and somewhat loved by the audience. But her current revelation of her having sleepovers with another co-star Noah Schnapp who plays Will Byres in the popular show has stirred many controversies regarding her relationship with both of her co-stars.
Also read: What is Millie Bobby Brown net worth? Know about her earnings and career
The actress shared her first kiss with her co-actor Finn in the series which she explains as intuitive. She shared a kiss with Finn one more time in the second season as they have developed closeness in personal life too. There is a strong probability of the infatuated kiss of becoming a life-long romance in the off-screen life of the actors as they grow and mature. There are way too many swirling rumors about the love life of this thirteen years old as she is yet to be more mature regarding love and relationships.
She seems to be enjoying the on-screen romance with Finn whereas she is developing stronger bond off-screen with Noah. She will be snapping anyone in a romantic life with a beautiful face and a charming personality, whoever she ends up to date eventually.
From Young Alice to Fierce Eleven: The rising Television star
The teen celebrity has been in the limelight since the premiere of Stranger Things season one. She debuted from a television series "Once upon a time in wonderland" as young Alice but her big break was Stranger things undoubtedly as she plays a fierce character. She was cast in many other T.V. Series like Intruders, Grey's Anatomy, Modern family before she played the role of eleven in strange things. Currently, she is busy in the post-production movie Godzilla-King of Monsters which is scheduled to release in 2019.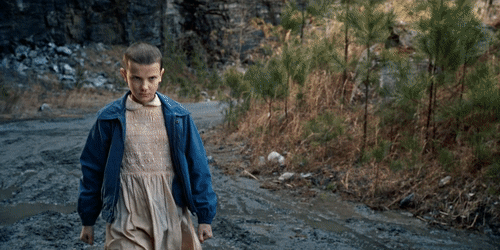 Needless to say, she possesses a bright future in the television industry, she turns out to be one of the most searched celebrity these days. Brown has already won the 2017 MTV Movie and TV award for her role as eleven in the hit Netflix series.
The off-screen Millie Bobby Brown
The 13-year-old actress was originally born in Spain as third out of four children to British Kelly Brown and Robert Brown. Her family almost turned broke while supporting her dream to achieve a successful career in acting. As she started gaining popularity slowly her personal life and family balanced off quite well. She loves petting dogs and hanging out with her co-stars in her spare time
Millie with her parents, Source: Daily Mail
Brown perfected American accent inspite of being born in a British family by watching Disney channel which shows her hard work and dedication towards learning. She is talented and beautiful who would definitely end up rising as a star. Her fans are eventually increasing as her acting skills are being appreciated thoroughly.