The 55-year-old football legend, Jerry Rice recently proposed his long-time girlfriend, Latisha Pelayo. Jerry proposed Latisha in such a way that every girl would dream of. So are they engaged or married?
You might be now eager to know about Jerry Rice's proposal to girlfriend Latisha Pelayo. To know the details about how Jerry Rice proposed to his girlfriend and also about their relationship, continue reading:
Jerry Rice proposed girlfriend Latisha Pelayo
Jerry Rice has been dating Latisha Pelayo for a long time now. Jerry proposed to Latisha in the best way possible at the Debartolo Family Foundation All-Star Charity Gala in Tampa, Miami, last Saturday. The proposal went on like this,
I have four words that I want to say to her. That I want to say to this woman that has supported me for so many years. Latisha … will you marry me?
Also read: Jimmy Garoppolo New Highest Paid NFL Player
CAPTION: Jerry Rice and Latisha Pelayo fulfilling their bucket l
SOURCE: Instagram
Also read: How much is NFL star Nick Fairley's Net Worth? Disclose his Salary, House, Cars Collection, and Career
Latisha replied with a simple but emotional scene and the crowd started to scream applause. Jerry then kneels down and presents his girlfriend the only ring. It all then ended with a sweet kiss and by pronouncing each other engaged.
How is Jerry Rice and Latisha Pelayo's relationship?
Now that we've already mentioned that Jerry and Latisha have been dating for a long time let's get to know in detail what their relationship is like. Well, Jerry and Latisha started dating back in the year 2008, exactly a year after he ended his previous marriage.
Yes, that's right, Jerry was previously married to Jacqueline Bernice Mitchell. They have three children together, and they officially got divorced in 2009.
Also read: ESPN reporter Dianna Russini gets an apology from NFL Executive's wife for rude comments on Twitter
CAPTION: Jerry Rice and Latisha Pelayo's engagement night
SOURCE: Instagram
Also read: Is Chicago Bears player Jay Cutler Retiring from NFL? Know his Career and Net Worth
Well, it looks like Rice is ready to get married for the second time now. Jerry's profile is all showered with pictures with Latisha as they have been together for more than a decade.
In one of the interviews, Jerry revealed that he met Bernice for the first time in a local gym and have been inseparable ever since. In the same night that Jerry proposed to Bernice, he posted a picture on Instagram saying Pursue what catches your heart, not what catches your eye.
Also read: Michael Oher Claims "The Blind Side" To Ruin His NFL Career, Movie Brings His Family To Spotlight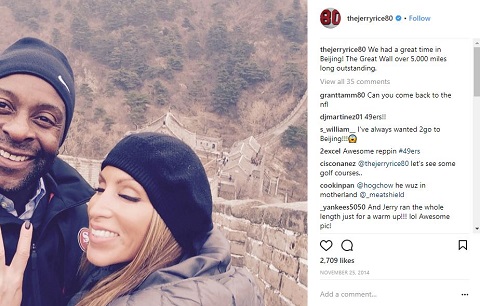 CAPTION: Jerry Rice and Latisha Pelayo having a good time in Chi
SOURCE: Instagram
Also read: Michael Sam: The first Homosexual player in NFL, Know about his affairs and dating history.
The duo seems to have a cute relationship together. We don't think they'll wait too long before they tie the knot. Looking at their Instagram, they spend a lot of time with one another, vacationing and eating outside the country or the town.