One of the NBC News journalists, Katy Tur is an American author and broadcast journalist. She also worked as a storm chaser for the Weather channel on the VORTEX2 network. Check out some of these five interesting facts which you should know about Katy Tur.
Los Angeles born Katy Tur started her career working at WPIX-TV for several years and then she moved to News 12 Brooklyn, as a reporter. So, today let's know some of the facts in detail about Katy Tur.
Five facts about Katy Tur
Katy Tur was born on 26 October 1983 in Los Angeles, California to her father, Hanna Zoey Tur- and American reporter and mother, Marika Gerrard. Katy attended Brentwood school and pursued a Bachelor of Arts in Philosophy from the University of California. At first, she reported for KTLA, HD News, WPIX-TV and later on she worked as a storm chaser on the VORTEX2 network.
Katy Tur- Has a degree in Philosophy
Well talking about Katy's educational background, she has a very surprising educational background as Katy has a degree in Philosophy, not in Journalism or communication. During an interview with NBC News in 2017, Katy said that she graduated with a B.A in philosophy and the subject was by the far the best major that she could have taken in college.
Also read: Who is Katy Tur? Know her net worth, sources of income, house, career and more
[ CAPTION: Martha MacCallum- Held many positions in Television and ]
[ SOURCE: Los Angeles Times ]
There were lots of people who take journalism as a major subject but Katy took philosophy instead of journalism. And at present, she is not shy about telling that she is has a degree in philosophy instead of journalism. She said that her education helped her to come up frequently with tuff questions during interviews.
Youtube: Five facts you need to know about Katy Tur
Katy Tur's father- A Transgender Journalist
Katy is the daughter of transgender, Hanna Zoey. Well if you are unaware about the fact then let us tell you that Hanna Zoey Tur is none other than Robert Albert Tur, one of the famous personality best known for creating the Lost Angles News Service- the news service which was the first of its kind to use AStar helicopter to cover breaking news.
Youtube: Robert Albert Tur transgender;
In the year 2013, Hanna Zoey announced to the New York Daily News that she had a gender identity disorder and then started therapy and a year later it was again announced that he completed her sexual reassignment surgery.
Katy Tur- Was called "Little Katy and Incompetent"
The person who called Katy Tur a Little Tur and Incompetent was none other than the US President Donald Trump. Katy became the star of media when the presidential campaign started in 2016. Just for an odd reason, Donald Trump pointed her out and insulted her.
Youtube: Donald Trump calls out Katy Tur at Miami Ray;
During a rally in South Carolina, Trump called her Little Katy promoting boos from the crowd. Again on Twitter, he called out her as a 3rd class reporter and even told NBC to fire Katy. And The Washington Post notes that NBC had to hire a private security detail for Katy because, during the campaign, secret service agents helped her to leave the venue safely.
Must Read: Donald Trump accused of Sexual Harassment, find out what he did to Jessica Leeds
Must Read: How much is Donald Trump Wife's Melania Trump Net Worth? Know about her career and awards
Katy Tur- Married Husband Tony Dokoupil
Katy and Tony tied the knot on October 27, 2017. Previously, Katy was in a relationship with Keith Olbermann but now she is married to husband Tony Dokoupli, a correspondent for CBS News. Neither of them revealed when and how they met each other.
Also read: NBC News Broadcaster Katy Tur responds to Donald Trump's Joke: Know about her Affairs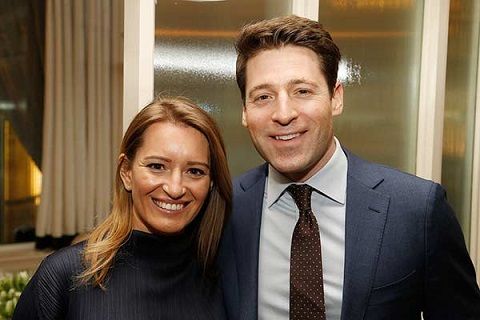 [ CAPTION: Katy Tur tied the knot with Tony Dokoupil ]
[ SOURCE: WikicelebInfo ]
But as both, Katy and Tony are journalists, it is quite possible that they might have met during their work and as they met they fell in love. After dating for a month, the couple got engaged in January 2017 and tied the knot on October 27, 2017.
Katy Tur- Book about her 2016 Campaign Experience
Back in 2017, Katy signed a deal with HarperCollins' Dey Street Book. And her book released on September 12, 2017: Unbelievable: My Front Row Seat to the Craziest Campaign in American History. According to The New York Times, after the election in November, Katy's book was just one of many as the publisher rushed to get into their bookstore. And if you have not read out then you can enjoy it online.
So, here are the five facts about Katy Tur.