Katherine Bear "Katy" Tur is a very famous American broadcast journalist working for NBC News based in New York City as a correspondent. Katy is best known for covering the presidential campaign of the U.S. president Donald Trump.
While covering the presidential campaign of Donald Trump, Katy was often pulled back by Trump. She was made feel embarrassed by Trump's reaction to her. He pointed towards her at the mid-rally and said her as a liar which really hurt her. Let's find out what the actual matter was.
Donald Trump Slammed Katy at the mid-rally
It was Donald Trump's presidential rally in Miami, Florida on 2nd November 2016, when Trump called out NBC reporter Katy Tur. No one knows why Trump slandered Katy among the mass but as it happened, it blew as the wind and the news covered the whole journalism sector.
During the rally, he was criticizing the media coverage of his event attendance and he pointed his fingers towards Katy where he said,
There's something happening. They are not reporting it. Katy, you are not reporting it, Katy.
He said that the media was biased and it turned personal. However, this wasn't the first time the MSNBC and NBC News reporters being publicly targeted by the president.
How did Katy respond to Trump?
After Donald Trump threw his fierce words to journalist Katy in front of 4,000 people, she told MSNBC's, Brian Williams,
It is a unique experience to have an entire crowd of people . . . booing you and it's especially unique when they're actually saying your name and looking directly at you
She explained,
Oftentimes when he's playing to the camera and saying we don't move our cameras to show these crowds, the cameras are all looking in opposite directions showing the crowds. And, not to mention, we are penned in. The campaign doesn't allow the cameras to even leave to go get more crowd pictures.
Katy Tur's Personal Relationships
The very famous American journalist Katy is currently living a single life and has not got married yet. However, the 33-year-old NBC correspondent was previously in a living relationship with American sports and political commentator and writer Keith Olbermann. She remained in a relationship with Keith for about three years starting from the year 2006.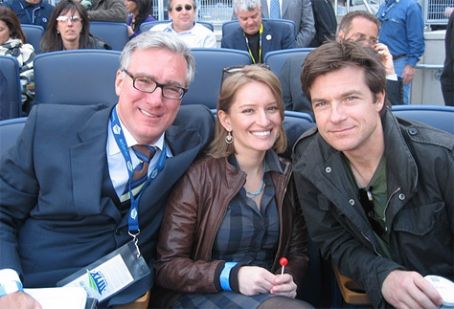 Katy Tur with her ex-partner Keith (left)
Katy left her relation with Keith in 2009 and since then she is living singly and is concentrating only on her career in journalism. She has not dated any other man except Keith and she is also not rumored to be in a relationship with some other guys.
Also Read:
Is Rebecca Berg accusing Donald Trump of using foundation money for his political campaign?
Reince Priebus talks about Donald Trump controversy.
Donald Trump loves talking about women with Howard Stern.???????