In today's century, especially among teenagers, the name Jacob must not be a new name. The 15-year-old singer has gained a lot of popularity when he started dating another young star, Millie Bobby Brown. However, we feel sad to tell you that Millie and Jacob are no longer together.
But today, we are not here to talk about Jacob personal life and his relationship status, but about how well he is doing in his professional life, his net worth, earnings and many more.
Jacob Sartorius net worth and career
Jacob Sartorius, a young American singer as well as an internet personality has an estimated net worth of $3 million as of 2018. The young stars earn most of his income from the singing career. Initially, he used to post lip-syncing videos on musically and in 2016, he came under top 10 most searched musician.
Also, read: Stranger Things Season 3 means Millie Bobby Brown's net worth will rise by $3 million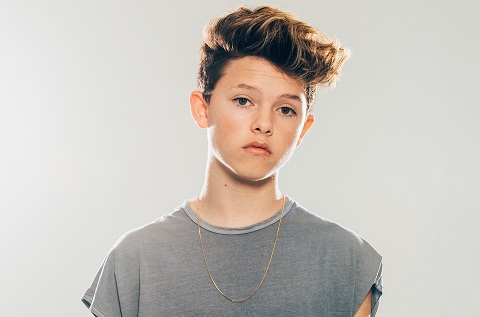 CAPTION: Jacob Sartorius
SOURCE: Billboard
Also, read: Millie Bobby Brown's Popularity on Social Media and Her Career Achievement
Jacob released his debut single in 2016, 'Sweatshirt', which reached #81 in Canada, #90 in the US and #10 on the Spotify Velocity Chart. He soon released another single, 'Hit or Miss', which reached #76 in Canada, #72 in the US and #8 on the Spotify Velocity chart.
Also, read: Who is the teen celeb Millie Bobby Brown currently dating? Details on her Career and family
CAPTION: Jacob Sartorius
SOURCE: Genius
He also became famous from another social site Vine. However, it couldn't post videos more than 6 seconds so people started loving Jacob's 6-second videos and that also earned him a lot of popularity.
Jacob Sartorius's earnings from YouTube
As mentioned above, Jacob makes most of his earnings from his popularity on social media, especially from YouTube. He started uploading videos on YouTube since April 24, 2014. He has 36 uploads to date and his total subscribers are 2,952,315. Similarly, his overall video views are 295,721,180.
Also, read: What is Millie Bobby Brown net worth? Know about her earnings and career
Talking about his earnings from it, his estimated monthly earnings falls somewhere between $1.5K - $23.2K. Similarly, in a year, he earns minimum $17.4K and maximum $278.9K alone from YouTube.
More about Jacob Sartorius
Jacob has a sad beginning of his life. His birth parents actually abandoned him because they weren't able to take care of him. All that he knows about his birth parents is that they lived in Oklahoma. But, a couple were generous enough to adopt him and show the needed love and care.
CAPTION: Jacob Sartorius with his mom
SOURCE: Pinterest
Jacob's sexual orientation is straight. He once had affair with a famous actress Millie Bobby Brown. They had a pretty good relationship and used to post pictures of them together on Instagram every now and then. However, Jacob recently was alleged of cheated on Millie by asking nudes from fans, and this had made Millie extremely upset. She broke up with him and deleted each and every picture of them together.