The beautiful American-Puerto Rican model, Bernice Burgos, who has appeared in different music videos, movies as well as magazines is someone who every guy would love to date. But is she single? Or is she dating someone? If she is, who is the lucky guy?
Scroll down to know every possible information of Bernice Burgos's dating life and relationship affairs. We will also be talking about her past affairs and her daughter as well as about the father of her daughter. Check it out:
Who is Bernice Burgos Dating currently?
Bernice Burgos is currently dating 26-year-old American rapper, Quavo. The duo has been dating since December 2017. Since then, they have been spotted many times hanging out and having fun together.
In the middle of February, Bernice herself revealed that she's currently having an affair with Quavo and was also bragging about the hot sex they have together.
Also read: Is Bernice Burgos Earning Well From Her Profession: Details of Her Net Worth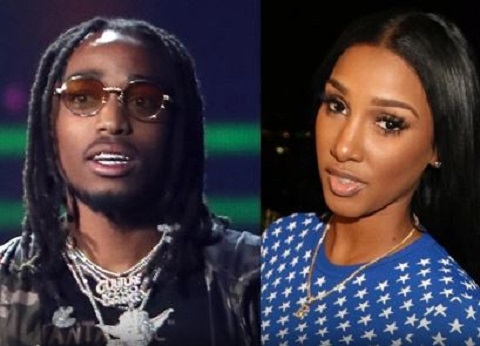 CAPTION: Bernice Burgos with her current boyfriend Quavo
SOURCE: Hollywood life
The duo was also spotted together on 'All-Star Weekend,' at Los Angeles before Bernice publicized about their relationship.
Also read: Bernice Burgos Clears Up All Rumors of Dating and Fed Up with Tiny, Know about her affairs
Bernice Burgos' Past Affairs and Daughter
Bernice previously had an affair with two men, Drake and T.I. She dated T.I somewhere in between 2016 but didn't last more than few months. However, with Drake, she was in a relationship for one whole year. They started dating from August 2014. Well despite having a sweet relationship, the couple broke up after a year in August 2015.
Also read: Canadian rapper Drake Started Dating his New Girlfriend, Know his Affairs and Relationship
CAPTION: Bernice Burgos with her ex-boyfriend Quavo
SOURCE: In touch weekly
Also read: Is Jennifer Lopez divorced with Marc Anthony? Is she dating Drake after her third divorce?
Back in 2017, in an interview with 'The Breakfast Club,' Bernice said,
Drake, I'm going to tell you something about Drake. He's the sweetest person ever. He's always been good to me and I've always been good to him. I will go to his wedding right now if he gets married. He's surely going to invite me. Why not? I'm cool.
So it looks like the duo is on good terms even after their break up. Now moving on to Bernice's daughter.
CAPTION: Bernice Burgos with her daughter
SOURCE: In touch weekly
Bernice has kept her daughter's father's identity completely behind the curtain. However, at least she's made her daughter's name public, Ashley Burgos. She might be Drake's daughter or T.I or someone's daughter; only she knows that.