How much is Diana Rigg's net worth? Know about her career
How much is Diana Rigg's net worth? Know about her career
Dame Enid Diana Elizabeth Rigg, popular as Diana Rigg is an English actress who is famous for her role of Emma Peel in the TV series "The Avengers" from 1965 to 1968. People are keen to know about Diana Rigg's net worth.
Diana Rigg is one of the popular actresses who made her professional debut in "The Caucasian Chalk Circle" in 1957 and since then she is active in the field. So, today we will be talking about her professional life that includes her net worth and career.
How much is Diana Rigg net worth?
Diana Rigg made her professional debut in the RADA production of "The Caucasian Chalk Circle" in 1957 at the York Festival. She appeared in the role of Natasha Abashwilli. It's been over 58 years that she has been working actively in this field thus people suspect that her net worth is high.
You might know that Rigg has always been too secretive and did not share any of her information regarding her net worth. However, according to Celebrity Net Worth Diana Rigg is estimated to have around $10 million net worth.
Diana Rigg Source: pinimg
She did not reveal anything regarding her expensive gadgets, cars, jewelry, house, properties and assets with the media. It looks like she loves to keep her things behind the curtains. However, she collected such a huge amount from her acting career in television and movies. And now, she is the women to rule the TV's biggest show "Games of Thrones".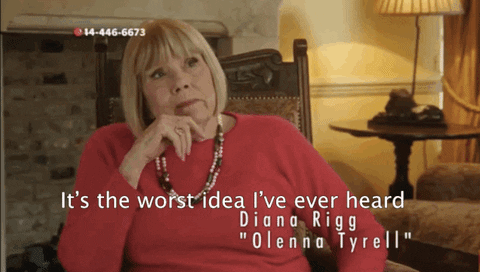 Diana Rigg Career
Diana Rigg made her debut in "The Caucasian Chalk Circle" in 1957. She also appeared in "Royal Shakespeare Company" in between 1959 to 1964. Later, she returned to the stage in Abelard and Heloise in 1979 making her Broadway debut in 1971.
In 1960s Rigg appeared in the British television series "The Avengers" in the role of secret agent Mrs. Emma Peel. In the big screen, she appeared in a Bond Girl in "On Her Majesty's Secret Service".
Diana Rigg Source: pinimg
She acted in the movies like The Assassination Bureau in 1969, Julius Caesar in 1970, The Hospital in 1981, Theatre of Blood in 1973, In This House of Brede in 1975, A Little Night Music in 1977, Hedda Gabler and The Great Muppet Caper in 1981.
In the 1990s, Rigg acted on television in Rebecca in 1997 winning an Emmy. She hosted the PBS television series "Mystery!" and also starred in her own sitcom "Diana" in 1973. She even appeared in the second series of "Extras" alongside Daniel Radcliffe.
Diana Rigg Source: heavymetal
In 2006, Rigg appeared in the movie "The Painted Veil". She played in an episode of Doctor Who in The Crimson Horror in 2013.
She secured her roles in the third season of Game of Thrones in the role of Lady Olenna Tyrell. In the year 2015 and 2016, she reprised her role in season five and six. The character was killed in season seven.