Five Interesting Facts You did not know About Sam Smith
Five Interesting Facts You did not know About Sam Smith
An English singer-songwriter, Sam Smith has made the huge name of himself in a very short period of time. He rose to fame when he was featured on Disclosure's breakthrough singles, Latch. So, today let's talk some of the facts about the singer Sam Smith.
This British pop singer, Sam Smith is taking the whole world by storm as he came out the woodwork after he first appeared on Disclosure's "Latch" and built a strong career with his three hits singles of his own. So without any delay let's know five facts about Sam Smith.
Five facts you need to know about Sam Smith
Sam Smith was born on 19 May 1992 in London, England as Samuel Frederick Smith. He began singing at a young age but his real press got came in 2009 and in 2012 when he released his first singles Latch. He studied music while hitting the book at St.Mary's Catholic School.
Sam Smith- Consider himself a Feminist
Sam Smith was raised by the power City Banker of a mother and stay at home father. So, he considers himself as a feminist as he was surrounded by strong females which is what he shaped his outlook. Do you know that- Sam's musical icons are mostly female! His favorite includes Whitney Houston, Etta James, and Beyoncé. During an interview, he said," All I know is, Female voices truly make me feel. Male voices just don't hit that spot."
Also read: Singer Beyonce Knowles, age 34, helping husband Jay-Z's Tidal get an edge over competing for song sharing sites
Also read: JAY-Z' Wife Beyonce Knowles's Net Worth, Salary, Career, House, Cars, Clothing Line, Endorsements, and Sources of Income
Youtube: Five facts you need to know about Sam Smith;
Sam Smith- Had a flair for the dramatic arts and Britney Spares, too
As a child, Sam made a beeline for the stage, even if it was one makeshift. In an interview, he said,
"I had this conservatory in my house — three steps went up to a kind of raised part of our kitchen. I used it as the stage. Every night after school, I used to download backing tracks of songs I loved and perform to myself. My mum was trying to cook and I was pretending I was at the O2 arena."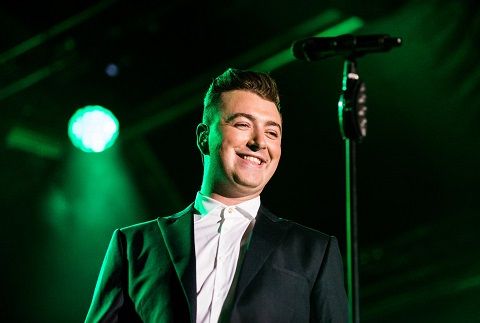 [ CAPTION: Sam Smith ]
[ SOURCE: SheKnows ]
Sam Smith- Came out as Gay
Although he keeps his personal life quite far from the media. The news regarding Sam Smith gay is hitting the headline after his relationship with gay boyfriend, Brandon Flynn. Sam officially came out as a gay after the release of his album The Thrill of it all. Sam opened about his sexuality in an interview with The Sunday Times. He also shared that he loves high heels, telling the newspaper.
[ CAPTION: Sam Smith ]
[ SOURCE: billboard.com ]
He quipped "I love a heel. I've got loads of heels at home.People don't know this, but when I was 17, I remember becoming obsessed with Boy George and Marilyn and all that." Moreover, he disclosed that there was a time when he doesn't like to wear a single piece of male clothing's and often makeup in school.
Sam Smith- Relationship with Brandon Flynn
Brandon Flynn and gay boyfriend Sam's relationship came to the spotlight after Sam Smith confirmed his relationship with Brandon. Talking about Brandon, he is an American actor and is best known for his role as Justin Foley in Netflix series 13 Reason Why.
[ CAPTION: Sam Smith in a relationship with Brandon Flynn ]
[ SOURCE: YouTube ]
However, the exact date about Brandon dating Sam is not exact but they been spotted getting very close and were also snapped kissing as they went shopping in the Big Apple.
Sam Smith- Writes songs about Clothing
Sam has been writing songs since he was 16 years old and once he revealed that the first song that he had ever written was Yellow Hat. The song was about someone in his school who used to wear a yellow hat. Till the date, he has written many songs but Yellow Hat remained his favorite one.