An American professional actor and wrestler, Randy Orton is the third generation professional wrestler from his family. He is also known as one of the world's most dangerous men in the WWE. So here we present you five facts which deals with Randy's controversial life, Lawsuit, wife, married life, and much more.
In the year 2001, he signed a deal with WWF- World Wrestling Federation, and his 1st official WWF appearance was on 16th March 2002. So without any delay, let's get into the topic which deals five facts in detail about Randy Orton.
Five facts you need to know about Randy Orton's controversial life, Lawsuit, Wife
Randy Orton was born on 1 April 1980 in Knoxville, Tennessee as Randal Keith Orton. He is the son of the professional wrestler, Bob Orton Jr. And grandson of the professional wrestler Bob Orton Sr.
Randy Orton- Incident with his Fans
Back in 2017, Randy was involved in an incident in New Orleans for involving a fan and his camera. The incident took the surface when the police were called, and all of his fans complained that he wanted his sim card back. As per the result, Randy settled down the account by giving the fan $100 to cover the cost with his autograph and signature.
Youtube: Five facts you need to know about Randy Orton
Randy Orton- Apologizes to Kelly Kelly
One of the biggest WWE stars, Randy issued an apology to the currently signed WWE under the ring, Kelly Kelly. The reason for his apology was that he made a snarky comment on the radio station about Kelly Kelly's personal life.
Also read: WWE Diva Kelly Kelly in the cast of WAGS, along with her husband-to-be Sheldon Souray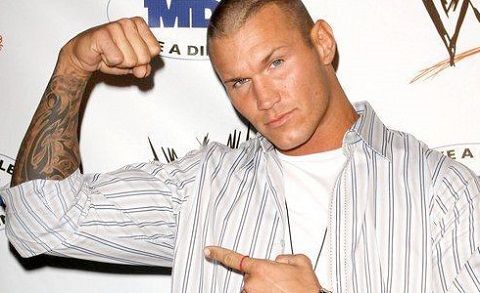 [ CAPTION: Randy Orton ]
[ SOURCE: 24Wrestling ]
Orton said that he could name at least guys with whom Kelly Kelly slept in the locker room of WWE. But later he made an apology when he realized his mistake. He said:
I owe Kelly Kelly an apology. The fact that she has dated a few guys I work with doesn't make her a bad person and is also none of my or anyone else's business. Well, I got caught up in a live radio interview and brought Kelly Kelly's personal life into it and was completely uncalled for.
Randy Orton- Tweeted offensive about a fan
Well, it looks as if the controversial days were around Randy Orton. He was again embroiled in another scandal when he tweeted something very offensive about his female fan. And that tweet quickly went viral.
[ CAPTION: Randy Orton-Tweeted offensive about a fan ]
[ SOURCE: Twitter ]
As he teased a female fan by calling her Latino Ms. Piggy. Later on, the woman snapped a picture with Orton and then posted it online and Randy again reposted the photo shortly after to his girlfriend with a pretty caption.
[ CAPTION: Randy Orton ]
[ SOURCE: Twitter ]
Randy Orton- Present and past marriage life
In the early 2000s, Randy got married to Samantha Speno and welcomed a daughter. But things got terminated and they got separated in 2013. And at present, Samantha is still closer to Randy for their daughter.
[ CAPTION: Randy Orton with ex-wife Samantha Speno ]
[ SOURCE: wrestlingnewsblog.com ]
After Samantha, Randy tied the knot to Kim in 2015, and till the date, the couple has become one of the cutest couples in the Universe of WWE. When it comes to the relationship between Randy and Kim, WWE Universe is aware that they are the power couple of WWE.
Also read: Randy Orton's Baby with Kim Marie. But what about his Child with Ex-Wife Samantha Speno?
[ CAPTION: Kim Marie with husband Randy Orton ]
[ SOURCE: vk.com ]
Randy Orton- Dated JoJo
After the divorce with Samantha Speno got finalized in 2013, Randy was in a relationship with Total Divas star Jojo Offerman. Unfortunately, their relationship didn't last for long. It looks as the age gap became the main reason behind their breakup. Randy found it quite easy to move on from his divorce before he met Kim.