Five facts you need to know about Nicole Curtis
Five facts you need to know about Nicole Curtis
An America Television personality, Nicole Curtis is best known as the host of renovation show, HGTV's Rehab Addict. Here we present some of the five interesting facts about Nicole Curtis which will surely blow your mind.
Before gaining huge popularity as a reality star, Nicole worked as a house cleaner and then later started her own cleaning business. So without any delay let's know more facts about Nicole Curtis. Just stick with us.
Five facts you need to know about Nicole Curtis
Nicole Curtis was born on August 20, 1976, to an American parent. She experienced her childhood at Michigan, the United States of America, Lake Orion. She was raised up with her parents in a very friendly as well entertaining environment.
Also read: How much is TV host Nicole Curtis's Approximated Salary and Net Worth? Know Her Lifestyle
5. Nicole Curtis- A Young Mother
Before Nicole hit a success as a television personality, she had to struggle to earn a living. She served as a waitress at Hooters and IHOP, and before she earned her teaching degree, she left her college just to open her own cleaning business.
[ CAPTION: Nicole Curtis- A Young Mother ]
[ SOURCE: eCelebrityFacts ]
Curtis continuous her business to take care of her son, Ethan. Ethan was born when Nicole was just 20 years old. During an interview, Curtis said that she never regretted giving up a corporate job to clean houses because if she works there, she could make Ethan's second grade Halloween party happen.
Also read: Nicole Curtis and ex-boyfriend Shane Maguire fighting custody case of son Harper. Mother Joan also released restraining order.
4. Nicole Curtis- Hides her second pregnancy
Nicole kept her personal details away from the media when she was pregnant for the second time in 2015. Well, she did each and everything to hide the pregnancy news from the world. Nicole said to News Observer in 2016 that she wanted something to her own.
Also read: Rehab Addict's Nicole Curtis Took Divorce From Husband and Single Mom To Son Ethan. Has No more Children. Pregnancy Rumors are ALL Fake.
[ CAPTION: Nicole Curtis- Hides her 2nd pregnancy ]
[ SOURCE: Popsugar ]
Nicole also added that she carried prop to hide her bump. She even asked the cameramen for not showing her growing belly if it is possible. She also covered up her baby bump at public events. And finally, she revealed her pregnancy via her social media.
3. Nicole Curtis- Bought her own house at 18
When Nicole was 18 years old, she brought her first house in Tampa, Florida. During an interview with Quirky Inspired, Nicole said that she could not afford a pretty and lavish home she bought one of the ugliest 1945 Ranch just at $52k and then she paid $596.42 a month.
Also read: A Television Host Nicole Curtis: How Much is Her Estimated Salary and Net Worth? Career and Awards
[ CAPTION: Nicole Curtis- Bought her own house at 18 ]
[ SOURCE: Hooked on Houses ]
Nicole Curtis- Life not absolutely perfect
Although Nicole is happy with her professional life, she is quite unhappy with her personally because she thinks that her personal life is not perfect. As per the sources, she was previously married to Steve Lane, but they divorced in 2009.
Youtube: Five facts you need to know about Nicole Curtis
After her divorce, she was in a love relationship with Shane Maguire for few years, but their relationship ended which led to the custody battle of their son and even now the matter is still unsolved.
Nicole is a mother of Ethan and Harper. Ethan- the eldest son, whom she welcomed him with Steve Lane. In 2015, her second son, Harper was born with her then-boyfriend Shane Maguire.
Nicole Curtis- Loves her Grandparents
Back in 2015, Nicole bought her grandparents old home. And she restored it in the 7th season of her show. Her grandfather also lives with her. He and her children are Nicole Curtis' driving forces to get through her struggles.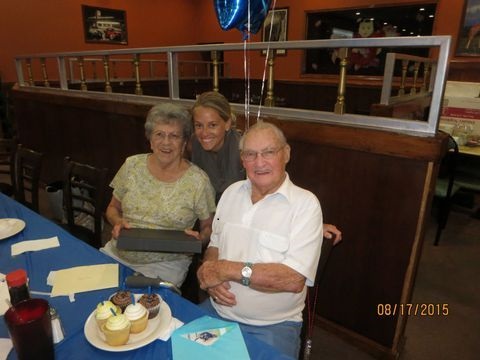 [ CAPTION: Nicole Curtis- Loves her Grandparents ]
[ SOURCE: Country Living Magazine ]
She said that one of the most important things for her is to be strong for her children and my grandfather. As every time her grandfather asks her, 'Why am I still here?!' And then she used to reply, 'You know what, I think because God was not going to take you [and Grandma] from me at the same time. C'mon, Gramps."