One of the Hollywood's most coveted leading men and the Hollywood star, Michael Fassbender is a German-Irish actor and producer who has long been a critical favorite, lauded for his almost-mesmerizing ability to inhabit utterly intense.
Michael rocketed to fame after starring in 300 alongside with Gerard Butter back in 2006 and became one of the most liked guys in the business and earned an Oscar nomination for his role in 12 Years a Slave. If you wanna know more about the star then here are five facts about him. Keep Scrolling:
Five Facts you need to know about Michael Fassbender
Michael Fassbender was born on April 1977 in Heidelberg, Germany. He was raised Catholic and served as an altar boy at his family church. He is not only the child of his parents, he has an older sister who is a neuropsychologist. He attended Fossa National School and at the age of 17, he decided to be an actor.
Michael Fassbender- Former Teacher offered him roles
It's was his teacher, Donie Courtney who offered him roles with the theater troupe Bricriu. When he was 17 years old, he was hired to produce, direct and act in the stage adaptation of Quentin Tarantino's movie Reservoir Dogs.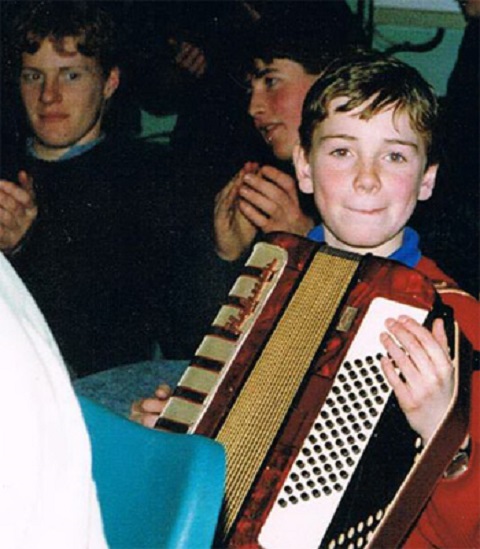 [ CAPTION: Michael Fassbender's childhood ]
[ SOURCE: broadsheet.ie ]
Michael Fassbender- Music man
In the beginning, acting wasn't a priority for Michael, he wanted to be a guitarist in a band. During an interview, he said that he wanted to be a lead guitarist but he wasn't good enough.
[ CAPTION: Michael Fassbender ]
[ SOURCE: The Gazette Review ]
However, he fulfilled his dream by appearing in the video for "Blind Pilots" by Brit rockers The Cooper Temple Clause.
Michael Fassbender- Appeared as an android DIRECTOR
In the year 2012, Michael was observed as an Android director Ridley Scott's Alien movie series Prometheus. He appeared in a very different type of project, playing a slave owner in McQueen's 12 Years a Slave (2013).
Youtube: 5 Facts You Didn't Know about Michael Fassbender
Michael Fassbender- Married to Alicia Vikander
One of a private couple of Hollywood, Micheal and Alicia tied the knot on 14 October 2017 in Ibiza, Spain and are living a happy married life with each other. They first met each other on the set of The Light Between Ocean.
Also read: Alicia Vikander's Relationship with Michael Fassbender; Know about their Affairs
[ CAPTION: Michael Fassbender with his wife Alicia Vikander ]
[ SOURCE: Over The Moon.com ]
However, they are quite secretive about their relationship but they were casually dating each other back in November 2014.
Michael Fassbender- Net Worth
The actor is recognized for his role as Magneto in the world of renowned superhero film titled X-Men: First Class. Well moving towards his net worth, the Oscar-nominated actor, Michael has an estimated net worth of $ 30 million.
So here's the end of our discussion. We hope that you enjoyed reading five facts about the star, Michael Fassbender.