Bastian Yotta, once a fat guy is now a role model for many people. We can say he is an Instagram Star. He was born in Munich, German. He is currently living in Beverly Hills and is enjoying his life to the fullest.
Yotta proved that everything is possible if you work hard. His before and after pictures will surprise you for sure.
However, in this section, know Bastian Yotta's breakup story. He married Maria Yotta but seems like they are having a tough time together. Let's give a closer look at their personal life.
Bastian Yotta's breakup with Maria Yotta
Bastian is living a lavish life now but before he was not much of an earner. But now, Yotta has everything he worked for. In 2015, he came into the spotlight for spending $100k a month on Lavish life. The Playboy lived his dream life with Maria in Los Angeles.
Bastian Yotta on Instagram Source: Instagram
Besides his luxurious lifestyle, he was also known for marrying model Maria Yotta. Although they were having a good time together the split was inevitable.
Bastian took Instagram to announce his breakup with Maria. In his official account, he announced that the Yotta's are not together anymore.
You may also like to see, Is Kinsey Wolanski Dating Anyone? Her Personal Life And Professional Career!
He posted a picture and captioned it,
"Good-Bye Maria. You will remain my best friend. Let's move on and have a Yotta life each on his own."
No doubt, their fans were killing the comment button and giving them suggestions not to break up.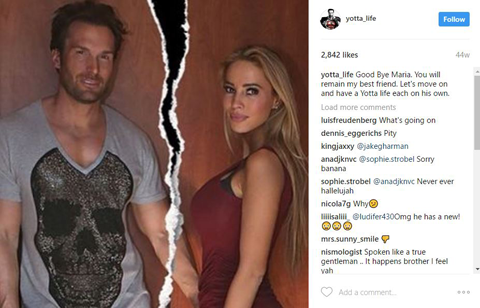 Bastian Yotta and Maria Yotta Source: Instagram
While Maria has not made any formal announcement officially. It seems like the matter is too hard to settle this time. Similarly, another picture was posted a few days later saying:
"Official Statement from the Yottas. We broke up! We are not a couple anymore."
Official Statement from Yottas regarding their breakup Source: @yotta_life Instagram
Well, the couple has broken a heart of many fans by their split after being together for years.
Also read, Vanessa Grimaldi And Businessman Josh Wolfe Are Married; Their Relationship Timeline!
Bastian Yotta dating a new girl- Who Is She?
A few weeks after he broke up with Maria, he posted a picture of another girl flaunting her butt. He captioned the picture,
"There is magic everywhere...day by day but most people don't see it because their filter is wrong. They complain about everything and what a surprise they attract more and more to complain about. Change your filter and focus on the beautiful things in life and you will attract more of them. Life is a buffet. You choose what you get! I chose love and butt from @misscaune"
The name of the new girl was Christiana Cauna. Going through Bastian's Instagram account, he also posted a picture writing:
"I wanted to write something inspirational but I am too horny to think. Sorry not Sorry"
The posts make it clear that he is no more with Maria. They said that they will remain best friends forever. Hope their breakup does not take a dramatic turn.
Please stay tuned with us for more exciting updates and articles: HitBerry.