Demi Gene Guynes, professionally known as Demi Moore is an American actress and former songwriter. Though Demi Moore's professional career is successful, it's not the same for her personal career including his married life.
You might know about Demi Moore's relationship failures. She was married thrice, and all her married life could not succeed. So, after three divorces who is Demi Moore dating now? Or is she married? Know in detail right below:
Is Demi Moore Dating Anyone? Is he Married?
It's a curious question among Demi's fans about her current relationship after her three divorces. Well, let us tell you that Demi likes men younger than her. She proves it by hooking up with the 25 years old Nick Jonas.
Also read: 'Glee' Actor Chord Overstreet bonds with co-star Nick Jonas, Glee stars spotted enjoying each other's company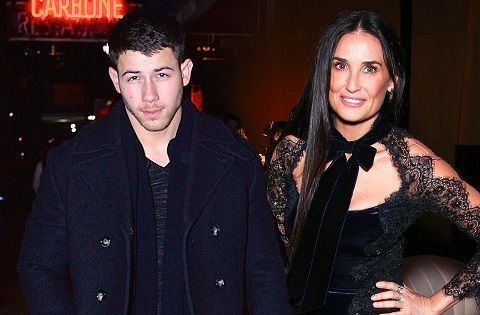 CAPTION: Demi Moore and Nick Jonas
SOURCE: haynews.am
According to the sources, the 55-years-old Demi and the 25-year-old actor, Nick has been seeing each other since May 2017. Although there is the 30 years age difference, it looks like age is just a number for them. However, neither Demi nor Nick has confirmed about their potential relationship.
Also read: Demi Moore flashed her cleavage in sheer delight
CAPTION: Demi Moore and Nick Jonas
SOURCE: India Today
Also read: Lily Collins in her Bikini, bare body and sexy feet. See her Hottest photos of Nick Jonas Girlfriend
Demi Moore First Married at the age of 18
Demi was 18 years old when she was first married to husband, Freddy Moore. Demi and Freedy were not legally married because Freddy was still in marriage with the previous wife. Nevertheless, the couple, Demi and Freddy got a legal separation in 1985.
CAPTION: Demi Moore and Freddy Moore
SOURCE: PresidentMummy
Demi adopted her stage name- Demi Moore. As her husband was a singer, she also co-wrote some of the songs in 1980 and 1981.
Demi Moore marriage relationship with Bruce Willis
Demi got married to Bruce Willis in 1987. They were together for more than a decades and were known as the power couple in the film industry. They have given birth to three daughters; Rumer, Scout, and Tallulah.
Also read: Hollywood Actor Bruce Willis' Earnings from Acting Career; Know his Net Worth, House, and Cars Collection
CAPTION: Demi Moore and Bruce Willis
SOURCE: E! Online
Things do not go expected, and same goes out with the couple. They filed for divorce in 1988, and the separation was finalized after two years.
CAPTION: Demi Moore and Bruce Willis reunite for daughter's Broa
SOURCE: revistaquem.globo.com
Although the couple has parted their ways, they are still in good terms. It looks as if they are making a friendly relationship with their children.
Demi Moore's third husband- Ashton Kutcher
In the year 2003, Demi met Ashton Kutcher, and after two years in 2005, they turned out to be as husband and wife. As there was an age gap of 16 years, their relationship was mostly criticized. Despite all these criticisms, they've continued their relationship.
Also read: Real Life RomCom of Ashton Kutcher and Mila Kunis
CAPTION: Demi Moore's third husband- Ashton Kutcher
SOURCE: In Touch Weekly
Moreover, in 2010 the rumors began circulation about their relationship, and in 2013 their divorce was finalized where Demi received a handsome settlement from Ashton.