What is Steve Harvey's wife Marjorie Elaine Harvey's Estimated Net worth? Career and Achievements
What is Steve Harvey's wife Marjorie Elaine Harvey's Estimated Net worth? Career and Achievements
Majorie Elaine Harvey's husband, Broderick Stephen Harvey popularly known as Steve Harvey is an American comedian, television host, radio personality, producer, author and actor popular for "The Steve Harvey Morning Show". He is surely a known face for every American TV audience. But how well do you all know his wife Majorie Elaine Harvey? Is she earning big time like her husband? How is her lifestyle and how much is her net worth? Sorry for all the question that itched your head, but if the bug has bitten you already; don't worry, we have an antidote for it!
Well in this column we are going to talk about Steve Harvey wife Marjorie Elaine's net worth, salary, and sources of income. So let's quickly get with it.
Marjorie Elaine Harvey's Net worth
Marjorie is a famous name in the fashion world, she is a famous fashion blogger. However, she is more known as the wife of the comedian Steve Harvey. Marjorie Elaine Harvey's net worth alongside husband Steve is reportedly is more than $100 million. Welcome to the $100 million club, Mr. and Mrs. Harvey.
Must Read: Carla Ferrell's Net worth and Career - Quartet of Steve Harvey Morning Show
[ CAPTION: Steve Harvey ]
[ SOURCE: Today's Show ]
Well, his comedy shows, guest appearances, brand endorsements have made him a rich man but he is a very shy person who prefers to keep away from showing his fans the glimpse of what he achieved.
Must Read: Comedian Steve Harvey's Net worth and Career
Steve and Marjorie Elaine Harvey House and Cars
As Steve has given a special tour of his lovely house for his fans. Thanks to the comic star, so now let's take a closer look at his collections of cars and house.
In Steve's 59th birthdays, his wife surprised him by gifting a Bentley, and in his wife 50th birthday, Steve surprised her with a white Rolls Royce which price is $500,000; as of now Steve reportedly owns more than a dozen of cars.
In 2009 the comedian-actor even signed a publishing deal for his book Act Like a Lady Think Like a Man which earned him more than $5,000,000 royalty.
Youtube: Steve and Marjorie cars and houses
The Funnyman, radio host, actor, an author has bought a mansion in Texas which is for sale at $3.5 million. Also, he has bought a mansion in Atlanta which features indoor gulf, lush gold-trimmed velvet furniture, movie theater, a bar, and the artwork in ceiling and floor which worth is around $4 million.
The couple is actually living the real American dream, aren't they?
Steve Harvey's Award and Achievements.
In 1994, he starred on Me and the Boys on ABC show. Further, he was also the host of a morning radio program The Steve Harvey Morning Show from 2000. Also, he hosted several shows like Miss Universe and a Daytime talk shows from 2015 to 2017.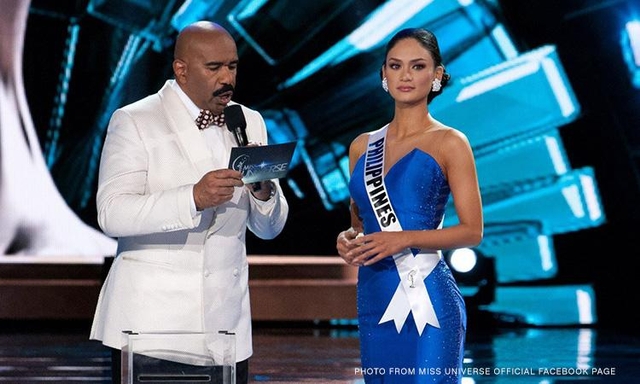 [ CAPTION: Steve hosting for Miss Universe ]
[ SOURCE: CNN ]
As he has struggled much in his professional life and has earned a lot of awards. Well, his extraordinary performance has won the NAACP Image Awards Entertainer of the Year, Daytime Emmy Awards for the Outstanding Game Show Host, Star on the Hollywood Walk of Fame in Family Feud, Favorite New Talk Show host by 39th People's Choice Award.
In 1999, he has won the several awards as a host and a comedian. He has won the Daytime Emmy award three times and has bagged the famous NAACP Image Awards for 13 times in various categories. Also, he has won the BET Humanitarian Award in 2013.
[ CAPTION: Steve Winning BET Awards ]
[ SOURCE: Reuters ]
Steve Harvey's and his wife reportedly living a peaceful life together as we haven't heard any rumors regarding their separation or what so ever could happen in any couple's life. We hope they make the best out of their time and wish them a very prosperous future ahead.
Ten Facts about Marjorie Elaine Harvey
1. Marjorie Elaine Harvey is famous for being Steve Harvey's wife.
2. Marjorie Elaine Harvey was born on October 10, 1974.
3. Marjorie Elaine Harvey belongs to Afro-American ethnicity.
4. Marjorie Elaine Harvey married Steve Harvey in 2007.
5. Marjorie Elaine Harvey's husband, Steve Harvey's net worth is $100 million.
6. Marjorie Elaine Harvey received a $500k Rolls Royce for her 50th birthday from her husband.
7. Marjorie Elaine Harvey is 5 feet 8 inches tall.
8. Marjorie Elaine Harvey studied in the University of Memphis.
9. Marjorie Elaine Harvey's birth sign is Libra.
10. Marjorie Elaine Harvey weighs around 60 kg.