The celebrities who prefer to maintain their body perfectly hide the bad habit of smoking form their fans. Check the top celebrities who smoke in the real life and have been snapped smoking at public right below.
Most of us try to copy their lifestyle to maintain out body by taking a clean diet like them. But you all will be shocked after knowing that these fitness fanatics, who take care a lot about their figure to maintain a healthy lifestyle hide the bad habit of smoking from the public. Scroll down to check the list"
1. Kate Hudson
The 39 years actress, Kate Hudson who once promoted her book, Healthy Ways To Love Your Body which guided people to maintain their body healthily was once caught smoking in public by a paparazzi.
Also see: Kate Hudson talks about her personal life.
CAPTION: Kate Hudson smoking in the public place
SOURCE: Taddlr
The star who avoided meat, dairy products, bakery items and other fatty acids is addicted to nicotine. Although being caught by cameras numerous times, she always denied the fact of smoking. Maybe she wants to hide her bad habit from fans so that they would not copy it.
2. Rosie Huntington Whiteley
The 31 years gorgeous and stunning model, Rosie Huntington Whitley who always preferred to take clean diets and do proper exercises also prefers to smoke. She has been caught smoking in public for a few times.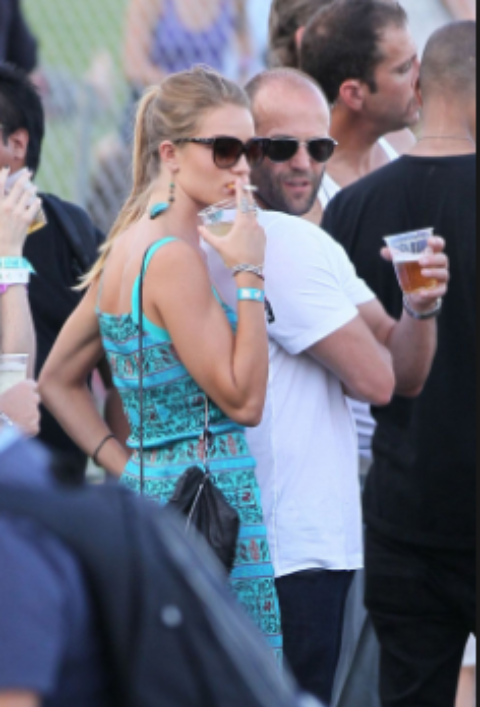 CAPTION: Rosie Huntington Whiteley smoking
SOURCE: Pinterest
When asked about smoking by some tabloid source, she disclosed that after her placement in a modeling career she started smoking and drinking.
3. Gwyneth Paltrow
The American actress, Gwyneth Paltrow who was listed as A-grade actress, has always been famous for her good looking body and healthy living lifestyle. However, one thing has always stopped her from being fit, her smoking habits!
Also see: Gwyneth Paltrow's Gigantic Engagement Ring from Fiancé Brad Falchuk, Find Out Its Cost
CAPTION: Gwyneth Paltrow
SOURCE: Al Dia
In 2013, the actress admitted that she was into smoking, but she only lit one light American Spirit cigarette once a week on Saturdays. Some year ago on her site, she wrote that she was going to be doing a three-week-long detox program to remove toxins from her body. Does that mean she wouldn't smoke during that time?
4. Abbey Clancy
The English lingerie and catwalk model, Abbey Clancy who is the mother of three children, has always been famous for maintaining her curved body shape. The star who has been presenting Britain's Next Top Model since 2015 has always been very conscious about doing exercises and consuming foods.
Also see: Hot British Model Abbey Clancy posts adorable pictures of new baby Liberty Rose on Instagram
CAPTION: Abbey Clancy holding cigarette and wine
SOURCE: Pinterest
She was once caught with a glass of wine and cigarette. She has not spoken a word on it. Hope to get an answer from her soon.
Also see: Peter Crouch seen around town with wife Abbey Clancy, approves of Xherdan Shaqiri transferring to Stoke City over Twitter
5. Melanie Sykes
Seeing the trim figure, sculpted muscles, and stamina of the 47 years old actress, Melanie Sykes, it doesn't seem that she is also involved in smoking. The actress has never hidden the fact that she prefers to smoke.
CAPTION: Melanie Sykes
SOURCE: Mirror
Although having such a bad habit, she always guided her followers with the good advice. As she is the former fitness ambassador for Ellesse, she has always given good tips to work out to maintain body figure.