Aaron Lewis, the founding member of the rock band Staind, has opened up about his married life with his wife Vanessa Lewis. Lewis started by saying that ever since he knew Vanessa, he has been in love with her.
Lewis and Vanessa first met when they were in college and have been inseparable ever since. Lewis has also said that with Vanessa, he always knew he would find undying love. Lewis and Vanessa are known to be one of the most adorable couples in the rock world today. Here Learn more about the couple's married life.
When Did Aaron And Lewis Begin Dating?
When Lewis and Vanessa began dating in college, Lewis was just starting out as a musician. He was facing difficulty providing for Vanessa, however, Vanessa too got a job and helped her partner overcome those difficult times.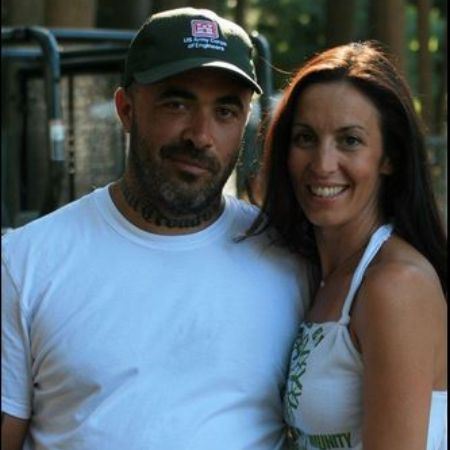 CAPTION: Aaron and Venessa began dating in 1997 and are still together as husband and wife
SOURCE: Facebook @Aaron Lewis
Lewis has always said that as a girlfriend and as a wife Vanessa has been an angel in his life. The pair reportedly began dating in 1997 and got married later on. As of now, the couple has been together for over two decades and shares three daughters named Zoe Jane, Nyla Rae, and Indie Shay.
Lewis's daughters also want to grow up to be musicians like their father and he has been giving them guitar lessons from a small age.
Also read, Vanessa Grimaldi And Businessman Josh Wolfe Are Married; Their Relationship Timeline!
Together, the couple has been involved in several philanthropic works as well. They have supported various non-profit organizations financially and also managed to open their daughter's elementary school after it was closed down due to financial difficulties.
The lovely couple is often seen together at many charitable functions. Recently, they co-hosted an invitational golf tournament in hopes to raise $250,000 for their non–profit organization It Takes a Community.
Let Us Go Through Aaron's Career Achievements
Initially starting as a rock band member, Lewis, as a professional musician, has reached out of his comfort zone and has started singing country music. He has found success in his new genre of music and his song "Country Boy" was awarded the best country song in the year 2012.
Some of Lewis's other famous songs are "Tangled up in you"," Granddaddy's Gun" and "Endless Summer".
CAPTION: Lewis is worth $6 million.
SOURCE: Instagram @aaronlewismusic
As a rock star, in most of his concerts, Lewis could be seen performing shirtless and flaunting his tattoos. He has got five to six tattoos on his body, the most visible being the ones on his arm and his neck. Most of his arms are covered in tattoos and parts of his back too.
He has got an American flag tattooed on his arm, which is followed by a tribal design. On his neck, he has written 'don't tread on me. He has said that he wishes to tattoo his whole back, after which he will not get any more tattoos.
Since his professional debut in 1990, he has released numerous hit songs as a solo artist and with bandmates. According to Celebrity Net Worth, he is estimated to own a net worth of around $6 million.
You may also like to read, Is Kinsey Wolanski Dating Anyone? Her Personal Life And Professional Career!