Meet Lila Grace Moss Hack, Daughter Of Kate Moss-Age, Height, Boyfriend
Meet Lila Grace Moss Hack, Daughter Of Kate Moss-Age, Height, Boyfriend
Concerns on the career as well as personal life not only covers celebrities but the star kids too. Such is for Lila Grace Moss Hack, the daughter of British supermodel and businesswoman Kate Moss. Currently, in her late teens, Moss Hack followed her mother's path into modeling and in no time, has become an aspiring model.
For sure, the impression of such a talented & powerful mama eased her to fame, but Lila's professionalism can't be denied either. In 2020, she made her runway debut at Miu Miu's Spring 2020 show at Paris Fashion Week and already has become face value for new brands.
Daughter of High-Profile Parents- What Is Lila Grace Moss Hack's Age and Height?
The emerging British model is the first child & only daughter of heroin chic fashion trendsetter Katherine Ann Moss, aka Kate Moss. Lila was born on September 29, 2002, in London, England, which makes her 19 years old as of 2021. The supermodel mother's age was 28 at the time of her birth.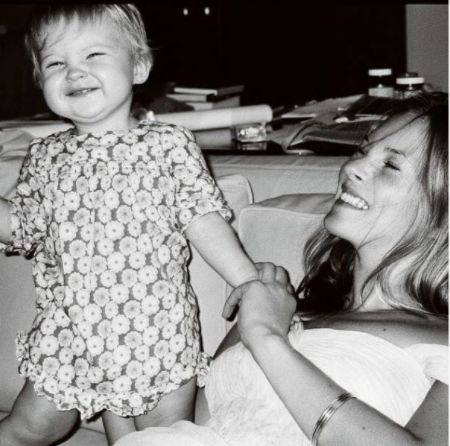 CAPTION: Childhood picture of Lila Grace Moss Hack with her model mother Kate Moss
SOURCE: [email protected]
No doubt, fans recognize Lila Moss Hack as the child of one of the top-earning models. But her father Jefferson Hack does have a reputation as a publishing mogul; he is Creative Director and co-founder of Dazed Media.
As for a fact, her parents were never married, rather were boyfriend-girlfriend. They were dating in the early 2000s and remained in a relationship for a few years.
CAPTION: Lila is the only child, daughter of Kate Moss and her ex-boyfriend Jefferson Hack
SOURCE: [email protected]
The face of Marc Jacobs Beauty does resemble her mother and has the creative traits of her father. The darkish brown-eyed model has a slim body and has a height of 5 feet 6 inches (168 cm).
As of her mother Kate's height, the supermodel with hazel eyes stands 5 feet 5 inches tall.
Leaps In Modeling World- What is She Doing Now?
Lila, then 14-years old made her model debut after signing with her mother's modeling agency Kate Moss Agency. Reportedly, at around the same age, her mother started modeling after Storm Management founder Sarah Doukas discovered her.
While many try to copy the style of Moss, her daughter seems on a different opinion & tries to create new in her own way. No wonder, her creativity, as well as mama's fame, saw her many approaches. In 2017, she modeled for Topshop at London Fashion Week.
lila moss' runway debut at miumiu ss21 pic.twitter.com/jIHsEZQdLp

— ً (@KAlAGEBER) October 6, 2020
In October 2018, Lila became the face of the Marc Jacobs Beauty campaign and even more, appeared in a solo cover for Dazed Magazine. At 18 years old, in October 2020, the emerging model made her runway debut at Paris Fashion Week, opening and closing Miu Miu's Spring 2020 show.
In January 2021, Lila Grace along with her mother walked during the Haute Couture SS21 show for Creative Director Kim Jones' debut collection for Fendi, joining veteran model Adwoa Aboah.
Other aspiring young figures in the modeling world include Kaia Gerbe (19)- the daughter of Cindy Crawford, and Leni Olumi Kulm (16)- the daughter of Heidi Kulm.
Net Worth of Lila Grace Moss Hack
As of 2021, the young model has an estimated net worth of $200,000. Since her early teens, Lila is active as a model and with her progressive career & illustrations of proficiency in modeling, she surely would become a high-profile figure like her mother.
Currently, Moss Hack is the face of Marc Jacobs fragrance, Perfect, and Chaos (celebrities accessories). Moreover, she has been featured in magazines such as Vogue, Perfect Magazine, and W Magazine. On her Instagram, the star kids often promote Dior, Burberry, & other apparels, which can earn her $531 - $885 per sponsored post.
Her mother Kate Moss is a multi-millionaire and considered one of the highest-paid models. According to Celebrity Net Worth, the 47-year-old supermodel and businesswoman has $70 million net worth in 2021. During her hay-day, she earned $10 million in annual earnings.
In 1994, her net worth was only $2.2 million dollars, which rose to $26.8 million in 1998, and $50 million in 2005. As per Forbes, she became #2 among the World's 15 Top-Earning Models with yearly revenue of $9 million.
Personal Life- Is She Dating?
Lila Grace Moss Hack currently is not dating anyone officially. While other teen star kids often make highlights with their adorable love stories with their boyfriends/girlfriends, she remains mum about her relationship status.
An avid Instagram user, the young model has 176K followers on her official account (@lilamoss), while her mother is not active on the platform, but the agency's IG profile (@katemossagency) has more than 1.2 million followers.
Her godfather is Bobby Gillespie; formerly Jude Law was godfather but after the latter divorced Sadie Frost, Kate's close friend, she relieved him of the duties.
Lila's ex-stepfather is Jamie Hince, the guitarist of The Kills. They married on 1st July 2011, but split after 4 years in 2015; they later divorced in 2016.
Formerly, her mother Kate Moss was engaged twice with singer Pete Doherty (in 2005 & 2006). Back in the 90s, she was in a relationship with Pirates of the Caribbean actor Johnny Depp from 1994 to 1998.