Lindsay Wagner, she's done lots of things in her life! She's not just an actress, but she's also been a model, a writer, and a singer. You might know her best from the TV show "The Bionic Woman," where she played the main character, Jaime Sommers. But wait, there's more! She even lent her voice to a video game "Death Stranding," where she played a character named Bridget Strand.
Wagner is a single woman at the moment. But in the past, she's been married four times. Her husbands were Lawrence Mortorff, Henry Kingi, Michael Brandon, and Allan Richard Rider. Sometimes in life, people have different relationships, and she has had her share of marriages.
The Bionic Woman Actress Is Single
Lindsay Wagner is going through a single phase right now, and it's not clear if she has plans to start a new relationship anytime soon. Sometimes, people choose to focus on themselves and their well-being before thinking about dating again. She might be taking this time to enjoy her own company, work on personal goals, or simply wait for the right moment to come along.
Lindsay Wagner at RetroExpo in Plano, Texas SOURCE: Lindsay Wagner Instagram @mslindsaywagner
Wagner is really into her work and spending time with her friends these days. She's putting a lot of effort into her career, and that's important. It's not just about jobs; it's about doing something you love. Besides work, she's also making time for her friends. Balancing work and personal life is something we all do, and it sounds like she's got it figured out.
Wagner's Last Marriage
Lindsay Wagner's last marriage was with Lawrence Mortorff, and they tied the knot on May 6, 1990. It was a special day for them because they decided to get married in a private ceremony held on a Sunday in West Los Angeles. The actress was 40 years old, and he was 41 at that time.
Wagner and Mortorff unfortunately divorced in June 1993, but the exact reason for their divorce remains unclear. Sometimes in life, relationships go through ups and downs, and ultimately, couples may decide it's best to part ways. It's a private matter, and the two likely had their reason for making that choice.
Who Is Lawrence Mortoroff?
Lawrence, also known as Larry Mortorff, is a producer in the entertainment industry. He's been involved in creating movies like "Hellraiser III: Hell on Earth," "Pure Country 2: The Gift," and "The Omega Code."
Despite his work in Hollywood, Mortoroff has chosen to keep much of his personal life private. Some people in the entertainment world prefer to focus on their work and let their projects speak for themselves, rather than sharing a lot about their personal lives.
Wagner's Third Marriage Was With Henry Kingi
Wagner and Henry Kingi had a special moment in their lives when they got married on May 16, 1981. Their wedding took place at a private home in South Lake Tahoe, California, and they had a justice of the peace officiate the ceremony. It sounds like an intimate and personal celebration of their love, away from the glitz and glamour often associated with celebrity weddings.
Wagner had met her third husband Kingi while working on the set of "The Bionic Woman." It's a lovely reminder that sometimes, the best relationships come from unexpected places, like the world of showbiz. Their connection on set might have started as colleagues, but it turned into something much deeper, a loving partnership.
Lindsay and Henry unfortunately divorced in 1984, but the specific reason for their divorce remains unclear. However, some sources suggest that she tried to persuade him to leave the world of stunts which caused marriage problems. The two shared a part of their lives. And, while their marriage may not have lasted, they each continued their journeys separately, no doubt with their reasons and lessons learned from their time together.
A Bit About Death Stranding Actress' Third Husband
Henry Kingi is not just any ordinary guy; he's a skilled stuntman and actor. Born on December 2, 1943, he's done some cool and daring stuff in movies and TV shows. But he's not just about action; he's also known for co-founding the Black Stuntmen's Association.
Henry Kingi in Predator 2 SOURCE: Stunts Unlimited YouTube Channel
Kingi has had quite an action-packed career as a stuntman in some blockbuster movies. He has worked in films like "Venom," "Predator 2," Chris Evans' "Captain America: Civil War," "The Expendables," and the "Fast & Furious" series, as mentioned on his IMDb page. He's the guy who takes on the risky and daring stunts to make these movies thrilling and memorable.
Used To Be Michael Brandon's Wife
Lindsay Wagner's love story took a turn when she tied the knot with Michael Brandon on December 19, 1976. To celebrate their new chapter, they chose Sun Valley, Idaho, as their honeymoon destination. It is a beautiful place, known for its stunning landscapes and outdoor activities, making it a perfect spot for a romantic getaway.
Lindsay and Michael, despite starting their journey together, unfortunately parted ways on September 17, 1979. The specific reasons for their divorce remain a private matter, known only to them. They likely went their separate ways with their lessons learned and paths to follow, just like many couples who go through similar experiences.
The Actress And Brandon's Love Story
Wagner and Brandon's love story has a charming beginning. It all started when his best friend, Andy, convinced him to attend an acting workshop. Little did he know that this workshop would change his life. It was there that he met the "Death Stranding" actress, and their connection was undeniable.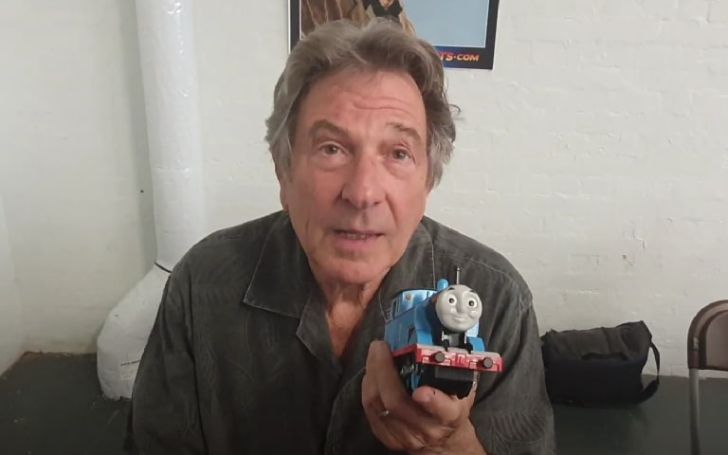 Lindsay Wagner's ex-husband, Michael Brandon SOURCE: Bikliqi Studios YouTube Channel
The first date was quite special too; Michael brought Lindsay up to his ranch. The actor probably did that to spend some quality time together away from the hustle and bustle of everyday life. Their relationship must have deepened over that month, as he eventually took her home.
Who Was The Actress First Husband?
Lindsay Wagner's first husband was Allan Richard Rider, and he was a music publisher. Love stories often have different chapters, and this was the beginning of her journey into marriage.
Wagner and Rider embarked on a journey together when they got married on September 28, 1971. The start of their marriage must have been filled with dreams and hopes for a beautiful future together. However, as life often unfolds, they eventually decided to part ways and divorced in October 1974.
Has A Few Crazy stories About Her Second Husband
Wagner has some crazy stories to share about her second husband, Michael. One of those memorable tales goes back to a time before they got married. They were involved in an automobile accident that left the actress with a split lip and her second husband with a wire eyebrow, as mentioned on Michael Brandon's website.
Michael Brandon in Loose Women SOURCE: Loose Women YouTube Channel
Another amusing story to tell was about the time when Wagner's husband, Brandon, landed a role in a TV movie, "James Dean." It seems like Michael was dedicated to his craft because he went all out to prepare for the role. He shaved off his beard and cut his hair to transform into the character of William Blast.
However, this transformation was so drastic that when Wagner returned home and saw her former husband looking completely different, she mistook him for an intruder! Her reaction was to scream and run down the street in surprise. It's a funny and unexpected twist in their relationship, showing how even in the most ordinary situations, love can surprise us with moments of laughter and excitement.
Once Dated A US Air Force Captain
Lindsay had a romantic connection with Captain Daniel M. Yoder, who served as a US Air Force Captain. This shows that love can sometimes find its way into unexpected places, even amid a military career.
Wagner's relationship with Captain Daniel M. Yoder remains somewhat mysterious, as not much is widely known about it. Before the actress entered into her marriages, they were together and even lived together for some time. Their love story took a turn when Captain Yoder was called to serve in Vietnam, which must have been a challenging time for both of them.
Check Out Hitberry for more