Know all Five interesting facts about Ashley Burgos
Know all Five interesting facts about Ashley Burgos
An American model and entrepreneur, Ashley Burgos is best known for being the daughter of the model Bernice Burgos. She has followed her mother's footsteps and has made a very good career for herself. Check out some of the interesting facts about Ashley Burgos that you may be missing.
Starting a career as a professional model, Ashley and her mother launched Bold and Beauty- A signature sleepwear collection featuring sporty and sexy pajama sets and much more. So, let's quickly take a look at all the interesting facts, here at HB.
Five facts you need to know about Ashley Burgos
Ashely Burgos was born on May 9, 1996, in New York. When Bernice was just 15 years old, she gave birth to Ashley. Ashley is not the only child of Bernice; she also has a younger sister- Saria Burgos. However, their biological father is still unknown but he was supposedly 19 when Ashley was born.
Also, read: Model turned entrepreneur Kathy Ireland talks about her home life with husband Greg Olsen and their children
5. Ashley Burgos- Launched a sleepwear Collection
Ashley along with her mother Bernice together launched a sleepwear line "Bold & Beautiful". The main aim of the brand was to provide comfortable sexy nighttime women apparels of different sizes. It offers 3 items: The Sports It Up Top and short set, The Sleepy Romantic Barletta, and The three-quarter onesie.
Also read: Erin Coscarelli enjoying her career as a TV personality, NFL anchor currently dating actor-entrepreneur Jonathan Chironna

CAPTION: Ashley Burgos- Launched a sleepwear Collection
SOURCE: eCelebrityFacts
In an interview with the press, Burgos revealed that they created Bold & Beautiful to offer a flexible option for nightwear. Mom and daughter Burgos is now thinking of expanding their business to the different parts of the country. As the line is available online at- WWW.bold&beautiful.com.
4. Ashley Burgos- Often models the pieces of Bold & Beautiful Collection
Ashley often models for the pieces of Bold & Beautiful collection. Just like her mother, Ashely also shows off her curves in revealing swimwear and outfits to promote the line of night-wear they produce.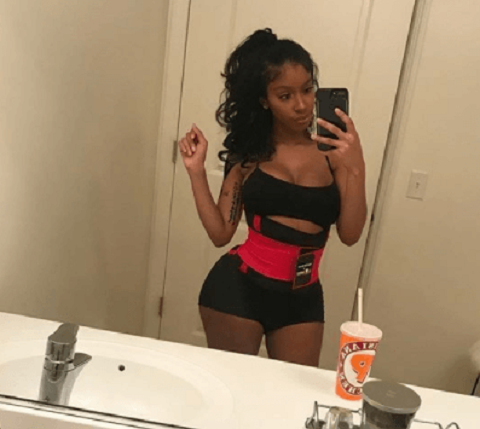 CAPTION: Ashley Burgos- Often models the pieces of Bold & Beautiful
SOURCE: Instagram
3. Ashley Burgos- Net Worth
As per the report, Ashley has an estimated net worth of $1 million. As he is a model as well as a businesswoman, she might be earning a huge amount of salary. Ashley's salary earned from her modeling career enables her to spend dollars on the designer's accessories and clothes. And her ongoing successful career hints that her net worth will rise in the upcoming year.
Also read: Find how music producer and entrepreneur Damon Dash happen to be a part of Rachel Roy, Beyoncé, and Jay Z Love Triangle
Youtube: Five facts you need to know about Ashley Burgos
2. Ashley Burgos- Has over 147k followers on Instagram
Not only a model and a businesswoman, Ashely is also a social media star. As she has more than 147k followers on Instagram. She is pretty active on Snapchat too. You can follow her @amariiee2. As her mother is also an Instagram model, it looks as if Ashley is also following her mother footstep.

CAPTION: Ashley Burgos- Has over 147k followers on Instagram
SOURCE: Instagram
1. Ashley Burgos- Pregnant and baby birth rumors
Well, all the rumors regarding Ashley Burgos's being pregnant giving birth to the baby is true. And the news was confirmed by Bernice, showing a support to her daughter via Instagram she said that she is a grandmother now giving away the long speculation on Ashely's pregnancy.
LEt's take a look at the Instagram post from Bernice
Instagram: Bernice Burgos confirms she is going to be a #Grandma very soon. her daughter #ashleyburgos' pregnancy and claps back at those hating over it.
However, we have a very few information regarding Ashley's boyfriend and the father of the baby but Bernice revealed that Ashley's boyfriend is a co-founder of a music company.
Keep up with Hitberry for more facts and gossips about your liked Celebs.