Kate Jackson, a retired actress, is best known for her role as Sabrina Duncan in the original "Charlie's Angels" series. Throughout her life, she has been married three times. Her first husband was Andrew Stevens, followed by David Greenwald, and later Tom Hart.
Despite facing personal ups and downs, Jackson remained dedicated to her acting career, leaving a lasting impression on audiences with her portrayal of the smart and fearless detective in "Charlie's Angels." Even after retiring from acting, she continues to be fondly remembered by fans around the world for her iconic role and contributions to the entertainment industry.
Jackson's Current Relationship Status
As of now, Kate Jackson's current relationship status is single. She is not married to anyone at the moment. She prefers to maintain a low-profile life away from the media spotlight, making it challenging for the public to learn about her personal life.
Kate Jackson with Jaclyn Smith
SOURCE: Inside Edition YouTube Channel
Despite her fame and success, Jackson values her privacy and chooses to keep her relationships and personal affairs out of the public eye. This decision has allowed her to focus on her well-being and interests without the constant scrutiny of the media. While fans may wonder about her life outside of the spotlight, it's clear that she prioritizes her privacy and enjoys living life on her terms.
Who Was Actress's Last Husband?
Jackson's last marriage was with Tom Hart, whom she dated for almost two years before they decided to tie the knot. The couple got married on September 29, 1991, in a lovely ceremony held at their leased home in Brentwood. Surrounded by their close friends and family, the event was a joyous celebration of their love.
Hart's son, Sean, from a previous relationship, also attended the wedding and added to the happiness of the day. Additionally, her loyal German shepherd, Bailey, was there, bringing a touch of warmth and charm to the occasion. Despite the initial happiness, their marriage faced challenges, and unfortunately, they decided to part ways and divorced in 1993.
Jackson And Hart's Love Story
Kate Jackson and Hart's love story began in 1989 when fate brought them together. She was on vacation in Aspen, Colorado when she happened to spot her third husband at a local restaurant. Feeling a spark of attraction, she decided to take a bold step and sent him a note through the waitress. In the note, she playfully asked him to reach out to her and mentioned that she would be in town for a week.
Kate Jackson in an interview
SOURCE: Eileen Prose YouTube Channel
This act of reaching out first was something Jackson had never done before, showing just how intrigued she was by Hart. To her delight, he was impressed by her confidence and charm. He got in touch with her, and they spent the week getting to know each other better. Their connection grew stronger with each passing day, and their time together in Aspen marked the beginning of a beautiful love story that eventually led them to the altar in 1991.
What Do We Know About Tom Hart?
Tom Hart was a man who led a lowkey life, preferring to stay away from the glitz and glamour of showbiz. When Jackson met him, he was the owner of a cozy ski lodge in Utah, where he enjoyed the serene beauty of nature and the thrill of skiing. Despite his preference for a quieter life, he had a bit of a showbiz background himself as mentioned on his IMDb page.
Hart once dipped his toes into acting and appeared as Catman in the movie "Midnight Intruders" in 1973, adding a touch of excitement to his life. He also ventured into the world of stunts and worked on action-packed films like "KGB: The Secret War" in 1985 and the iconic "The Terminator" in 1984. While he may not have pursued a full-fledged career in Hollywood, his showbiz experiences gave him a unique perspective and made him even more interesting in Kate's eyes.
Jackson's Married Life Before Hart
Kate Jackson's second husband was David Greenwald, and their marriage lasted from May 1, 1982, until December 20, 1984. The couple opted for a private wedding ceremony, which took place in the spring of 1982, at her beautiful home in Beverly Hills as mentioned in an article from UPI. The intimate gathering was attended only by their closest friends and family, reflecting her desire for a more personal and low-profile celebration.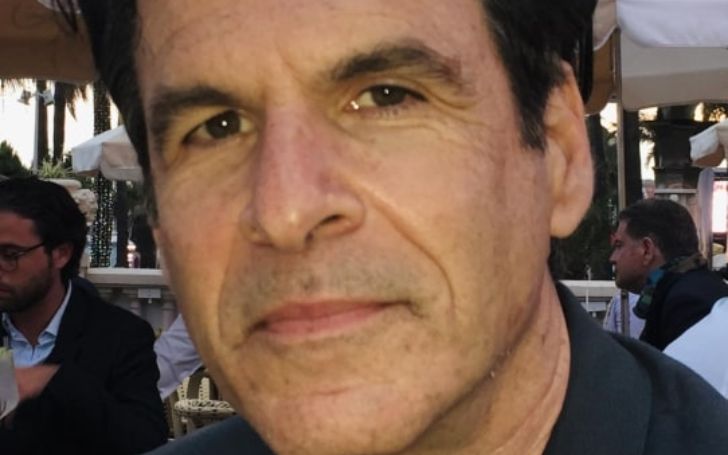 Kate Jackson's ex-husband, David Greenwald
SOURCE: IMDb
After her divorce from her first husband, Stevens, Jackson took some time before delving into a new relationship. It was about a year later that fate brought Greenwald into her life. Their love and companionship blossomed over the years they spent together as a married couple. Though their marriage eventually came to an end, the memories of their heartfelt ceremony and the love they once shared remain special moments in her life.
What Caused The Divorce With Her Second Husband?
Jackson and Greenwald's divorce was primarily caused by the geographical distance that separated them due to their work commitments. His job kept him in New York, while her work was centered in Los Angeles. The long periods of being apart put a strain on their relationship, making it difficult for them to nurture their bond. Realizing the toll it was taking on their marriage, he made a significant decision and moved to Hollywood.
Greenwald left his family business (he worked as an executive for an importing corporation) behind to work with Jackson in some of her productions, hoping that being together in the same place would help rekindle their connection. However, the stress of their busy careers and the pressures of the entertainment industry weighed heavily on both of them.
Jackson expressed that she was too preoccupied with her career to even take care of herself, let alone focus on her husband. This lack of time and attention for each other eventually led to the realization that their marriage couldn't endure the challenges they were facing, leading to their decision to part ways.
About Jackson's First Marriage
Kate Jackson's first marriage was to Andrew Stevens, and it lasted from August 23, 1978, until January 4, 1980. Their wedding was a unique and spontaneous affair, taking place at the Martha's Vineyard home owned by famous singers James Taylor and Carly Simon. Interestingly, he was six years younger than Kate, which made their love story even more intriguing.
Kate Jackson's first husband, Andrew Stevens
SOURCE: ScreamFactoryTV YouTube Channel
The decision to get married happened almost impulsively, as Jackson and Stevens had initially planned to go on a vacation together. However, just before their departure, they felt an overwhelming connection and decided to exchange their wedding vows instead. It was a romantic and adventurous start to their marriage, filled with excitement and spontaneity.
Jackson's marriage to Stevens came to a terrible end, and both parties openly acknowledged the challenges they faced. Andrew, a writer, and a producer, admitted that their marriage was a mistake. Meanwhile, Kate didn't hold back either, expressing the financial difficulties she encountered during their marriage. She revealed that Andrew had drained her bank account, saying "I felt as if my ex-husband drove up to my bank account with a Brink's truck."
Other Relationships
Apart from her marriages, Jackson has been involved in various relationships with notable personalities. In the year Connie Chung married Maury Povich, i.e. in 1984, she was romantically linked with Richard Cohen. In 1981, she was involved with Rock Brynner, who was the son of the legendary actor Yul Brynner. In 1977, she dated Nick Nolte, a talented actor known for his impressive performances in numerous films.
Before that, in 1973, Jackson was in a relationship with Robert Evans, a prominent film producer and studio executive. And going even further back, from 1970 to 1972, she was romantically involved with Edward Albert, an actor from a famous acting family. Throughout her life, the retired actress has had a colorful and intriguing love life, and her relationships with these different individuals have been a part of her journey in both love and showbiz.
First Husband Helped Her Quit Charlie's Angels
Kate Jackson's first husband, Stevens played a significant role in helping her leave "Charlie's Angels." The demanding schedule and her commitment to the show had taken a toll on her mental health and fulfillment. Meeting her husband made her realize that it was time to move on.
After filming the third season in the year Meryl Streep married Don Gummer, i.e., in 1978, Jackson found the strength to make her exit from the popular show. Her decision was influenced by the draining nature of the job and possibly her budding relationship with Stevens. With her first husband's support, she decided it was time to pursue new opportunities and take care of herself beyond "Charlie's Angels."
Check Out Hitberry for more