Jim Carrey has recently been all over the internet, courtesy of his late girlfriend, Cathriona White. The problems began after Cathriona committed suicide by overdosing on prescribed drugs in 2015. Her family has blamed him for their daughter's death.
While Jim Carrey in his defense, he said his late girlfriend's family is only doing this for money. This time, facts came to light with new documents which could actually prove him innocent. Stay tuned to find out more.
Jim Carrey Appears Guilty
Jim Carrey, like many other celebrities, is currently busy with lawsuits. It's been common for celebs to be accused of one thing or the other. Sometimes, they are innocent, whereas other times, they are actually found guilty. So, is Jim guilty of Cathriona's death or not?
Here's the note White wrote on April 8, 2016, long after Jim broke up with her, that read,
Before you I might not have had very much, but I had respect, I was a happy person, I loved life, I was confident and I felt good in my own skin and was proud of most decisions I made. I met you, you introduced me to cocaine, prostitutes, mental abuse and disease.
A year after of her death, Brigid Sweetman and White's husband, Mark Burton filed a case in Los Angeles last September against Jim Carrey accusing him of White's wrongful death. In Jim Carry's response,
Cat's troubles were born long before I met her and sadly her tragic end was beyond anyone's control. I really hope that some day soon people will stop trying to profit from this and let her rest in peace.
According to them, drugs provided by the actor even after knowing of her depression has caused White's death. Furthermore, they claim that the actor even transmitted Herpes I, Herpes II and gonorrhea to White.
Cathriona White, Jimmy's ex-girlfriend's funeral Source: dailymail.co.uk
The 54-year-old actor could not withstand the false accusations. He responded to Burton's allegations by saying,
What a terrible shame. It would be easy for me to get in a back room with this man's lawyer and make this go away, but there are some moments in life when you have to stand up and defend your honor against the evil in this world
Session notes and text messages from October 2012 to July 2013 were submitted to the court as proof to build their case. White's therapist presented the counseling notes which he kept during the session, to parties.
Related Article: Actor Jim Carrey files counter suit accusing his dead girlfriend's ex-husband and Mother of extortion
Jim with his ex-girlfriend, Cathriona White Source: thesun.co.uk
According to White's therapist notes, she questioned bumps on his (Jim Carrey) genitals before her first outbreak, but he dismissed them as irritation from shaving, thus blaming that he had transmitted her STDs.
Text messages between White and Carrey pointed towards a similar point, supporting the White's mother and Burt's case.
Text messages between Jim and White regarding the STDs Source: dailymail.co.uk
One note from January 30 read that White 'wishes (Carrey) would marry her as promised so that she can work and be more self-sufficient.' But it was only 15 days after she had married Burton. Why did she marry Burton? Who knows?
Carry then requested a protective order saying the information was 'inaccurate' but it was already late. Sweetman had already disclosed these notes to third parties.
As of 30th September, the Los Angeles Superior Court, however, released a statement that said,
A cottage industry that both feeds upon and exploits the public vulnerability of those who have achieved Hollywood notoriety is firmly planted, Hollywood stars are caught in the Hobson's choice of publicly fighting these false claims or confidentially settling the potential litigation for millions of dollars in order to save them from public embarrassment, ridicule, and pile-on litigation.
Following these arguments, the STD test report submitted to the court was reported to be true. Okay so even if he gave her STDs, how on earth did that cause Cathriona to commit suicide?
And to everyone's surprise, the case took another turn when Carrey's attorney submitted documents in front of the court last Friday.
You wouldn't wanna miss this: Canadian-American Actor Jim Carrey living happily after the second divorce with Melissa Womer in 1995
Jim Presents Documents Against His Accusations
On 20th October, Jim Carrey's legal team submitted documents that brought a twist into the story. Apparently White and her then-attorney, Filippo Marchino tried prior in 2013 to extort Jim through smears and threats of public degradation via false allegations, according to the documents.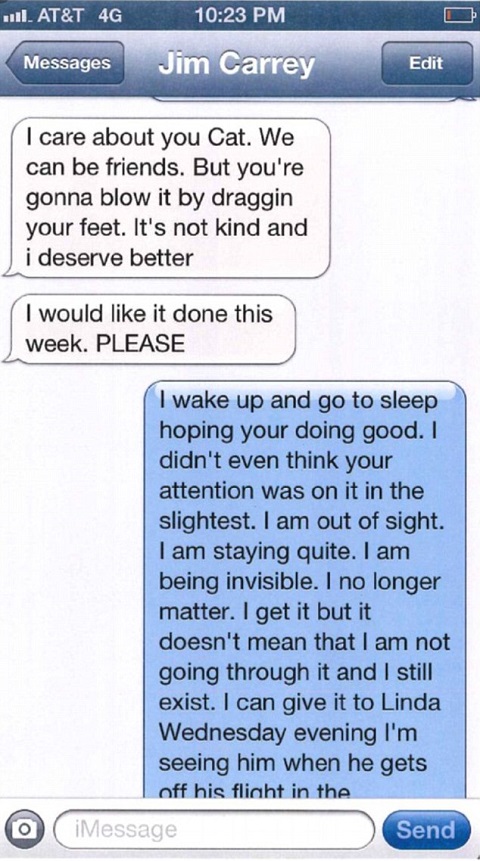 White seems like she is still in love with him Source: dailymail.co.uk
Jim Carrey did not take the threat seriously at the time. After White's suicide, both White's mother, Brigid Sweetman and Burt decided to give it a second try.
Jim Carrey claims that his ex-girlfriend had STD's before she met him and the reason behind accusations is to wring the settlement money. The filed motion said,
Recognizing that Carrey was conned before, White's green-card husband, Mark Burton, and her estranged and emotionally abusive mother, Brigid Sweetman, decided to get a second bite at the apple by filing a lawsuit claiming Mr. Carrey caused White's death, exploiting the judicial system with fraudulent 'evidence' in a continued effort to extort Carrey.
Also, Carrey's legal team presented the text messages between White and her friend further advocating that Jim was framed. White, had actually used her friend's Planned Parenthood and tampered it.
Wanna Know: Does Jim Carrey have a new girlfriend?
Jim Carrey spotted outside an art gallery in NYC's Soho neighborhood Source: dailymail.co.uk
She forged it and even changed the date to 2011 to make it appear like she did not have STD before meeting him. Her intention to extract money from ex-boyfriend became clear. She might have thought she could trick him with her fake report before he got away as they had already broken up.
Furthermore, a forensic document examiner confirmed that White's 'alleged 2011 medical records are classic electronic 'cut and paste.''
Could this mean Jim's really innocent? It seems like he is. People like White, Brigid Sweetman and Burton should be shameful for presenting false documents and causing unnecessary mental stress and trouble to innocent people like Jim just for money.
But let's not reach the final decision soon. The final judgment day is yet to come, and we do hope the truth wins. According to the sources, a 20-day trial is set for the day, April 26, 2018.