An American actor and producer, Michael Douglas who has a net worth of around $300 million have married twice in his life as his father, Kirk Douglas did. Currently, he is leading a happy marital life with his second wife Catherine Zeta-Jones after divorce with Diandra Luker.
74-year actor, Michael Douglas who has given most of the time of her life in Hollywood has had a very successful career. Well, we might all be aware of the professional life of famous actor and producer. But do you know about his personal life in detail? Have a look till the end as we are going to disclose all about Michael's personal life.
Michael Douglas living happily with her second wife
Producer, Michael Douglas is currently living a happy married life with his wife, Catherine Zeta-Jones. Michael dated Catherine since March 1999 and married a year after on November 18, 2000.
CAPTION: Michael Douglas and Catherine on their wedding days
SOURCE: Star Talent Inc
As per some tabloid source, Catherine said that, when they met each other for the first time in Deauville, Michael said to her that he wants to be the father of her children. And just a month later, they started dating and still going together.
Also see: Longtime's Hollywood Actor Kirk Douglas Earns Well From His Career, Has a Good Net Worth
The couple shared their first child: son, Dylan Michael before getting married on August 8, 2000. After the three years of their wedding and first born, they welcomed daughter Carys Zeta on April 20, 2003.
CAPTION: Michael Douglas and Catherine on their wedding days with their son
SOURCE: Guest of a Guest
In 2013, People magazine claimed that Michael and his wife, Catherine were living separately, but they were not taking legal action towards their separation. But later on, a representative of Catherine said that they were taking time to focus on their work as well as evaluate their marital relationship. Reportedly on November 1, 2013, the pair moved back into their NY apartment.
CAPTION: Michael Douglas with his wife Catherine and their child
SOURCE: Pinterest
Michael Douglas' unsuccessful relationship
Talking about the personal life of Michael he had gone through a couple of relationship in his past days. Getting back in 1971, he was in a dating relationship with American actress, Brenda Vaccaro. Their relationship didn't last more than six years as they broke up due to personal reason.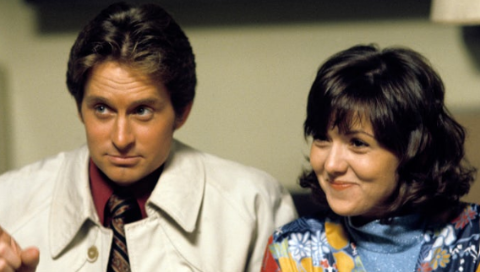 CAPTION: Michael Douglas and Brenda Vaccaro
SOURCE: Closer Weekly
In the same year, he broke up with Brenda he got married to 14 years' younger Diandra aka Diana Dill who was just 19 years. A years after their marriage, the couple shared a son, Cameron.
CAPTION: Michael Douglas and his first wife Diandra
SOURCE: DailySportX
After being married for around 17-18 years, Diandra filed for a divorce in 1995 and in the same year, it was finalized. As per the divorce settlement, Diandra got $45 million.
Top 10 Facts of Michael Douglas
1. Michael Kirk Douglas was born on September 25, 1944, in New Jersey, US.
2. He is the elder son of famous actor cum producer, Kirk Douglas, and actress Diana Dill.
3. Currently, he resides in Los Angeles, California.
4. He has a net worth of around $300 million.
5. Michael is the father of three children including actor Cameron Douglas.
6. He started his filming career at the age of 22.
7. He is of the Democratic party.
8. In 2013 he revealed that he had tongue cancer.
9. At the age of 33, he married to first wife Diana when she was just 19.
10. Michael was involved in an accident in the year 1980.