German Model Claudia Schiffer is Living Happily with Husband Matthew Vaughn and Children
German Model Claudia Schiffer is Living Happily with Husband Matthew Vaughn and Children
42 years German model, actress, and fashion designer Claudia Schiffer despite being in numerous romantic relationship have finally found the true love of her life, and she looks very happy with her current husband, Matthew Vaughn.
After spending her life through many relationships, Claudia has found her true love, Matthew Vaugh. The couple has already spent almost 17 years of their married life together. Claudia and Matthew are also blessed with three children which provides more grip to their fascinating love. The couple has spent this long time married life with no disputes and fights with proves they are having quite a happy and beautiful time together. Let us know more about Claudia married relationship with Matthew Vaughn and their children together.
Claudia Schiffer's Relationship with Matthew Vaughn
Claudia Schiffer got married to English film director, producer, and screenwriter Matthew Vaughn. The couple tied the knot on 25th May 2002.
Also Read: 90's Supermodel Claudia Schiffer still hot even at the age of 44, not afraid of aging
CAPTION: German Model Claudia Schiffer married to Matthew Vaughn
SOURCE: www.pinterest.co.kr
Gorgeous supermodel Claudia and Mathew dated around two months before they got engaged. After getting engaged in 2002 and spending two years of engaged relation, the couple tied the knot in 2002.
Even after 16 years of married life, the love between Claudia and Matthew is still sparkling brightly as we can see the couple sharing their time and enjoying their life fully. The couple is often seen in the parties, dinners, and vacations. We can see the couple giving much priority to each other as a great husband and wife.
Youtube: Claudia and Matthew during the film premiere in London
Claudia looks happy with her current relationship as she often misses her wedding day which was the happiest moment of her life. The gorgeous fashionista often shares the picture flaunting her love towards her husband Matthew and can be seen quite often sharing the photo of her husband and her wedding day via social media.
Also Read: Irish Actress and Model Caitriona Balfe Engaged to a Music Producer; Know about her Fiancé, Dating Rumors, and Controversies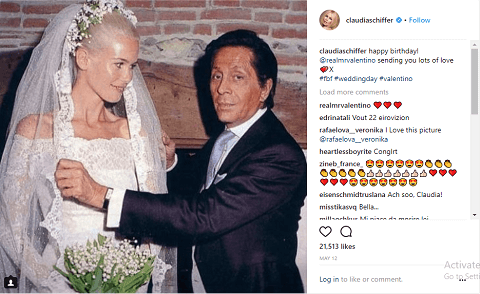 CAPTION: Claudia Schiffer during her marriage
SOURCE: Instagram
CAPTION: Claudia and Matthew spending time together
SOURCE: Instagram
The couple is quite often seen visiting several places and have a date night. Keeping their busy schedule aside they give priority towards each other; he has probably been the key to their successful married life.
Claudia Schiffer's Children
German supermodel Claudia spending her long-term married relationship with her husband Matthew is blessed with three children. Schiffer is a proud mother of two daughters and a son.
Also Read: American Model Katherine Webb Married AJ McCarron in 2014: Enjoying Life With Their Son
CAPTION: Claudia Schiffer in a walk with her children
SOURCE: Wirewag
Caspar Matthew De Vere Drummond is her first son who was born in 2003. Right after a year of her first childbirth she again gave birth to her second child and her first daughter, Clementine Poppy De Vere Drummond in 2004. Back in 2010, the supermodel gave birth to her second daughter and a third child Cosima Violet De Vere Drummond.
Though Claudia does not much prefer to show off her personal and family life to the public, she has proven herself a good and a responsible mother, which have even fascinated the whole world. Her motherhood was also shown by the magazine, as she was seen in the US cover for Vanity Fair 2007 along with her two children; Casper and Clementine.
Also Read: Find 22 Years Singer Dua Lipa's Net Worth and Earnings from Her Musical Journey and Modeling Career
CAPTION: Claudia with her two children in the US cover for vanity
SOURCE: Instagram
With all the above facts we can feel the tight bond between Claudia and her husband Matthew as a husband and wife. And the most important is she has been very responsible towards her children and proved herself a better mother as well. She is the best mother of her child and the best wife of her husband.
Ten Facts about Claudia Schiffer
1. Claudia Schiffer was born on 25th August 1970 in West Germany.
2. Her real name is Claudia Maria Schiffer.
3. Claudia Schiffer's net worth is estimated to be around $60 million.
4. She has appeared in more than 100 magazine covers.
5. She is listed in the Guinness Book of World record for the model with the most Magazine cover.
6. She has two brothers and a sister.
7. She can fluently speak three languages, German, French, and English.
8. Claudia wanted to become a lawyer.
9. She used to work in her father's Law Firm.
10. She made her film debut in a children's movie Richie Rich.