Susan Hayward, the late actress, is fondly remembered for her exceptional performances in movies like "With a Song in My Heart, I Want to Live!" (which earned her an Oscar), "I'll Cry Tomorrow," "My Foolish Heart," and many more. Born on June 30, 1917, she graced the silver screen with her talent and charisma until her passing on March 14, 1975.
Apart from her impressive acting career, people have often been curious about her love life. Throughout her life, Hayward had several notable relationships and even got married two times. Let's delve deeper into the romantic aspect of this iconic actress's life and explore the people who were fortunate enough to be part of it.
Was Hayward Married When She Passed Away?
No, Susan Hayward was not married at the time of her passing. When she died on March 14, 1975, she left behind a legacy of great films and a loving family. She was survived by her two sons, a grandson, and a granddaughter, who cherished her deeply. She passed away at the age of 55 at her residence in Beverly Hills, California.
Susan Hayward in I Thank A Fool
SOURCE: Rotten Tomatoes YouTube Channel
Hayward's death came after bravely battling brain cancer for two years, during which she demonstrated incredible strength and resilience. Unfortunately, she succumbed to the illness after experiencing a seizure, leaving her fans and the entertainment industry mourning the loss of a remarkable actress and a beloved individual.
Hayward's death from cancer has been the subject of speculation who believe it might have been linked to her involvement in the 1956 film, "The Conqueror." The movie was shot near the atomic testing range at Yucca Flat, Nevada. Shockingly, it is reported that 91 members of the cast and crew, including her co-star John Wayne and director Dick Powell, later suffered from cancer. The unfortunate correlation raised concerns about the potential health hazards they were exposed to during filming.
Hayward Had Lost Her Husband, Chalkey
Hayward's second husband, Floyd Eaton Chalkley, had a significant impact on her life. They were happily married until a tragedy struck (on the year Lidia Bastianich and Felice Bastianich had tied the knot) January 9, 1966, when he sadly passed away. He died at the age of 56, leaving behind a void in Susan's heart. His death came after a relatively short illness of six weeks, as mentioned in an article from The New York Times, which must have been a challenging time for both of them. He died of hepatitis.
In his final weeks, Chalkley was admitted to Holy Cross Hospital for three weeks, hoping to receive the best possible care and treatment. However, he was eventually discharged, indicating that his condition might have been beyond medical intervention. His passing must have been a great loss for her.
Chalkey And Hayward's Love Story
Chalkley and Hayward's love story was a tale of chance meetings and a deep connection that blossomed in the city of Los Angeles. It was in 1956 when fate brought them together during one of his business trips. They were introduced to each other by a mutual friend, and from that moment, their lives seemed intertwined.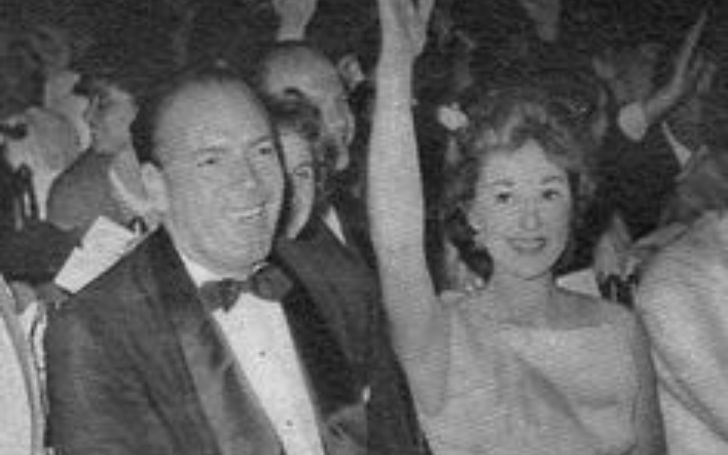 Susan Hayward and her second husband, Floyd Eaton Chalkley
SOURCE: Pinterest
The spark between Chalkley and Hayward grew stronger with time, and on February 8, 1957, they decided to take the leap and tie the knot. Opting for a simple and intimate ceremony, they were married by a justice of the peace in Phoenix, Arizona. At the time of their marriage, the late actress was 37 years old, and he was 47. Despite their age difference, their love and commitment to each other proved ageless.
Who Was Floyd Chalkey?
Floyd Chalkley was a multi-talented individual with a diverse background. First and foremost, he was a successful businessman, running a thriving used car dealership and making smart investments in real estate. His acumen in business contributed to his financial success and allowed him to lead a comfortable life.
However, before venturing into the business world, Chalkey had an interesting career as a former FBI agent. His time with the Federal Bureau of Investigation must have been filled with excitement and challenges, as he worked to uphold justice and maintain law and order.
Later in his life, Chalkey pursued a career in law and became an attorney, showcasing his intellect and legal expertise. He also took pride in being the owner of an automobile agency based in Carrollton, Georgia, where he resided. Throughout his journey, he exhibited a range of skills and experiences that shaped him into a remarkable individual.
Who Was Hayward's First Husband?
Susan Hayward's first husband was Jess Barker, a fellow actor. The two of them tied the knot on July 23, 1944. During World War II, as a patriotic gesture, the late actress actively supported the war effort by volunteering at the Hollywood Canteen, a popular venue where servicemen and women could enjoy entertainment and refreshments.
Susan Hayward with her ex-husband Jess Barker
SOURCE: Pinterest
It was during Hayward's time volunteering at the Hollywood Canteen that she had the opportunity to meet Barker. Their encounter sparked a connection that eventually led to marriage. In the following year, the couple welcomed twin sons, Gregory and Timothy Barker, who were born on February 19, 1945. Though their marriage eventually faced challenges and ended in divorce, the love they shared as parents to their twin boys remained a precious bond throughout their lives.
How Badly Was Hayward Affected By Her Husband's Death?
The death of Chalkley, Susan Hayward's second husband, deeply affected her life and career. Overwhelmed by grief and in deep mourning, she made the difficult decision to step away from Hollywood for a considerable period. She took a hiatus from the glitz and glamour of the entertainment industry for five years, seeking solace and healing away from the public eye.
During this time, Hayward focused on coping with her loss and finding the strength to move forward. Eventually, in 1971, she felt ready to make a comeback and return to the screen. Despite her undeniable talent, she chose to take on only a few roles after her return. She appeared in three films: "Heat of Anger," "The Revengers," and "Say Goodbye, Maggie Cole" in 1972, as mentioned on her IMDb page. After these films, she said goodbye to the movies.
Other Relationships
Susan Hayward's romantic life was filled with a series of relationships with various notable figures from the entertainment and political worlds. After her divorce from Jess Barker, she was involved with several men, including Don 'Red' Barry, Richard Egan, John Beck, Jeff Chandler, and John Wayne. Her love life also intersected with the legendary businessman and aviator Howard Hughes, with whom she had a relationship lasting for a few years.
Hayward's charm and beauty captivated many, and she was also linked to Jon Whitcomb, Jay Bernstein, Jorge Guinle, Enrique Parra, Lex Barker, Bruce Lester, and Bill Ballance, and even had an encounter with Robert Wagner in 1956. The list of admirers and suitors continued to grow, including actors Paul Newman and John Carroll. Additionally, there were rumors of a brief encounter with the charismatic politician, Jack Schlossberg's grandfather, John F. Kennedy. Throughout her life, her romantic entanglements often made headlines, making her one of the most intriguing and talented stars.
The Ugly Divorce Between Hayward And Barker
The divorce between Hayward and Barker was far from amicable. Their marriage had already reached its breaking point, leading to their separation in 1950. The couple's divorce was finalized on August 18, 1954, but it was a tumultuous process, especially when it came to deciding the custody of their twin sons, Gregory and Timothy.
The custody battle turned bitter, and Hayward made shocking allegations against Jess, claiming he had been abusive towards her during their marriage. Despite the emotional turmoil, she was going through, Susan emerged victorious in the custody case, securing the right to raise her beloved sons. However, the stress and strain of the divorce and custody battle took a heavy toll on her emotional well-being.
In 1955, while she was still working on the film "I'll Cry Tomorrow," Hayward attempted to take her life by swallowing sleeping pills. This heart-wrenching incident shed light on the emotional struggles she endured during this challenging period. Despite the darkness she faced, she showed incredible strength and resilience in her personal and professional life.
Check Out Hitberry for more