Chundey Ross, a beautiful and youngest daughter of super-singer and actress Diana Ross, is happily married to her husband Joshua Faulkner with whom she has been in a relationship for more than 6 years!
In recent days it is also heard that the lovely couple has an additional member of their family – cute little blonde Callaway Lane, their daughter. Well, here we have gathered all the information regarding Chunday Ross's married life and children. Keep scrolling for more.
Chudney Ross and now-husband Joshua Faulkner: How They Met
According to Inside Weddings, the now husband Joshua found a rather intriguing picture of his now-wife Chudney on Facebook through one of their mutual friends.
The mutual friend gladly arranged a date for one another – rather – a cocktail date! Chudney expresses that she found him rather handsome and also adds that it was rare to find such a fine gentleman in Los Angeles.
[ CAPTION: Chudney Ross ]
[ SOURCE: Twitter ]
Joshua Faulkner's marriage proposal to Chudney Ross
Okay, so this must be one of the most unique and heart-melting proposals of all time! Apparently, their daughter – Callaway Lane, was born around 3 years before their wedding.
One fine morning, Callaway handed a box which was wrapper with a drawing of hers. When Chudney looked back up, there he was – Faulkner on his knees ready for his marriage proposal. As a matter of fact, the same day was Chudney's birthday as well and plans were made to meet everyone for dinner.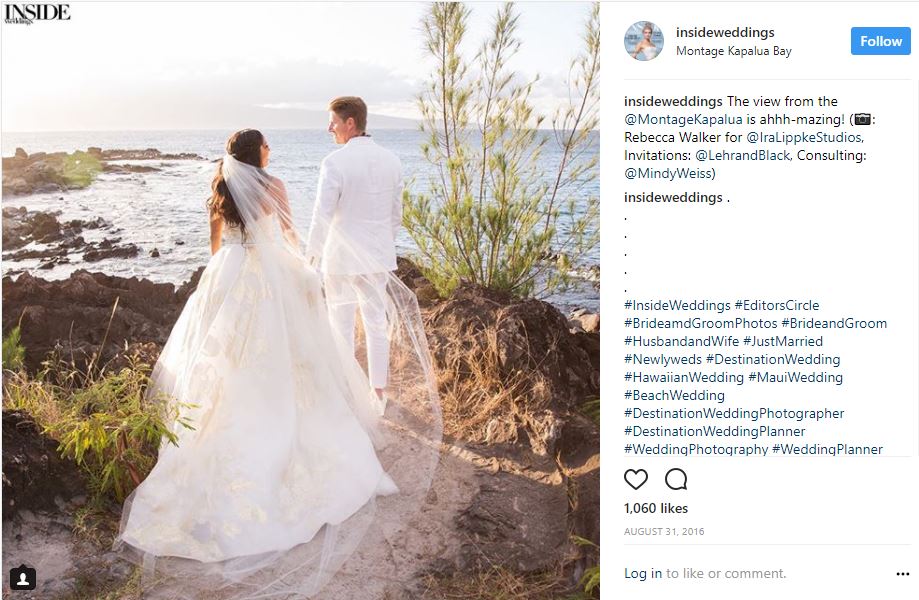 [ CAPTION: Chudney Ross ]
[ SOURCE: Instagram ]
Chudney Ross's marriage to her boyfriend Joshua Faulkner
As much it was difficult for other celebrities to choose their wedding destination, it wasn't much of a stress for Chudney. She always wanted to have her dream wedding in Hawaii.
The couple's first trip was on an Island, Maui. So, they had decided to choose an island for their wedding. They chose Montage Kapuala Bay as their wedding location.
[ CAPTION: Chudney Ross married Joshua Faulkner ]
[ Source:

Inside Weddings

]
The best part about the wedding was that their daughter was one of the witnesses on their big day. Baby Callaway was all dressed in white with a floral hair band to beautify her innocence.
[ CAPTION: Chudney Ross marriage to her boyfriend Joshua Faulkner ]
[ Source:

Inside Weddings

]
Their wedding was featured on Inside Wedding, a wedding magazine, and it was pure elegance!
Chudney Ross and husband Joshua Faulkner: Dream family
Their family is no less than a dream team. Even though there are not many pictures of the father together with his ladies, we could believe such a happy family is content with themselves.
Mother Chudney, who is a producer for shows such as BET Awards, spends almost all of her time with her child. She has been working at a children's bookstore for more than 6 years now and her daughter is often spotted there with her mother.
[ CAPTION: Chudney Ross ]
[ SOURCE: Instagram ]
But, the father-daughter bond is no less. During Chudney's pregnancy in 2012, father Joshua accompanied his sweetheart wife for a pregnancy photo shoot too!
[ CAPTION: Diana Ross ]
[ Source:

bckonline.com

]
40-year-old mom Chudney definitely spends Christmas with her daughter and with the Santa Claus too!
And, the most beautiful picture of Chudney has to be this! Mother's kiss means everything to their child. But, something more mesmerizing is having all three members of the family under the same selfie!
Going in for the #TripleKiss! #HappyNewYear #MyEverything #2015 pic.twitter.com/TgGr4OadK1

— Chudney Ross (@ChudneyLRoss) January 1, 2015
[ CAPTION: Jagger snow ]
[ SOURCE: Instagram ]
The beautiful family is spotted along with Chudney's siblings – brother Evans with his wife Ashlee Simpson too!
As Chudney Ross and Joshua Faulkner living together for a long time they must be in strong bond and till date no any news and rumor regarding their relationship is heard which would lead to their separation.