Billie Eilish is a talented American singer and songwriter who rose to fame with her captivating debut song "Ocean Eyes" in 2015. Her mesmerizing voice and unique style quickly caught the attention of music lovers worldwide. As her career soared, she achieved a remarkable milestone in 2020 by becoming the youngest person ever to win a Grammy for Album of the Year.
Born on December 18, 2001, Eilish's remarkable achievements have earned her a devoted fan base and critical acclaim. Some of her other popular songs include "Lovely," "Bad Guy," and "Everything I Wanted," which further showcase her extraordinary talent and creativity. Her music continues to resonate with listeners of all ages, making her a true musical sensation of her generation.
Short-Lived Relationship With Jesse Rutherford
Eilish's relationship with Jesse Rutherford was short-lived and garnered a lot of attention from the public and her fans. Despite the romance rumors that sparked on October 13, 2022, after they were seen on a dinner date, and later spotted kissing in Studio City on October 18, 2022, their breakup reason remained a secret.
Billie Eilish and her ex-partner, Jesse Rutherford
SOURCE: Entertainment Tonight YouTube Channel
One of the aspects that drew scrutiny from some fans was Eilish and Rutherford's 10-year age gap, which led to backlash and discussions on social media. Despite the ups and downs in their relationship, the two managed to maintain their friendship even after parting ways romantically. Both of them handled the situation with maturity and respect for one another, showing that they value their bond beyond any romantic involvement.
Rutherford is a talented singer-songwriter and the lead vocalist of the popular alternative rock band, the Neighbourhood. His distinctive voice and emotive lyrics have won the hearts of many music enthusiasts. The band is well-known for creating captivating melodies and thought-provoking songs. Among their most famous tracks are "Sweater Weather," "Softcore," "The Beach," and "Daddy Issues."
Current Relationship Status
As of now, Billie Eilish is single and not seeing anyone. After going through a recent breakup with Jesse Rutherford, she has chosen to focus on herself and take some time for introspection and self-care. Breakups can be challenging, and it's essential to allow oneself the space to heal and grow. She, being a public figure, values her time and wants to concentrate on her well-being before considering any new romantic relationships.
Eilish fans and supporters understand and respect her decision, as they know that she always puts her heart and soul into her music, and taking time for herself will only make her stronger as an artist and as a person. Her journey through life and love continues to inspire her music, and her authenticity is something that resonates with many of her fans.
Previously Dated Matthew Tyler Vorce
Eilish was previously in a relationship with Matthew Tyler Vorce, but the couple went through a breakup in May 2022. Their romance first sparked dating rumors in April 2021 when they were spotted getting close during a coffee run in Santa Barbara, California. When news of their breakup surfaced, rumors were circulating that Jesse had cheated on Matthew.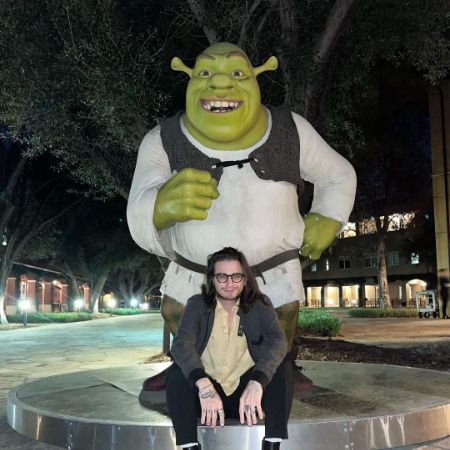 Matthew Tyler Vorce posing with the Shrek
SOURCE: Matthew Tyler Vorce Instagram @corduroygraham
However, Vorce took to his Instagram story to clarify the situation, stating that nobody cheated on anyone. He emphasized relationships can end for various reasons, and it's as simple as that. He expressed his concern about the dangers of creating and spreading rumors on the internet, urging people to be cautious with the information they share as mentioned in an article from People.
Who Was Billie Eilish's First Kiss?
Billie Eilish's first kiss was with a boy named Henry Whitford, and she hasn't been shy about mentioning him as she has done it a couple of times. They went on a date together, just one day before Valentine's Day, and decided to spend time at the movies. However, she didn't seem to enjoy the movie they watched, describing it as "the worst movie ever."
Despite the less-than-perfect movie experience, Eilish and Whitford's tried to salvage the night by doing something romantic. They climbed to the roof of a parking lot to gaze at the stars together. It was there, under the night sky, that they shared their first kiss (at least for her). Unfortunately, the moment didn't turn out as magical as she had hoped.
Henry's comment after the kiss left her feeling disappointed, as he said, "Wow that was not as magical at all as I thought it was going to be." First kisses can be nerve-wracking and unpredictable, and it seems like Eilish's experience was a mix of excitement and some awkwardness. Nevertheless, it was a significant milestone for her and a memory she has shared with her fans, embracing the ups and downs of teenage experiences.
Was In A Relationship With Brandon Q Adams?
Eilish was in a relationship with Brandon Q Adams, and they dated for less than a year, from 2018 to 2019. In interviews and public discussions, she has opened up about the reasons behind their breakup. She shared that the relationship ended because she wasn't happy, and they had different priorities and desires.
Billie Eilish with her ex-boyfriend, Brandon Q Adams
SOURCE: YouTube
According to Eilish, it wouldn't have been fair to continue the relationship when they both wanted different things in life. She expressed that it's essential for both people in a relationship to be equally excited about the things that matter to them and not settle for a lack of effort from either side. Her honesty and candidness about her experiences in relationships resonate with many of her fans, who appreciate her straightforward approach to discussing difficult topics.
Adams is an LA-based rapper who is five years older than Eilish. Their age difference didn't stop them from developing a connection, and in the year Torrie Wilson got into the WWE Hall of Fame, i.e., in 2019, their relationship reached the level of significance when she was featured on the cover of Brandon's debut album, "Bleupro." The collaboration was a moment of artistic expression and shared creativity for both musicians.
Brandon Q Adams Fight With Billie Eilish
Two years after his breakup with Eilish, Brandon Q Adams found himself at the center of controversy following the release of the documentary "Billie Eilish: The World's a Little Blurry." Some fans were upset with the rapper based on the way he was portrayed in the documentary. However, in response to the criticism, he defended himself on his Instagram story, stating that there are always two sides to a situation.
Adams shared that when the events in the documentary took place, he was also dealing with the fresh pain of his brother's death, which likely affected his emotions and reactions. He emphasized that people can have different perspectives and disagreements in a relationship and that it's crucial to understand that there are multiple points of view in any situation as mentioned in an article from Daily Mail.
By opening up about his struggles, Adams tried to shed light on the complexities of relationships and the impact of personal challenges on one's behavior. While the documentary offered a glimpse into their past, both he and Eilish have continued to focus on their careers and personal growth, leaving the past behind as they move forward with their lives.
Billie Eilish's Ugly Men Controversy
Billie Eilish found herself embroiled in controversy after judging why "good-looking girls" date "ugly men." She gave during an interview with Pitchfork didn't sit well with people. In the interview, she made a statement about pretty girls being with "horrible-looking men," which sparked criticism. She expressed confusion about such pairings and shared her thoughts on how some "ugly" guys might feel entitled or behave poorly once they have a "hot girl" by their side.
While Eilish claimed not to shame people for their looks, her words seemed to imply otherwise, leading to a heated debate on social media and among her fans. Some argued that her comments contradicted the principles of body positivity and acceptance, which she has supported in the past. They felt that it was unfair to judge or label someone based on their appearance, emphasizing that beauty is subjective, and relationships should be based on mutual respect and compatibility rather than physical appearance.
Check Out Hitberry for more articles