Bad Guy singer Billie Eilish made headlines when she was spotted with boyfriend actor Matthew Tyler Vorce in Santa Barbara, California.
The 21-year-old singer-songwriter began dating Vorce in early 2021 and made their first public appearance in April. So who is Matthew Tyler Vorce and what does he do? Find out with us.
Matthew Tyler Vorce: Who Is He? How Old Is He?
Matthew Tyler Vorce was born on 10th September 1991 in the United States of America to Jana Reddick. He was born under the birth sign, Virgo.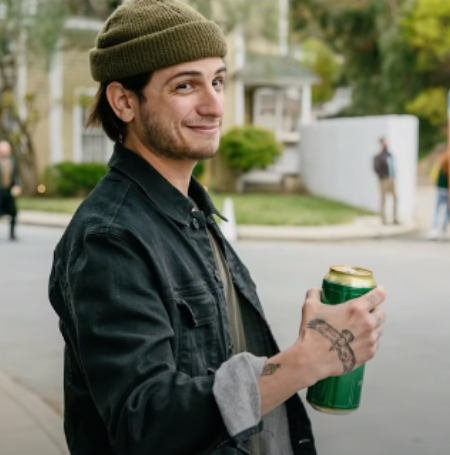 CAPTION: Rising actor Matthew Tyler Vorce grabbed media and the public attention with his relationship with Grammy-winning singer Billie Eilish
SOURCE: YouTube @PopJuice
Vorce is 31 years old as of 2022. As per sources, he reportedly trained at The Groundlings School in basic improv and intermediate improv. Likewise, he also studied at Playhouse West.
Earning Details: When Did He Begin His Acting Career?
The rising actor made his debut as JT in the 2012 movie Little Monsters. The following year, he played The Collector 2 in Itsy Bitsy Spiders.
Likewise, he also starred in the 2016 film Mother, May I Sleep With Danger? alongside Emily Meade, Leila George, and Nick Eversman.
As of 2019, Matthew played Frankie Mintz in a TV mini-series Return Home. Similarly, in 2020, he appeared as Fire Chief in Light House starring BJ Grip, Jeff Heimbuch, and Paulina Logan.
The actor/writer set to appear as Stewart in his upcoming project Th Curse of Frank Sinatra.
According to various reliable sources, his net worth is estimated at around $300 thousand as of 2022. He earns most of his fortune from his career as an actor.
Are Billie & Matthew Really Dating?
The 31-year-old rising actor is quite private when it comes to his personal life. Despite his rising career, he prefers to keep information regarding his love life away from the love life.
However, recently in 2021, Vorce was spotted several times getting cozy with My Future singer Billie Eilish. He even follows Eilish's brother and mother on Instagram.
CAPTION: Tyler Vorce and Billie Eilish made their first public appearance in April 2021
SOURCE: YouTube @ClevverNews
As per reports, the couple has been publicly together since April 2021 but may have been dating months prior to this privately. After the news broke in, fans quickly speculated that Matthew Vorce is the guy Eilish mentioned in her 2021 Apple TV+ documentary Billie Eilish: The World's a Little Blurry.
During an interview with Capital Breakfast with Roman Kemp, Billie explained why she kept her relationship private saying,
"I definitely want to keep [relationships] private. I've had relationships and kept them private, and even the ones that I've had, with the tiny amount that I've let the world see, I regret. I think about the people that have made their relationships public and then they break up and it's like, 'What if it goes bad?"
As of April 2022, the couple is still dating and actually going strong. They even attended the Oscars together looking happy and in love.