Anna Faris is talented an American actress and producer mostly known to her fans for her comic roles. Besides her professional life, many of her fans are very eager to know about her personal life too.
We all have heard people getting married to someone of the same profession. Likewise, Anna got married to fellow actor Ben Indra, but their relationship didn't last long and got divorced after having a short relationship. What made their relationship so weak? What made them through separation? Stick on this page to know all about Anna Faris's personal life.
What made Anna and Ben go through a divorce?
If we talk about Anna and former husband Ben Indra, then they met each other on the set of Lovers Lane in 1999. They had been involved in a romantic dating and open relationship. In 2004, the couple got married. Unfortunately, their marriage didn't last long and ended in 2007.
Also, see: Anna Faris' Jealousy Towards Jennifer Lawrence, Claims her husband Charis Pratt cheated
[ CAPTION: Anna Faris and Ben Indra ]
[ SOURCE: NY Daily News ]
There were a number of rumors regarding their separation in media. But in an interview with Marie Claire in 2011, Ann stated that the reason for their separation was just because of her growing fame and Ben's lack of success in Showbiz.
Is she leading a happy married life with Chris Pratt?
All of her fans were heartbroken when Anna and Chris revealed on August 6, 2017, that they are separated after eight years of marriage. The former couple shared the news via Anna's Instagram. In the post, she has stated that they tried hard for so long but are disappointed not to have mended their relationship.
SEE: Despite what the tabloids say, Anna Faris and Chris Pratt are not splitting up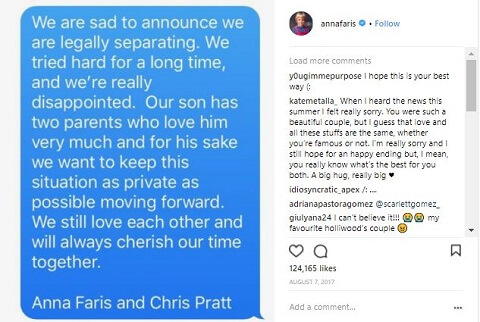 [ CAPTION: Instagram post by Anna ]
[ SOURCE: Instagram ]
If we look back at their relationship, then Anna fell in love with Chris Pratt on 2007 while both of them worked on the film Take Me Home Tonight. The couple got engaged and tied the knot on July 9, 2009, in Bali in a private ceremony. The couple shares four children altogether.
Is she currently dating anyone?
Suddenly after her divorce with Chris, she was spotted with Michael Barrett several times. Although there were no signs of romance in their earlier phase, in September and October 2017, they were seen spending most of their time together.
[ CAPTION: Anna Faris and Michael Barrett ]
[ SOURCE: US Weekly ]
They were even seen hand-in-hand together, but both have not spoken a word about what type of relationship they have, so we still do not know about them. Its mysterious to us.
On the whole, it seems that Anna Faris is in a secretive relationship with Michael Barrett after her divorce with Chris Pratt. Although the couple does not officiate it, they are seen together in most of the events.