Ashley Scott is a talented actress who has appeared in several well-known movies and TV shows. Some of her notable works include roles in movies like "Into the Blue" and "A.I. Artificial Intelligence." She also gained recognition for her portrayal of Helena Kyle/Huntress in the popular "Birds of Prey" TV series.
Beyond her on-screen performances, Scott showcased her versatility by lending her voice to the character Maria in the acclaimed video game "The Last of Us." While her successful career has brought her fame and recognition, her net worth is estimated at around $500,000. In her personal life, she has experienced different chapters, being previously married to Steve Hart and Anthony Rhulen.
Has Scott Found Love Again?
Ashley Scott's current relationship status has taken a positive turn as she has found love once again. Yes, she has! She is presently dating a man named Forrest, who seems to prefer a more private and quiet lifestyle. Not much information has been revealed about him, as he has chosen to keep a low profile.
Ashley Scott with her partner, Forrest
SOURCE: Ashley Scott Instagram @ashleyscott
However, Scott has given her fans a glimpse into their relationship by sharing a few pictures of them on her Instagram account. It's heartwarming to see her embracing this new chapter in her life and sharing moments of happiness with her followers. As they continue to nurture their relationship, fans are excited to witness the love and joy that the two bring into each other's lives.
What Do We Know About Her Partner, Forrest?
Forrest is a man who values his privacy and prefers to lead a quiet and low-key lifestyle. Despite his connection to Scott, he has chosen to keep much of his personal information under wraps. Born on September 8, 1977, he maintains a sense of mystery around his background and interests. He is professionally associated with First Point Development, a luxury property development company based in Los Angeles.
Although Forrest may not be in the public eye, glimpses of his life can occasionally be found through the snapshots and moments shared on Scott's Instagram account. As he continues to be an important part of her life, fans can't help but be curious about the man who has captured the actress's heart and stands by her side.
Used To Be Married To Steve Hart
Scott's journey through relationships has included a significant chapter with Steve Hart. The two were once married, sharing nine years of their lives. Their marriage, which lasted from January 2010 to 2019, was preceded by a year of dating after they got together in October 2008. They two had first crossed paths on the street.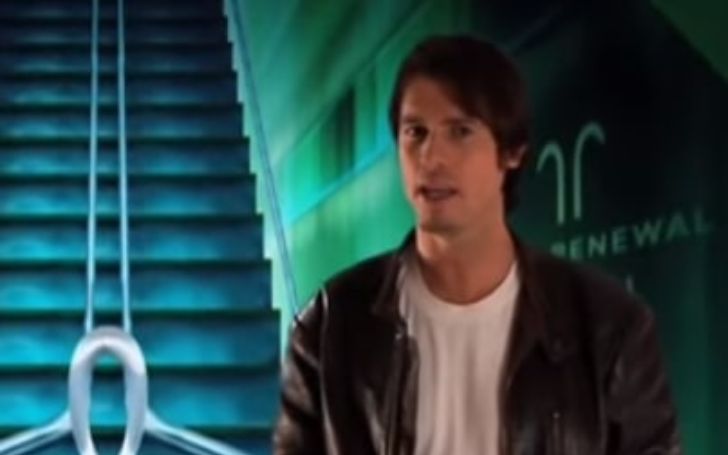 Ashley Scott's ex-husband, Steve Hart
SOURCE: YouTube
During this period, Scott and Hart built a bond that led them to commit to a partnership that lasted nearly a decade. While their paths eventually took them in different directions, the memories and experiences from their time together remain a part of the actress' personal story.
Hart's multifaceted career has taken him to the forefront of the music industry. Not only is he the lead singer of the band WORLDS APART, but he also holds a key managerial role. His talents extend beyond the spotlight as he takes on the responsibility of managing acclaimed artists such as The Jacksons. In addition, Steve oversees the career of Sister Sledge. His managerial expertise extends to working with individual talents like Tito Jackson and Shawn Pereira, showcasing his ability to guide and nurture diverse musical careers.
About Scott's First Marriage
Scott's first marriage marked a significant chapter in her life, as she tied the knot with the late Anthony Rhulen. Their union lasted from 2004 to 2008 and was a period filled with shared experiences and memories. His presence in the entertainment industry was notable, given his roles as a producer and executive. He left his mark on cinema with his involvement in the creation of impactful films like "The Butterfly Effect," "Killing Season," and "Lucky Number Slevin."
Scott and Rhulen's partnership not only reflected a personal connection but also showcased a shared passion for storytelling and creativity. Although their marital journey eventually came to an end, the impact of his work and the time they spent together continue to resonate within the actress's life and career.
Has Two Kids With Her Ex-Husband
Ashley Scott and her ex-husband, Hart, are the proud parents of two beautiful daughters. Their family includes Ada Bella Ray Hart and Iyla Vue Hart. Ada, the older of the two siblings, was born in 2010, bringing immense joy and love into their lives. Following a few years, the family expanded once again when Iyla came into the world on August 3, 2015, in Los Angeles, as mentioned in an article from US Weekly.
Ashley Scott with her daughters, Ada Bella Ray Hart and Iyla Vue Hart
SOURCE: Ashley Scott Instagram @ashleyscott
Scott's Instagram often lights up with posts that showcase her deep affection for her daughters and the special moments they share. As a doting mother, she finds happiness in capturing and sharing these cherished memories with her followers, allowing glimpses into the heartwarming bond she shares with her two daughters.
Didn't Took Time To Marry Rhulen
Ashley Scott's journey to marriage with the late Anthony Rhulen was a whirlwind of emotions and events. Their love story unfolded swiftly, with him proposing to her a mere three months after they started dating. At the time of the proposal, Rhulen was 35 years old, while she was 27. The proposal itself was nothing short of dramatic – when he popped the question, her reaction was a mix of shock and joy.
Scott recalled later that she had let out an astonished scream, swore in disbelief, and even stumbled to the ground in amazement. This spontaneous and heartfelt moment encapsulated the intensity of their connection. Their romantic journey began when they first crossed paths at the Sundance Film Festival in 2003, where their paths converged and set the stage for a whirlwind romance that led them down the aisle.
Scott's First Husband Has Sadly Passed Away
Tragically, Scott's first husband, Anthony Rhulen, faced an untimely passing that left a profound impact. He passed away at the age of 51 on January 15, 2021. His death occurred in Pasadena and was attributed to reasons connected to addiction, as mentioned in an article from The Hollywood Reporter.
The loss of a loved one is always a difficult experience, and the circumstances surrounding Rhulen's passing added an extra layer of complexity to the grieving process. As she navigated through this challenging time, the memories she and the producer shared and the moments they cherished undoubtedly remain etched in her heart, a testament to the profound connection they once shared.