After four seasons as a series regular in the hit medical drama series The Good Doctor in 2021, British actress Antonia Thomas bid farewell to her character Dr. Claire Browne. The Bristol Old Vic Theatre School alumna went professional in 2009 through the series Misfits and has since worked in various films and TV series.
Her last episode aired on the Season 4 finale of the series on June 7, 2021, shortly before the confirmation of her exit hit the media highlights. As Thomas left "The Good Doctor," there is much curiosity about her future plans and the reason for the departure. Let's know.
Why Did Antonia Thomas Leave 'The Good Doctor? Will She Return In Season 5?
On June 7, 2021, as per the report of Deadline, the Season 4 of The Good Doctor was Thomas' final appearance in the series, and will not return for Season 5, set to premiere on September 27, 2021. Since the beginning of Season 1, the London, England-born made her debut in the medical drama series as Dr. Claire Browne in 2017.
But following 4 seasons, totaling 76 episodes, she parted ways with her on-screen character.
In the Season 4 finale, Dr. Browne (played by Antonia Thomas) got a job at the clinic in Guatemala- where she had been working out. So, it played a major role in the see-off of her on-screen time at San Jose St. Bonaventure Hospital.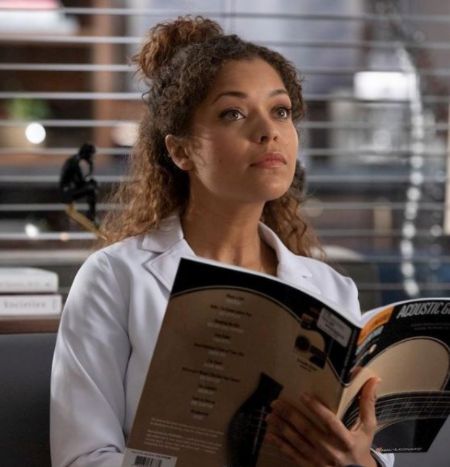 CAPTION: Antonia Thomas who portrayed Dr. Claire Browne in The Good Doctor left after 4 seasons, ahead of Season 5
SOURCE: [email protected]
Moreover, in an interview with Deadline shortly after the announcement of her exit, the actress stated that she wanted to pursue other creative opportunities explaining why she is off from The Good Doctor now. As per Thomas herself, she 'dedicated her 4 years to her character development (of course we all love her), but nows wanted to explore something new.'
In addition to that, the Misfits actress told that she would love to guest-star in the American media drama series in the coming seasons, if possible.
Also Read: Freddie Highmore "Just Three Days" On Going From Bad Norman Bates To The Good Doctor
Future Plans Of Thomas?
Yet, there is no solid confirmation of the future plans of Antonia Thomas. But fans expect that the 34-year old TV actress could be on a new thrilling journey, away from the on-screen venture.
However, there are also speculations she could have her hands on films as well as in behind-the-camera workouts. Back in 2020, the British actress co-wrote and executive produced the short film Freedoms Name Is Mighty Sweet. Moreover, she is passionate about singing; sung the cover songs of Sunshine on Leith, and Doe; even featured on Sugarance's new single Clear Blue Sky.
Who Are Is Season 5 of The Good Doctor?
Since the exit of Thomas, it added one more empty slot in the TV series, following Nicholas Gonzalez (who portrayed Dr. Neil Melendez) departure from the show at the beginning of Season 4. So, the recurring casts, surgical residents, Noah Galvin (Dr. Asher Wolke) and Bria Samoné Henderson (Dr. Jordan Allen) now will replace them as series regulars in The Good Doctor Season 5.
CAPTION: Thomas with her The Good Doctor co-stars
SOURCE: [email protected]
Furthermore, it will showcase the new collab of Dr. Shaun (portrayed by Freddie Highmore) with new regular casts as they spend more screen time together. Moreover, Mexican actor Osvaldo Benavides who appeared as Dr. Mateo Rendón Osma in Season 4, is on the main cast listings.
Other casts returning this fifth season are Paige Spara (as Lea Dilallo), Fiona Gubelmann (as Dr. Morgan Reznick), Will Yun Lee, who is the father of one with actress wife Jennifer Birmingham (as Dr. Alex Park), Christina Chang, (Dr. Audrey Lim), and Richard Schiff (Dr. Aaron Glassman).
How Much Is Net Worth Of Antonia Thomas In 2021?
As of 2021, Antonia Thomas has an estimated net worth of $2 million. From 2017 to 2021, she portrayed Dr. Claire Browne in 4 seasons of The Good Doctor. No doubt, it aids in the fortune growth of the British actress and led her into the perks of millions.
While the exact salary of the actress in the medical TV drama is yet to be out, she allegedly took home a payroll in the 6-digit figure per season as the main cast. Her The Good Doctor co-star Freddie Highmore is worth $8 million currently.
CAPTION: British actress Antonia Thomas is a millionaire
SOURCE: [email protected]
The 5 feet 1-inch tall actress from black ethnic background got a TV breakthrough from Misfits (2009-2011), where she portrayed Alisha Daniels. Then, following guest appearances in The Deep, Homefront and Transporter: The Series, Thomas worked in Lovesick (2014-18).
For sure, she saw earnings of hundreds of thousands of dollars from these ventures.
Currently, Thomas lives in the UK and is active on Instagram (@althomas1) with more than 501K followers. Although there are rumors (dating since 2016) of her relationship with photographer Michael Shelford, she is yet to confirm those.
But it can't be denied they do have a connection as the two have shared multiple of themselves together including a screenshot of them on Facetime in 2017.
Also Read: Who Is 'The Good Doctor' Star Freddie Highmore Dating Now?