Will Yun Lee is Living Happily with Wife Jennifer Birmingham and Children
Will Yun Lee is Living Happily with Wife Jennifer Birmingham and Children
The American born, Korean descent actor, Will Yun Lee, whose net worth is around $20 million, is married to the American actress Jennifer Birmingham and is living his lavish life with his wife and children.
Are you a fan of martial arts; action? If yes, then you should also like the Asian Martial Artist Will Yun Lee. He has a lot of female fans not only in the US but also in his home continent. Despite being a Korean guy, he has managed to share vows with the beautiful American actress, Jennifer Birmingham. Today, we are going to talk about the love life of Will Yun Lee. Scroll down to know all about Will Yun Lee married life with his wife.
Will Yun Lee living happily with wife Jennifer Birmingham and son
It has been seven years since the 47 years' old actor, Will Yun Lee married his wife, Jennifer Birmingham and still, the couple is enjoying their love life like it was back then. After a gap of 2 years, the couple gave birth to their son, Cash Yun Lee on June 3rd, 2013 during the evening in Los Angeles. Since then, the couple got an addition to love life.
CAPTION: Cash Yun Lee's first birthday celebration
SOURCE: Instagram
The birth of their child had brought a great deal of happiness to the couple. Since Cash saw the world, the family of three has been together in all of their precious moments. Recently, the three musketeers were seen in a walk on the birthday of Lee on March 22, 2018.
CAPTION: 47th birthday celebration of Will Yun Lee
SOURCE: Instagram
With no rumors of extramarital affairs and divorce-related talks, the couple is having a great time together. Even when we look at the Instagram of the actor, then all we can find the photos of his professional life mixed with a lot of pictures containing his wife and child. That shows how devoted he is to his family!
Will Yun Lee married Jennifer Birmingham
The actor Will Yun Lee married actress Jennnifer Birmingham on the 30th of October 2010 in Shreveport, Los Angeles after being together for more than 4 and a half years. 200 guests attended their wedding ceremony.
CAPTION: Will Yun Lee and Jennifer Birmingham kissing at the premiere of San Andreas
SOURCE: Getty Images
With groomsmen being the famous directors and singers, and the bridesmaid being the famed actresses, the couple exchanged the marital vows in a grand wedding ceremony. The event planner, Nealy Digilormo planned the wedding ceremony.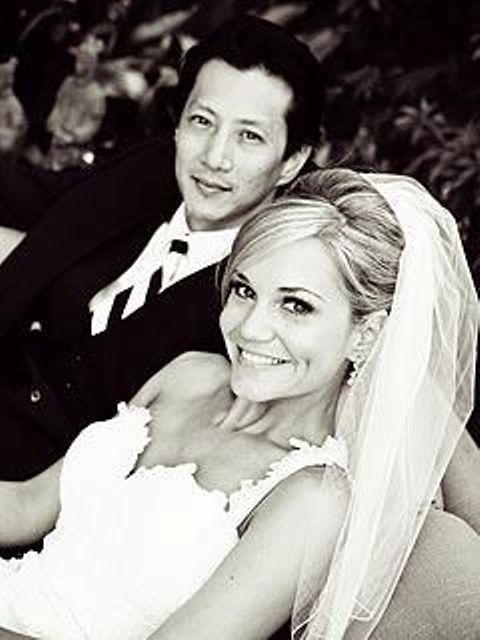 CAPTION: Will Yun Lee and Jennifer Birmingham's wedding
SOURCE: Whosdatewho
After the marriage, Lee told the People's magazine that the best moment for him was having everyone they love together, in one place, sharing the most special day for them. Top stars of the Hollywood industry including Joe Hahn, Len Wiseman, Rachel Reynolds, and Vanessa Minnillo attended his wedding ceremony.
CAPTION: The happy family of Will Yun Lee
SOURCE: Instagram
The couple's first dance was on the song, Wonderful Tonight. Nick Lachey sang the song along with a number of other songs.
All in all, Will Yun Lee and Jennifer Birmingham are in happily married life and are living ecstatically with their son, Cash Yun Lee.