You might have probably watched an action-adventure television series Supergirl, isn't it? If yes, then you must be one of the die-hard fans of Melissa Benoist better known by her on-screen name Kara Zor-EI.
Despite her career, you must be curious to know about her love life details. Is Melissa Benoist dating someone after the divorce with her husband? This question could arise in your mind. So, let's explore whether she is dating someone or not.
Melissa Benoist Dating 'Supergirl' co-star Chris Wood
More recently, Benoist is rumored to be dating 'Supergirl' co-star Chris Wood. Nowadays the duo is spotted hanging out time and again. Their closeness made their fans too curious regarding whether they are close friends or something more than that.
Supergirl's Melissa Benoist & Chris Wood Continue to Be Super Cute Together! Source: Just Jared Jr
Although the couple denied it a few months ago about their relationship and stated that they were only friends. Now, they are seen immensely together holding hands and even going on romantic dates. The pair was spotted enjoying a beach time in Cancun, Mexico a few months ago back in March 2017.
Melissa and Chris made their public appearance after the rumors of their possible affair began to spread in the media. Melissa and Chris were even spotted at LAX airport in Los Angeles.
Melissa and Chris star on the Supergirl together as love interests, Source: Daily Mail
Benoist and her beau Chris had their first encounter on the shoot of their series together 'Supergirl'. Although the series shoot began in 2015, the couple started dating a few years later in 2017.There is no exact report on when these two began dating but they made an official announcement of their love affair in March 2017.
Melissa Benoist Divorced Blake Jenner
Melissa and Blake were not only a wife and husband but also co-stars of TV seriesSupergirl, but, Jenner only appeared as Melissa recurring actor. In an interview, Benoist said that she loved working with Jenner. Things started getting bitter between the pair when Benoist moved to Vancouver, BC to offset costs along with the 'Supergirl' team.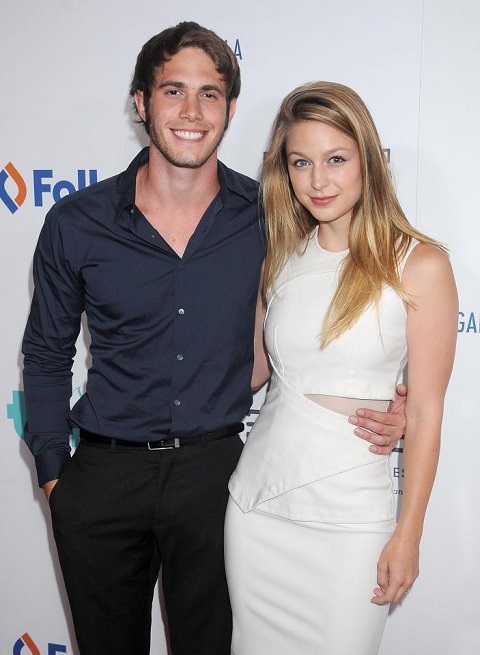 Glee stars Melissa Benoist and Blake Jenner split after just 21 months of marriage, Source: The Sun
Melissa filed for divorce in later 2016 giving "irreconcilable differences" as the reason. A source close to the pair claimed that things stopped working between the pair because of their long-distance relationship.
Moving on to Chris Wood and turning some more pages of his personal life, Chris broke up with his girlfriend Hanna Mangan-Lawrence, a former Containment co-star before he encountered Melissa.
Chris Wood, Hanna Mangan Lawrence break-up, Source: Just Jared Jr
Both the stars, Melissa and Blake have split from their previous partners and both of them were single which made a perfect sense for the couple to date one another. Well!! Well!! Love is not finding someone to live with, it's finding someone you cannot live without. Even though her first marriage was unsuccessful, that doesn't mean her whole life.
Melissa Benoist and Chris Wood took their romance public, Source: Daily Mail
Benoist found her perfect man in the form of Chris Wood.We wish her all the very best for her future career and personal life.