We know that celebrity have their own private life. But, don't they owe a bit to their fans and can't they share some happy moments with us? After all, they are nothing without their fan's love and support, right!
Lisa Edelstein, 'The Girlfriends' Guide to Divorce' star is not only the actress but also a loving wife of celebrity husband, Robert Russell. So now, let's know about Lisa's married life along with her husband and children.
Lisa Edelstein's Married Life with Robert Russell
Back in 2014, Former House star Lisa Edelstein married her now artist husband Robert Russell in Los Angeles. The bride and groom exchanged their pledges over the same place. There, they not only exchanged their vows but also exchanged expensive gold bands that were designed by celebrity jeweler Neil Lane on their big wedding day.
Like other brides, Lisa looked amazing in her wedding dress, and when the couple did stand together, it looked as if their match was made in heaven.
Know how Girlfriends' Guide to Divorce Helped Lisa's marriage to go smooth
When one gets married, that person always seems wide open in wanting the marriage to last for long. Today, nearly after three years of her marriage, Edelstein believes that she would have a much better married life if she could understand Girlfriends' Guide to Divorce Character's situation prior to her marriage.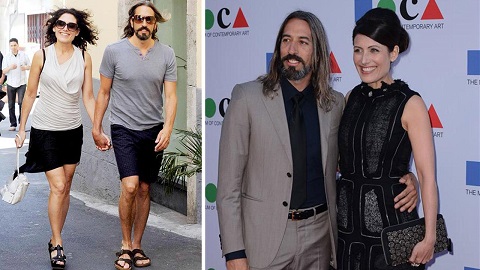 Artist Robert Russell With his wife Lisa Edelstein, Source: ABC7 Los Angeles
As after tying the knot with Robert, she was not only his new wife but also a new mother to Robert's children. This was her first marriage where she wasn't ready to tackle the ups and downs that she went through after coming into new life.
Here is what she exactly said,
I've never been married before, I got married when I was 48. It wasn't like I'd been waiting to get married, because I actually didn't care. But I wanted to marry my husband and I wanted to be the official step mother to my kids. All that was very important to me.So to start a show where these two people who loved each other very much couldn't make it work, it was very important to me to understand that story and hear those words and know that love is not enough."She further added:"You have to communicate. You have to show up for each other. You have to deal with stuff you don't wanna deal with all the time. And that's where you get the rewards of this amazing relationship and this partner like none other.
No matter how late she has been, she has now realized that love is not only the most important thing in a relationship. Well, thanks to Girlfriends' Guide to Divorce for helping her marriage to go smooth.
Now every one of you might have known about the couple and their happy married life but what about their children?
Let's dig a little deeper and know about Lisa's Children if she has any. Scroll down
Lisa Edelstein's children
Is it so impossible loving your non-biological child? Well, the word impossible itself says "I'm possible" right? Although raising your child is much easier than raising someone else's baby, but everything is possible if you take it from your heart.
After marrying artist Robert Russell, Lisa became step-mother to two of his sons. Things were not so easy in her early marriage days. Previously, she thought herself more like a babysitter than a mother, but later, she realized she was not only a part of her husband's life but also equally important parent to her husband's kids.