Jade Jones has been in the headlines after Emma Bunton broke the marriage news on her Instagram. The couple got married in a low-key ceremony on 13th July 2021.
While most of us know who exactly is Emma Bunton, Jones's lifestyle is still a mystery. Here we will talk about five unknown/interesting facts about Bunton's husband Jade Jones.
5. Jade Jones & Emma Bunton Began Dating In The Late 1990s
The Spice Girl singer and her now-husband began dating in 1998 while Bunton was at the peak of her music career.
CAPTION: Jones and Emma began dating in 1998 and have been together for over 21 years
SOURCE: Instagram @jadejonesdmg
They became good friends and eventually began dating. However, the couple split a year later and Emma dated Rio Ferdinand for a while.
4. The couple Were Engaged For Over 11 Years
Emma, 45, and Jones, 42, got back together after their second breakup in 2004. The couple has never looked back ever since.
They took their relationship to the next level and got engaged on 21st January 2011. Shortly after that, they welcomed their second child Tate Lee Jones in May 2011.
Fun Fact: The newlywed husband-wife was together for over 21 years.
3. Jade Lost His Brother In 1997
Four days after Jones' 17th birthday, his older brother John Kennedy was stabbed and brutally murdered at the Railway Arms pub in east London.
Jones and his family were left devastated by the loss. Keeping aside the pain of losing their family, they suffered more when no one was arrested or convicted for the crime for years.
In an interview in 2014, Jade admitted that he and his family were still grieving Kennedy's death and the only thing that could relieve them is justice.
2. Was The Lead Singer Of Band Damage
The 42-year-old was the lead singer of the British R&B boy band Damage along with other band members: Rahsaan J Bromfield, Andrez Harriot, and Noel Simpson.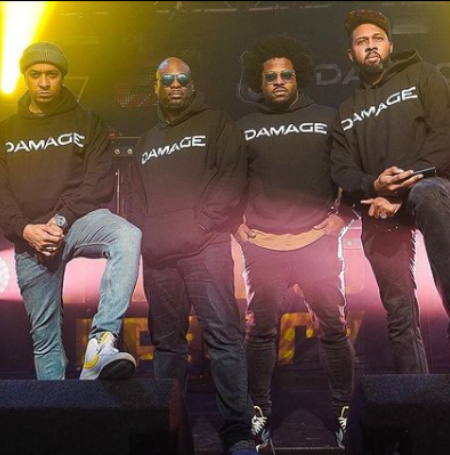 CAPTION: Jones was the lead singer of R&B boyband Damage
SOURCE: Instagram @jadejonesdmg
The band released their debut studio album Forever on 7th April 1997 With Big Life Records. Likewise, their second album Since You've Been Gone was released on 2nd April 2001.
After leaving Damage, Jones joined CherryBlackStone and appeared in the show until 2008.
1. Jones Is A Singer Turned Chef
In 2008, the father of two left CherryBlackStone following his son's birth. He then became a full-time trainee chef.
He started out at the Landsdowne in Primrose Hill before becoming a sous chef. Jade has reportedly worked at Claridge, Arbutus, and InterContinental. The singer hopes to own a gastropub in the future.