Watched the TV show Teen mom: Young and Pregnant? The series has been going on for ten years now, and people are now curious to know about the real lives of the actress of the latest series including Jade Cline.
Today we will be talking about one of the actresses of this series, Jade Cline, who is just 20 years old. Know everything in detail about her personal life, who her boyfriend is and how long have they been dating.
Jade Cline's relationship with boyfriend Sean Austin
Jade Cline and Sean Austin have been together for quite a long time, but their relationship hasn't been stable. But a perfect relationship isn't real and real relationships aren't perfect right? Despite the ups and downs in their relationship, they managed to get along and got engaged on the last episode on Monday, April 23.
Also read: Canadian TV Actor Brendan Penny's Family Life, Affair and Popularity on Social Media
CAPTION: Jade Cline with her boyfriend Sean Austin
SOURCE: in touch weekly
Also read: How Much Money Does TV Actor Rick Lagina Have? What is his Net Worth? The property, Source of income
The duo seems happy with each other and happy that their relationship is going stronger. Sean proposed Jade by saying,
I'm happy we're getting along better than we were.
Jade later agreed by saying,
I just want to see you happy. I'm tired of seeing you upset. I know things were rough there for a long time. I don't see myself being with anybody but you forever.
Jade Cline and Sean Austin married? Do they have any children?
Now that Jade and Sean are engaged, they might be looking forward to marriage as well. However, they have not yet publicized any news regarding their wedding. So, looks that they're not getting married anytime soon.
Also read: Canadian TV Actor Dan Levy From Schitt's Creek Makes Appearance In American Talk Show, "Damn He looks hot"
CAPTION: Jade Cline with her boyfriend Sean Austin
SOURCE: Instagram
Well although they are not married and aren't planning to get married, they are very much happy with each others' company in their lives. Both of them are glad that they found each other, what can be better than this? If you are a follower of Jane Cline, especially on Instagram, you must also know that she has a baby girl.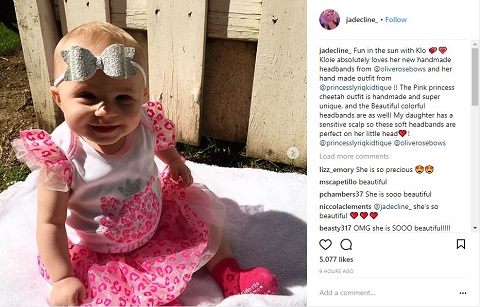 CAPTION: Jade Cline and boyfriend Sean Austin's child
SOURCE: Instagram
Her Instagram profile is showered with her daughter's pictures, and we can see how well the baby is growing up. The family of three is living happily, looks like they will soon plan on getting married and pronounce each other as husband and wife.