An American singer, model, and actress, Demi Lovato whose net worth is $33 million has been loved by the audience since she started her career in acting. With beauty and fame, she should have a lot of hookups and love affairs, doesn't she?
Well, the tattoo lover, Demi has involved in a series of unsuccessful relationships including Miley Cyrus's brother. She starts dating with a full devotion but, none of her relationships have lasted long. Without further ado, let's jump right in the relationship affairs of Demi Lovato.
Demi Lovato Rumors to be dating the same sex
While everyone is being so open about their sexuality, some may hide it just because of their family and other close ones. Likewise, Demi Lovato, who is in the top flights, may have been hiding about her sexuality as she fears of being hated for it.
Also, see: Demi Lovato's Hot Tattoos and Their Meaning
Also, see: Miley Cyrus seen with Lima's sister in Byron Bay, Looks like the ladies had a Girl's Day Out
Also, see: Five Interesting Hidden Facts About Miley Cyrus You Probably Did Not Know!
CAPTION: Demi Lovato
SOURCE:
After being one of the famous celebrities, Demi is one of the centers of attraction of the media and the public eye these days. All fans and media are searching all about her professional as well as personal life. In the same process, media has recently spread the news that she is in a relationship with the American dancer, JoJo Gomez as she shares a lip kiss in the New year concert 2018.
Also, see: Hot couple ALERT; Miley Cyrus Married Liam Hemsworth Six Months Ago
Also, see: How much is Miley Cyrus' Net worth? Know about her Car collections and Houses.
CAPTION: Demi Lovato kissing JoJo Gomez
SOURCE: Obsev
Just before a year, in 2017, there was also a news of Demi's relationship with Lauren Abedini. But, nothing more is known about the rumored couple.
CAPTION: Demi Lovato and Lauren Abedini
SOURCE: PopSugar
Australian DJ Ruby Rose claimed her hooked up with Demi Lovato
DJ Ruby Rose is who is also an actress has claimed about her hook up with Demi Lovato. If we get back in her twitter in 2016 we can see a picture of Demi and Ruby with a post saying that she is one person who has slept with Demi and didn't sell a naked photo of her.
Also, see: Is Ruby Rose Married or Single, or just Dating anyone?
CAPTION: Ruby Rose's post
SOURCE: Twitter
Well, guys if you are a proper reader, then you might have noticed the date of the post. If not, then it's the 1st of April. We all know, what date it is, don't we? To those who don't then its the April fool's day. So, she might have made a fool of us.
Youtube: Demi Lovato lesbian hookup with Ruby Rose;
Like it is said in the above video, if she had slept with Demi and had proof of it then she would definitely share it, don't you think so?
Demi Lovato love relationship with Celebrities
As Actress, Demi Lovato's love life started from 2007, she has dated as much as a dozen male celebrities who are also popular in the Hollywood industry. She found her first love in Jonathan Fryar and got separated in the same year and immediately moved on to a new relationship with Cody Linley on the same year. The couple stayed together for a year and got separated.
CAPTION: Demi Lovato and her first lover Jonathan Fryar
SOURCE: Whosdateswho
She again got into a relationship with boyfriend, Alex DeLeon in 2008 but couldn't continue it for more than a year. Then, again she fell for Trace Cyrus in 2009 and Joe Jonas in 2010.
Also, see: Trace Cyrus and Ex-Girlfriend Brenda Song Dating History. Are They Back Together? Also, See His Tattoos
Also, see: Trace Cyrus Ex-Girlfriend Brenda Song Hot Pics In Bikini And Bare Body - Facts And Photos - Trace Cyrus Must Miss This
CAPTION: Demi Lovato and her ex-boyfriend Trace Cyrus
SOURCE: Celebuzz!
The pop singer had the longest relationship with Wilmer Valderrama, the actor of That 70's Show. She was in a relationship with him for a little bit over 6 years from 2010 to 2016. According to an interview with the Latina Magazine, Demi told, Valderrama was not only her man but her best friend too.
Also, see: Miley Cyrus and her partner Liam Hemsworth Break-Up Rumor, Find out about their Relationship.
Also, see: Miley Cyrus dating Victoria's Secret model Stella Maxwell, Former Disney star and Maxwell caught kissing earlier this month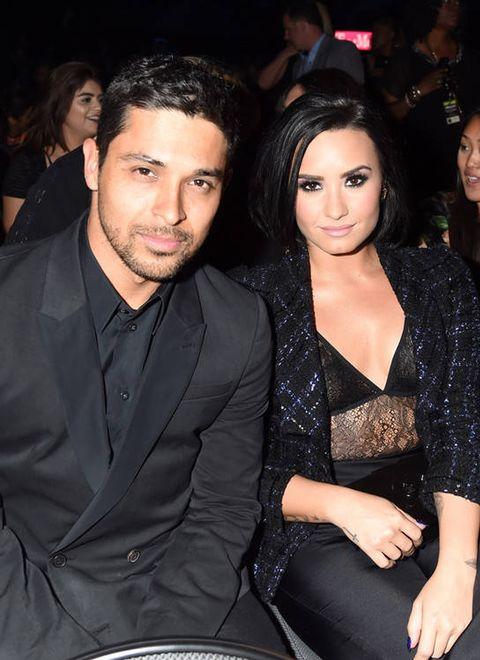 CAPTION: Demi Lovato and her ex-boyfriend Wilmer Valderrama
SOURCE: E! Online
Since her breakup with him, she has been seen with some guys like Luke Rockhold and the MMA fighter, Guilherme Vasconcelos.