We all know Seth MacFarlane as a famous American actor as well as a comedian who never fails to make others smile. But how happy is he in his life? Who has he chosen as his girlfriend?
Know all about the actor's relationship affair; who is he dating and how long have they been together. This famous actor who has multiple talents like filmmaking, singing, etc. has recently opened up about his recent girlfriend.
After several unsuccessful relationships, he is dating someone really special since 2017. If you want to know more about the girl as well as details about their relationship, keep on scrolling.
Seth MacFarlane's current girlfriend
As we mentioned earlier, Seth recently opened up about his current girlfriend. He was seen with a mystery woman on a dinner date not so long ago. Those who saw them claim that the dinner date was friendly. They were seen in an Italian restaurant Nerano in Los Angeles.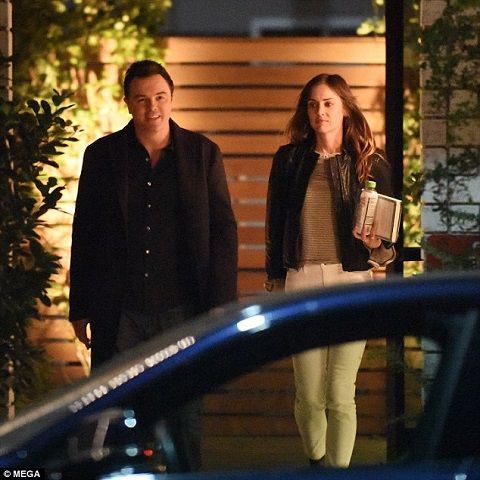 [ CAPTION: Seth MacFarlane walking out of the Italian restaurant
Source:
Daily Mail
As seen in the picture, the pair look as if they were in a great mood. They were not even dressed heavily, but both are in a casual dress up. This shows that they are entirely comfortable with each other.
Nobody knew who the mystery girl was until a few days ago, but finally, Seth revealed that he is dating a 24-year-old American actress, Halston Sage.
Seth MacFarlane's past relationships
Girls usually like funny boys; this must be why Seth has a great luck with girls. Over the years he has dated some pretty girls in Hollywood like Emilia Clarke, Cara Santa Maria, Katie Sah, Kaylee DeFer, Eliza Dushku, Kat Foster, Christa Campbell and much more.
Also Read: Who is Emilia Clarke dating? Find out her dating history and current affairs
Well, one of the most gossiped relationships of Seth was the one with GOT star, Emilia Clarke. They began dating since 2012, but the relationship couldn't last for more than six months. When they were in relation, Clarke once had to face an awkward situation.
At an interview with Glamour, she said that she once met her fan in New York with Seth and the fan praised her but said,
I'm a big fan of the show, and I'm not sure what you're doing with that guy.

[ CAPTION: Seth MacFarland with his ex Emilia Clarke ]

[

Source:

Frisky
However, this didn't seem to ruin their relationship. While they were in relation Seth always praised Clarke; he once said in an interview that Clarke is an incredibly kind, supremely talented and one of the hardest-working people he had ever met. But sadly, because of the long distance, they broke up somewhere around 2013.
Let's leave the actor's past relationships. For now, let's just pray that his current relationship doesn't end up like the previous ones, and Seth MacFarlane and his girlfriend Halston Sage remain together with their entire life.