An American actress and singer, Scarlett Johansson, who has the net worth of around $80-$100 million, has a very complicated personal life as she has gone through several love relationships and has been married for two times.
Well, we might have got to hear about some issues about her personal life. Don't we? Today we will discuss in detail about her unsuccessful relationship as she has filed for a divorce to husband Romain Dauriac and Ryan Reynolds. So stay tuned until the end to know all about her personal issues and also get to know about her current relationship status.
Scarlett Johansson's current relationship status
One of the highest paid actresses of 2014-2016, Scarlett Johansson has not kept herself lonely after she started being in a relationship since 2001. After her divorce with the second husband, Romain Dauriac, she was rumored to date a couple of men but she came out officially with American Writer, Colin Jost in May 2017.
Also see: Scarlett Johansson to play Zelda Fitgerald in 'The beautiful and the damned.'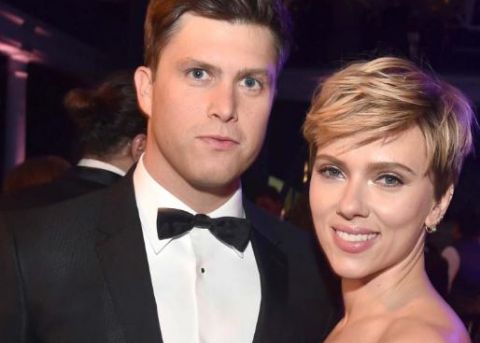 CAPTION: Scarlett Johansson and her boyfriend Colin Jost
SOURCE: Entertainment Tonight
The couple first appeared as a couple while attending the American Museum of Natural History Gala in NY. In an interview with some tabloids, Colin stated that he is very lucky to have Scarlett in her life. The couple is currently enjoying their relationship as they are seen in the red carpet events together.
Scarlett Johansson married twice
Getting back into her married life, she got married for the first time with Canadian actor Ryan Reynolds in September 2008. The couple began dating each other in 2007 and got engaged in May 2008.
Her relationship with Ryan ended the same way it all started, 'quickly'. As per the sources, the couple decided to go through a divorce in late 2010 however it was finalized in July 2011.
CAPTION: Scarlett Johansson and her ex-husband Ryan Reynolds
SOURCE: Mamamia
After the three years of her divorce, she shared the marital vows for the second time with French Journalist, Romain Dauriac in October 2014 in Philipsburg. The pair tied the knot in a secret ceremony only inviting their close ones just after the week of welcoming their daughter Rose Dorothy Dauriac.
CAPTION: Scarlett Johansson and her ex-husband Romain Dauriac
SOURCE: Hello Magazine
CAPTION: Scarlett Johansson with her ex-husband Romain Dauriac and daughter Rose
SOURCE: Pinterest
Talking about their relationship's beginning, then the couple started dating each other since 2012. Just after the year of their relationship began, there were few rumors of their engagement as Scarlett was spotted with an engagement ring.
However, after the five years of their love relationship and three years of their married life, the couple called it quits. After their divorce, the couple waged a war for the custody of their child.
Scarlett Johansson in several love affairs
The 33 years' old actress Scarlett has gone through a dozen of relationships to this date. Her first relationship was with the American singerJack Antonoff whom she dated since 2001-2002. Almost all of her relationship was for short period but her relationship with actor Jared Leto was very long as they dated each other for around eight years since 2004-2012.
CAPTION: Scarlett Johansson trying to kiss Jared Leto
SOURCE: Pinterest
In between the relationship with Jared she also dated James Holzier, Patrick Wilson, Benicio Del Toro, Josh Hartnett, Justin Timberlake, Sean Penn, and Nate Naylor.
Not only that, she has also been in a relationship with Kevin York and Joe Machota.
Well, whatever be Scarlett's previous relationships, she is currently happy with her love and it's all that matters.