The American actress and singer, Scarlett Ingrid Johansson, who recently divorced husband Romain Dauriac has added a lot to her total net worth through her career in the filming industry for more than 20 years.
The hot topic for today is the total earnings of the hot actress Scarlett Johansson. We will talk about the earnings, Scarlett has earned through her professional Hollywood career. We will talk about all of her sources of income. Let's dig right in to know all about this actress' earnings.
Scarlett Johansson's Net Worth
The Marvel Cinematic Universe's Black Widow Scarlett Johansson's net worth is $100 million as per most of the tabloid sources, but some other sources also state that she is currently worth around $80 million.
Also see: Scarlett Johansson to play Zelda Fitgerald in 'The beautiful and the damned
CAPTION: Scarlett Johansson
SOURCE: Instagram
We all know how Scarlett earned her worth, don't we? From the year 2014 to 2016, the actress was named the highest paid actress in the world. So, this shows how much money she has to her name. She earned a total of $17 million, $35.5 million, and $25 million in 2014,2015, and 2016 respectively. She became the highest grossing actors of 2016 with a total of $1.2 billion.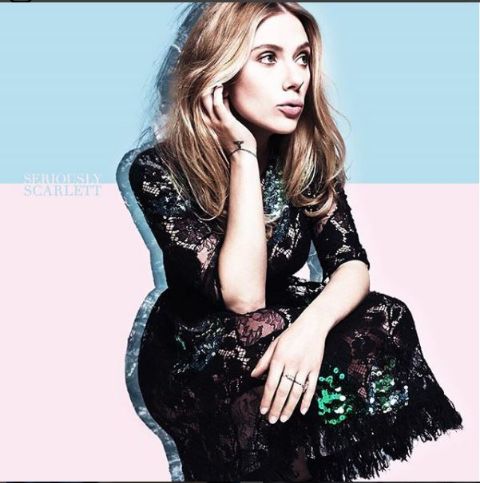 CAPTION: Scarlett Johansson's Photoshoot
SOURCE: Instagram
Most of the actress' earnings are from her movies, as she has appeared in some of the top-notch movies of the industry. Some of her hit movies include Lost in Translation ($119.7 million), Her ($48.5 million), Marvel Cinematic Universe ($14.837 billion), Ghost World ($8.8 million), Vicky Christina Barcelona ($96.41 million), Don Jon ($41.3 million), and In Good Company ($61.32 million).
Also see: Chris Hemsworth's Contract with Marval's Thor is technically Done after 'Avengers: Infinity War
CAPTION: Scarlett Johansson in Lost in Translation
SOURCE: Giphy
Apart from that, Scarlett has also given us two albums, Anywhere I Lay My Head and Break Up. Her first album sold 5100 copies in its first week whereas its total earnings were 25,000 copies worldwide.
Scarlett Johansson's Earnings
Now, talking about the salaries and other earnings Scarlett Johansson has earned, then she has made a fortune through her movies and sponsorship details. Her movie, The Avengers: Age of Ultron paid her a total of $20,000,000. Similarly, her appearance in Ironman earned her $400,000.
CAPTION: Scarlett Johansson as Black Widow
SOURCE: ComicBook
Besides, she also earns a lot from her ads. She signed a deal with L'Oreal, and that deal paid her a total of $4 million. Also, from the endorsements of the same brand, she earned an extra $2 million in 2006. In 2011, she also got $66,000 from Christopher Chaney for publicizing the nude photos of Johansson.
Scarlett Johansson's Properties
For Scarlett Johansson's properties, she has been living in her Hamptons house since late 2013. She reportedly paid a total of $2.2 million for the house. The home has a lot of space with endless decking all around. In 2013, she also earned a total of $470,000 from the sale of her condo where she had lived for more than ten years.
Also, see: Model and the Brand Ambassador for L'Oreal Paris, Thylane Blondeau's Modeling Shows and Awards
CAPTION: Scarlett Johansson's Hamptons House
SOURCE: Curbed
In 2010, she had purchased a home in the Los Feliz area. She bought the California house for a total of $3.88 million which is made on a 3500 square foot area. In the huge area, there are a total of 4 bedrooms, four full and two half bathrooms. It also has a swimming pool with its sunbathing shelf and an eight-person spa. Likewise, she also has another house in Los Angeles, which she had bought for a total of $7 million.
CAPTION: Scarlett Johansson's Los Feliz House
SOURCE: Curbed
Well, the sexiest living actress, Scarlett Johansson, is currently enjoying her life as a multi-millionaire as she is still making her way to the top. Recently, she has been seen in the new Marvel movie, Avengers: Infinity War.