For majority end of the marriage means the end of the road for any couple but Samantha Speno and Randy Orton have set an example that choosing different roads in life does not mean the end of a relationship. The couple who broke apart three years ago knows the fact that there can be no better friend than the person with whom they have shared a big portion of life with.
The couple was together for five years. They tied their knot together in 2007 and the WWE wrestling superstar and Samantha ended their journey in 2013. The couple had met on a casual day while they were hanging out in a Bar and the first meeting changed into the affair and they got engaged in 2005 and after two years the couple tied their knot together in 2007.
The former couple got engaged in 2005 and eventually tied the knot in September 2007. The Orton family welcomed their first baby Alanna Marie Orton just after a year of their wedding in 2008.
https://www.youtube.com/embed/7lZhivirGOA
Unfortunate divorce in 2013
Randy Orton's dad Mr. Bob Orton Jr. (Cow-Boy) had suggested him not to take Wrestling as a career in his early days in wrestling because traveling gives you less time with the family. And the same thing happened in 2013 the couple could not keep their relationship fueled when so much was going in Randy's career and in 2013 they got an unfortunate divorce.
https://www.youtube.com/embed/7lZhivirGOA
Family Support
Orton and Samantha have proved to be responsible parents even after their divorce. The family keeps meeting up to get his little girl away from the family trauma of divorce at such an early age. As divorce was filed by Orton he had to lose his house worth $99,000 and his saving around $645,000 bank account.
His daughter's custody has been provided to Samantha, Orton has agreed to the terms of spousal support contract presented by Samantha, and pays USD Forty-five hundred per month for family support and child support needed for his child to grow.
The understanding between this former couple is outstanding as we can see Orton's first daughter was present in his second wedding and even stood beside bride as a baby bride mate. Samantha still uses her previous account which still has Orton as the last name. This act is another proof of their understanding and care shown by Samantha to Randy's fans.
https://www.instagram.com/p/3v-gVLyMmn/
https://twitter.com/RandyOrton/status/666669295888285697
New Start for Orton
The couple who turned into friends after divorce is nowhere near getting together for sure. Because Orton has married Kim on 2015 and Kim is pregnant with a baby girl. Kim respects Orton's family which could be clearly seen by her Instagram post in which she thanks God for blessing Orton's family for the second time, which clearly states she has a warm place for Orton's first child. His wife Kim is far along and her delivery date as suggested by the doctors is somewhere around October 2016.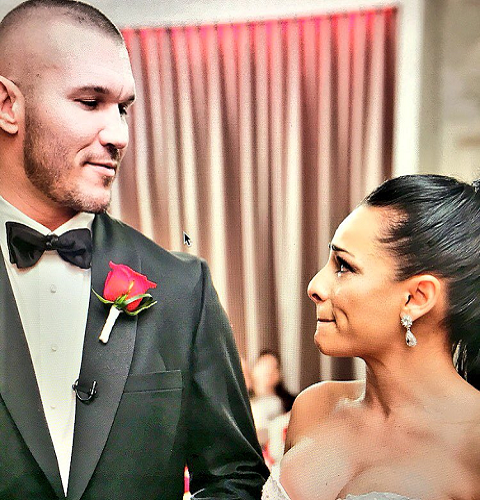 https://twitter.com/KimKlro/status/735531211410399232
https://twitter.com/KimKlro/status/764629292177162240
New beginning for Samantha
Samantha Speno who used to be a gym instructor has changed her profession and she now trying her fortune as a fashion stylist and makeup artist. The 34 years old Samantha has found a way to make her own name in the fashion industry as she has started her own Jewelry line named 'Rocks and Stars".
Sources: articlebio.com,heavy.com, twitter.com, wrestlezone.com, randy-orton.com, wwe.com,