Rashida Jones, an American actress, who is widely known for playing in comedy series, is mistaken by as a married woman. Although she is already of age, she hasn't officially been married to anyone yet.
There are many people all over the world trying to know who Rashida's husband is. Well, today you will be able to quench your thirst. We won't be able to tell you who her husband is or was as she has not been married yet, but we will surely share everything we have relating to her dating life today in this article.
Why isn't Rashida Jones married?
Before going into detail about who Rashida Jones has dated, let's take a moment to find out why she is not married yet. Being 41-year-old successful American actor, she should have at least got married once. What could be the reason for her not wanting to marry till today?
Rashida Jones, Source: eonline
Well in an interview with Enews on 2011, she once said that she will never get married. She said,
Things are changing so much. Especially this country, we have kind of failed with marriage. We're so protective of this really sacred but a failed institution. There's got to be a new model. I don't know what it is, but maybe it's like 10 years with a lease to buy or rent to own.
This explains that she doesn't really believe in marriage and might not have a wedding ceremony for herself, ever.
Who is Rashida's boyfriend?
After several unsuccessful relationships, Rashida is now dating a 32-year-old American musician, Ezra Koenig. They have been dating since 2016 and they seem really comfortable with each other. It's been over a year that they have been dating but they are rarely seen together in public.
Rashida Jones with her current boyfriend, Source: daily mail
An onlooker said to the PEOPLE that
She was calling him 'baby,' and after her interview at the studio, she walked up to him and was hugging him. They were very comfortable together.
This shows that the couple is fully comfortable with each other and have reached the phase where they address each other as 'baby'.
Who else has Rashida Jones dated?
Although Rashida seems to hate marriage, she doesn't hate 'guys' that much. It's true that she hasn't been married yet but at the same time, she has dated over a dozen guys in her life. Let's go into them one by one.
The first guy Rashida dated was an American Actor Jeremy Renner. They dated for a couple of months way back before the year 1997.
Rashida Jones with her first boyfriend Jeremy Renner, Source: WDW
After she broke up with this actor, she then started dating another famous American actor, Tobey Maguire for three years from 1997 to 2000. She stayed single for two years after she broke up with this guy. She then finally moved on and started dating a DJ Mark Ronson from the year 2002. They even got engaged a year after but got separated on 2004.
Rashida Jones and DJ Mark Ronson, Source: WDW
After she broke up with this DJ guy, she then dated another American Actor Seth Meyers who is famous for SNL. They just dated for a couple of months and then broke up in the same year.
Rashida Jones and Seth Meyers, Source: WDW
In 2005, she dated another screen matchup John Krasinski for a year and got separated on 2006. However, not everyone she dated was an American actor. She dated a British actor in the year 2006, Charlie Hunnam. They dated for 5 months from June to November.
Rashida Jones and Charlie Hunnam, Source: WDW
After she broke up with this British guy, she stayed single for three whole years. Guess it was hard for her to move on. Then in 2009, she finally moved on and started dating a Speechwriter, Jon Favreau. They also couldn't last for more than a year.
After about a year that she broke up with the writer, in 2011, she dated another American actor Garrett Hedlund.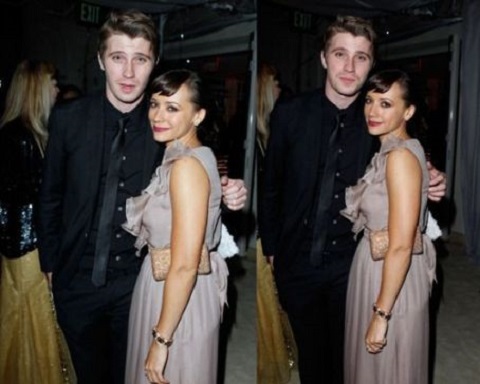 Rashida Jones and Garrett Headlund, Source: WDW
The last guy Rashida dated before she met her current boyfriend Ezra was, another American writer, Colin Jost. They dated for three whole years from 2013 to 2016. So, now after all these unsuccessful relationships, she has now been dating Ezra for a long time. Let's hope that this doesn't turn out to be like other relationships and they continue staying together until death does them apart.