On and off relationships are quite tricky to handle right? Similarly, Peter Gunz and Amina Buddafly who were married and were in on and off the relationship are now divorced.
So, are Peter and Amina together currently? As the couple is often in the headlines for unstable relationship several times, their millions of fans are quite confused and are eager to know about their current relationship status.
Peter Gunz Married Amina Buddafly
The 34-year-old German Singer, Amina Buddafly got married to 51-year-old American rapper back in the year 2013. Both the duo has good taste in music, looks like their mutual interest brought them together. However, just the mutual interest was not enough for them to last together forever.
[ CAPTION: Peter Gunz and wife Amina Buddafly ]
[ SOURCE: The Grio ]
Due to some serious issues, they got separated from one other.
'Marriage Boot Camp' and divorce
Peter Gunz and wife Amina Buddafly went to 'Marriage Boot Camp' in order to protect their relationship. Amina also felt that her husband was in love with another woman. With the hope of solving their relationship/marriage issue, they went to the camp.
[ CAPTION: Peter Gunz and wife Amina Buddafly ]
[ SOURCE: Hollywood life ]
Well, Amina's suspicion turns out to be a reality. Even though the couple's marriage life lasted only for about a year, from 2013 to 2014, recently on October 2017, Peter admitted that he cheated on Amina with Tara Wallace and was a 'Terrible Husband.' Tara and Peter were in a relationship even before Peter met Amina.
[ CAPTION: Peter Gunz and girlfriend Tara Wallace ]
[ SOURCE: Tv Deets ]
Moreover, after certain years of divorce, the couple seem to be back together. They haven't publicized about the news of them getting back together but looking at the ages of their children; it looks like the couple was together for quite a while. Their first child is Cori, who was born in July 2014 and the second daughter is the Bronx who was born in August 2016.
[ CAPTION: Amina Buddafly with her daughters ]
[ SOURCE: VH1 News ]
Well, there is a surprise for you guys. Amina has finally filed for divorce from Peter Gunz, and the information was revealed through social media.
[ CAPTION: Peter Gunz and Amina Buddafly divorced ]
[ SOURCE: Instagram ]
Just a few weeks ago, Amina said in an interview with TheJasmineBrand.com, she said,
It's pretty simple: Peter and I have been separated living separate lives for two years now, that is a long time and a lot can happen in 2 years.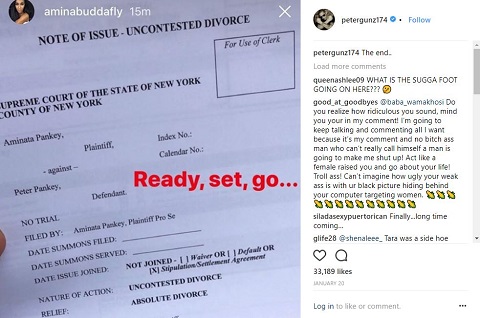 [ CAPTION: Divorce papers ]
[ SOURCE: Instagram ]
Now, the couple is not together let's hope that both of them find someone with whom they can spend rest of their lives with and that they remain happy forever.