NBC Anchor Lester Holt and wife Carol Hagen getting a divorce after 33 years of married life?
NBC Anchor Lester Holt and wife Carol Hagen getting a divorce after 33 years of married life?
Does the magic wear off after being together with the same person for over 33 years? Yes, seems to be the answer in the case of NBC anchor Lester Holt and his wife, Carol Hagen. Is Lester Holt divorcing wife Carol Hagen?
They were regarded to be one of the most stable couples in the town, but the tag of the stable couple went in vain after the couple decided to get separated.
NBC Anchor Lester Holt and Carol Hagen getting a divorce after 33 years
Lester Holt and Carol Hagen who have been one of the most iconic couples in the American television landscape have finally had enough of one another, reports suggest. Sources claim that they are considering the possibility of getting a divorce.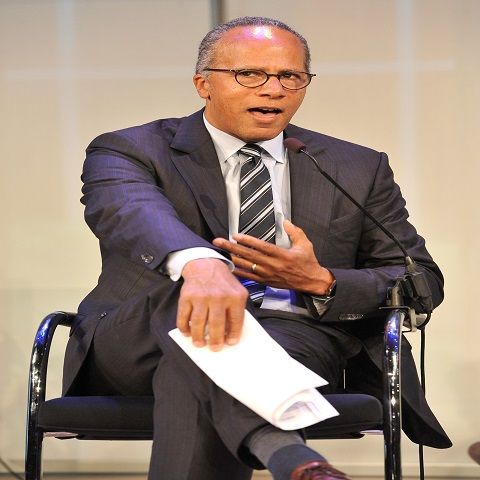 [ CAPTION: Lester Holt ]
[ SOURCE: typeset ]
Close friends of the couple have stated that their relationship is going in a downward spiral. It has also been a long time since the couple was seen together in public.
As per sources, the couple does not have any communication and is not in touch. Various news outlets have reported that the tension between the two is on the rise.
Lester Holt's job as NBC Nightly News anchor keeps him pretty busy. He has a strong commitment towards his work. It has also been reported that Holt rarely stays home and spends time with his family.
The anchor spending less time with his family is considered as the main reason behind him falling out of love with his wife of 33 years.
SEE: Five Facts you need to know about Lester Holt
Reports claiming Lester Holt was dating one of the backstage productions crew from his show had surfaced on the internet, earlier this month.
This rumor seems to have added fuel to the already burning fire in Holt's married life. The distance between him and his wife seems to have increased even more after those claims.
[ CAPTION: Lester Holt ]
[ SOURCE: suntimesmedia ]
Lester Holt has two children with his wife. It is suggested that the children are the only thing that is keeping Holt from getting a divorce at the moment. The divorce could make his children's life uncertain. Reports suggest Holt loves his kids far too much to let that happen.
More on Lester Holt
Lester Holt has a multi-racial ethnicity. He is a popular figure in white and black community alike. In fact, Holt is one of the few TV personalities to get equal love from both the community.
He claims he is a supporter of peace and justice, rather than a supporter of a particular community. This style of his has won him millions of followers.
[ CAPTION: Lester Holt ]
[ SOURCE: cdn1 ]
With a lovable personality and charming looks, Holt has millions of fans worldwide. Holt's look appeals to a wide spectrum of people. Gay or straight, male or female, all of his fans seem to have an interest in Holt's body.
"Shirtless Holt" makes a frequent appearance in the most googled keywords. However, to his fans disappointment, there is not even a single photograph of Holt shirtless.
Lester Holt Net worth
Lester Holt earns the good sum of money in his career. His yearly salary is $4 million. Lester Holt's net worth is valued at over $20 million dollars. Calm and collected, Host has an amazing personality.
So, it can be said for certain that even if Holt gets a divorce with his current wife, it would not be difficult for him to get a girlfriend (if he doesn't have one already).
Ten Facts about Lester Holt
1. Lester Holt's full name is Lester Don Holt Jr.
2. Lester Holt was born on March 8, 1959, and is 59 years old.
3. Lester Holt was born in Marin County, California, United States.
4. Lester Holt started his professional career in 1981.
5. Lester Holt's net worth is around $4 million.
6. Lester Holt joined NBC Nightly News in 2015.
7. Lester Holt married Carol Hagen in 1982.
8. Lester Holt shares two children with wife Carol Hagen.
9. There were several rumors regarding Lester Holt divorcing his wife, Carol Hagen.
10. Lester Holt stands 6 feet 2 inches tall.