Whitney Houston, a truly iconic vocalist, captured the hearts of millions with her unforgettable melodies and powerful performances. Her timeless hits, including classics such as "I Will Always Love You," "I Have Nothing," "I Wanna Dance With Somebody (Who Loves Me)," and "My Love Is Your Love," have left an indelible mark on the world of music.
Standing tall at 5 feet 8 inches (173 cm) and weighing 134 pounds (61 kg), Houston possessed not only an incredible voice but also a commanding stage presence. Her legacy continues to shine brightly, inspiring generations of artists and music lovers alike. Let's talk about her crazy love life.
Was Houston Seeing Anyone At The Time Of Her Death?
At the time of her passing, there were speculations about Whitney Houston's romantic life. It was rumored that she was in a relationship with Ray J, a singer and actor. While neither of the two confirmed their romance publicly, at that time, rumors about them being together started circulating as far back as 2010. Their alleged relationship reportedly continued until the tragic event of her passing in 2012. Despite the lack of official confirmation, their connection sparked curiosity and discussions among fans and the media, adding to the complex and intriguing legacy of the legendary singer.
Late Whitney Houston's partner, Ray J
SOURCE: RayJ Official YouTube Channel
Houston's untimely passing was a shock to the world. She was only 48 years old when she tragically died at a hotel in Beverly Hills on February 11, 2012. The circumstances surrounding her death were deeply saddening. Authorities ruled her death as an accidental drowning, with the presence of heart disease and cocaine use noted as contributing factors. This revelation shed light on the struggles she might have faced, underscoring the importance of addressing health issues and the dangers of substance use.
Houston's Boyfriend Blamed Himself For Her Death
Houston's passing had a profound impact on those who were close to her, including her boyfriend, Ray J, who carried a heavy burden of guilt. During a conversation with singer Stacey Francis on the show "Francis," he opened up about his feelings of responsibility for her death. It was a topic he rarely discussed, but he sensed that it was something important to the singer's memory.
In their heartfelt conversation, Ray J revealed that he holds himself accountable for many aspects of what had transpired. This candid admission showed the depth of his emotions and his struggle to come to terms with the tragic loss of someone he cared deeply about. Such moments of vulnerability highlight the complexities of grief and the lasting impact that a loved one's passing can have on those left behind.
Francis had famously, found herself entangled in a heated dispute with Houston, a mere two days before the heartbreaking death of the iconic singer. The incident unfolded at a pre-Grammy party hosted by singer Kelly Price at Tru Hollywood. Whitney, who had been indulging in tequila, noticed Stacy and her lover Ray J engaged in conversation and swiftly approached them, as mentioned in an article from The Sun.
Fuelled by the effects of alcohol, Houston's emotions surged, and she confronted the pair passionately. Amid the tense scene, her voice echoed with shouts, declaring her claim on Ray J. She emphatically shouted, "This is my man! I'm a cougar! B***h, get away from my man." The confrontation captured a moment of intense emotions and added another layer of complexity to the narrative surrounding the singer's life.
Was Houston Ever Married?
Yes, Whitney Houston experienced the bond of marriage during her life. She was wed to Bobby Brown, and their marriage endured from July 18, 1992, until April 24, 2007. Their wedding was a grand affair, witnessed by a gathering of around 800 people, all assembled at her lavish five-acre, $11 million mansion in New Jersey. The event was a lavish celebration, reflecting the couple's prominence and the joyous occasion.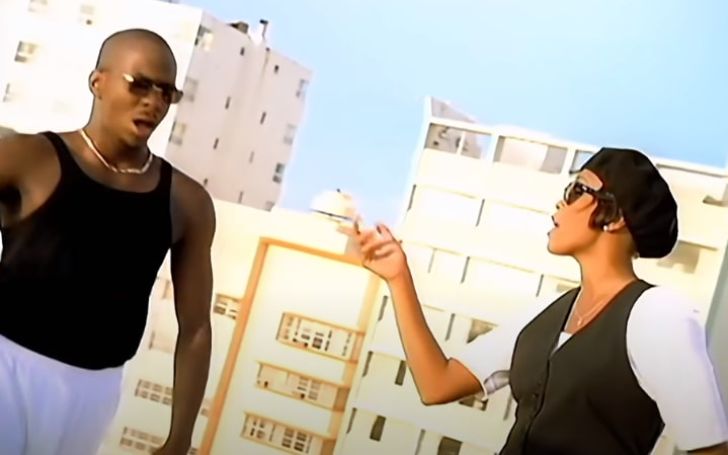 Whitney Houston and Bobby Brown in Something In Common Music Video
SOURCE: Bobby Brown YouTube Channel
Whitney adorned herself in a stunning $40,000 French lace gown designed by Marc Bouwer, radiating elegance as she embarked on this new chapter of her life alongside Brown. The union between these two influential figures marked a significant moment in both their personal lives and in the public eye, leaving a lasting imprint on the collective memory of those who followed their journey.
Before the wedding, Brown had found himself gripped by uncertainty and fear, leading him to seek refuge in the bathroom. His heart was clouded by doubts about whether Houston truly held love for him. Overwhelmed by his emotions, he locked himself away, seeking solace from his anxieties. It was his close friend Alicia Etheredge who managed to gently persuade him to emerge from his seclusion. As fate would have it, in 2012, he found the courage to walk down the aisle once again, this time with Etheredge.
How Had Houston Met Her Ex-Husband?
Bobby Brown and Whitney Houston first met on April 13, 1989, at the Soul Train Music Awards. Their introduction was accidental yet amusing. She bumped into Bobby while hugging her friends from her seat behind him. She playfully apologized, and he responded with a mock-serious comment, creating a lighthearted moment. She initially thought he might not like her due to his response. However, this chance encounter would eventually lead to a significant connection that would shape their future in unexpected ways.
Following their initial meeting, Houston invited Brown to her 26th birthday party in 1989. About four months later, they unexpectedly encountered each other again at a BeBe and CeCe Winans concert in Los Angeles. After the concert, he took a bold step and asked her if she would go out with him. She agreed, and their first date happened the very next night. This sequence of events set the stage for a blossoming romance that would capture the hearts of many and shape their journey together.
The Divorce With Brown
Houston's journey took a challenging turn as she pursued the path of divorce from Bobby Brown. In 2006, she took the step of filing for divorce, a decision that eventually reached its conclusion on April 24, 2007. Their 14-year marriage, often marred by rumors and speculations, carried a heavy burden. Reports of infidelity, instances of physical abuse, and a pervasive presence of drug use painted a somber picture of their relationship.
Robyn Crawford, Houston's Assistant, shed light on the tumultuous dynamic that existed between Houston and Brown, revealing that conflicts seemed to arise almost immediately after their wedding. This period of strife and eventual separation marked a chapter of the singer's life that highlighted the challenges she faced in both her personal and public spheres.
The turbulence in Houston and Brown's relationship became apparent early on, with their first fight occurring during their honeymoon. She bore a visible scar on her face, a three-inch cut running from her cheek to her jaw, serving as a poignant reminder of their challenges. This wasn't an isolated incident; in 2003, he faced charges of misdemeanor battery related to domestic violence, as mentioned in an article from People. These instances shed light on the difficulties within their marriage, highlighting the strains of fame and personal struggles in their relationship.
The Late Singer Has A Long Dating History
Whitney Houston's romantic journey spanned several significant relationships. Before her marriage to Bobby Brown, she was engaged to the well-known comedian and Eric Murphy's father, Eddie Murphy from 1982 to 1983. Alongside her musical successes, the singer's heart was entwined with her close friend Robin Crawford from 1987 to 1989.
Another chapter of Houston's dating history unfolded with Randall Cunningham, a former NFL quarterback, during the years 1985 to 1987. Before these connections, Whitney shared a relationship with Jermaine Jackson, a member of the famous Jackson family, from 1983 to 1985. These diverse relationships showcased different facets of her life, portraying her as a complex individual navigating both love and fame amid her remarkable journey.
Check Out Hitberry for more