Kari Simmons- the "Sports Gal"
Kari Simmons- the "Sports Gal"
Kari Simmons (née Crichton) is the wife of sports columnist William J. Simmons, who is famous as Bill Simmons. Bill Simmons is a former writer for ESPN magazine and 'Jimmy Kimmel Live!'. He runs a website, bostonsportsguy.com, which helped him earn his job at ESPN. His net worth is estimated at $15 million.
Bill runs a website, bostonsportsguy.com, which helped him earn his job at ESPN. His net worth is estimated at $15 million. Today, let's dig into the personal and professional life of Kari Simmons. Check it out:
Kari Simmons's Personal Life
Kari and Bill got married in 1999. Now, at the moment, the couple shares the marital life of around 18 years, and you know, their relationship is still going smoothly as silk. There are no any rumors of their separation or divorce issues talked in the media.
CAPTION: Kari Simmons's Family
SOURCE: Fabwags.com
Together, the couple has two children together, Josephine "Zoe" Simmons and Ben Simmons. Kari gave birth to their first child, a daughter, Zoe Simmons on May 2, 2005, and second child, a son, Benjamin Oakley Simmons on November 1, 2007. Kari was born to father James Crichton and mother Sandra Crichton in the year 1971. She has a brother, Joseph, who tied the knot to Karen. Their older brother passed away in 2011 at 49 years of age.
Kari Simmons's career
Simmons wrote short articles for ESPN's website. She is credited as "the sports gal" and shares her husband's page 2 column. Her articles are short rants on whatever has been bothering her. She talks about a variety of topics including but not limited to her husband's obsession with sports and the television show The Bachelor.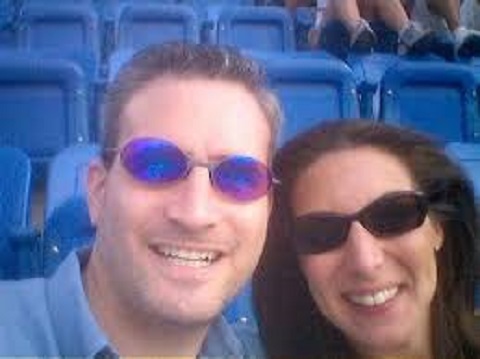 CAPTION: Kari Simmons's husband
SOURCE: Fabwags.com
She also writes about Celebrities like Katie Holmes, Tom Cruise, Angelina Jolie and Britney Spears, sometimes citing her disapproval of their way of living. In one of her rants, she writes:
"I used to like Angelina Jolie. Ever since she starred in "Gia," I admired her flawless natural beauty, as well as the many character flaws that made her more likable and less threatening overall. Maybe she was a recovering drug addict, a cutter, a brother kisser, and a blood vial-wearing skank who looked like she showered once a week, but she didn't care what others thought and was comfortable going out in public without tons of makeup on. So that made her likable, at least to me. Even when she married Billy Bob Thornton, who's disgusting, I didn't hold it against her.
Kari Simmons short bio
Kari attended St. Bonaventure University, which is a private Catholic University in Allegany, New York. She has previously resided in Mesa, Arizona; Scottsdale, Arizona, and New York. Kari currently lives in Los Angeles, California. She has worked for Habama, Inc. which is a private e-business.
According to Bill's social media accounts and his articles on the ESPN website, Kari has once run a marathon and recently adopted a rescue puppy.