Canadian actress Katheryn Winnick is well recognized for her roles in movies like Bones, A Glimpse Inside the Mind of Charles Swan III, and recently for series Viking. Leaving professional career aside, who is Katheryn Winnick dating or still single or already married?
Apart from this, Kathyern is also known for her outstanding role in The Art of the Steal. Katheryn Winnick's millions of fans are surfing around to know every personal detail regarding his dating history, past affairs, boyfriends, and more:
Who is Katheryn Winnick Dating Currently?
The Vikings star Katheryn is recently surrounded by the rumors of dating her co-stars from the set of her series, Travis Fimmel. Fimmel stars in opposite Katheryn in the history channel series Vikings. If you are a fan of this series, then you might already know that there is an on-screen couple.
No doubt this fueled the rumors of their dating. Although their dating rumors were on the internet, again they were spotted shopping together, which further fueled the fame.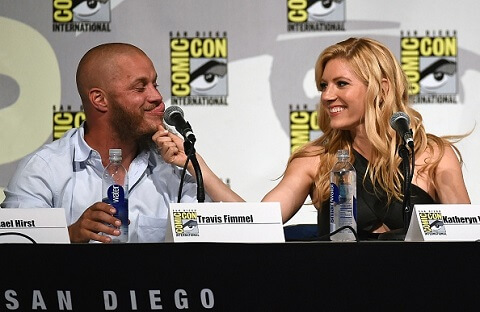 CAPTION: Travis Fimmel and Katheryn Winnick
SOURCE: koreaportal
Australian actor Travis is a heartthrob of many ladies, and it will not be wrong to say linking Kathern name with Travis will break millions of ladies heart. But here is the relieving news ladies, Travis is single so is Katheryn Winnick.
CAPTION: Katheryn Winnick
SOURCE: fanpop
The 40 years old, an actress is nowhere to get into the relationship. Where celebrities of her age are often dragged on the rumors of dating, Katheryn simply denies the rumors or seals up her lips most of her times.
After coming across her Instagram and other social media account, we have to say she is well focused on the career and rarely uploads pictures with another man. Most of her posts are from her movie sets, and it seems like Katheryn is enjoying her solitary life.
As for now, the Katheryn is single. And you know what they say about a successful woman, a busy, vibrant, goal-oriented woman is so much more attractive than a woman who waits around for a man to validate her existence. Well, Winnick is successful and is attractive, more like beauty with brain.
Katheryn Winnick's Past Relationships and Affairs
After unwrapping Katheryn Winnick's dating history, Nick Loeb is the only name that popped out. Ex-fiance of Sofia Vergara, Nick was linked with The Dark Tower actress, but even rumors would get on the internet, Katheryn shut it down.
In an interview confirmed, the 40-year-old actress and the 42-year-old actor, are nothing more than a friend and they are not definitely in a relationship.
This rumors caught lots of attention right after Nick broke up with his ex-girlfriend Sofia Vergara. The Modern Family star's ex-boyfriend was spotted dating with Katheryn on the night of January 2015. That cold night in Los Angeles was seen resting hands on Nick's chest.
Read more: Modern Family Star Sofia Vergara Flaunts in Bikini And Bare Body - Gloria Delgado-Pritchett - Facts and Photos
The rumored couple was spotted outside at the Sunset Tower Hotel before driving off in Katheryn's White Porsche. Jow was wearing a tan jacket where on the other hand Winnick looked stunning with a black dress.
CAPTION: Katheryn Winnick and Nick Loeb
SOURCE: dailymail
But they didn't comment anything on an interview when asked about their relationship. Check out this interview,
In this interview, when asked about the person Katheryn romantically linked with, she simply denies being in a relationship. When asked about the relationship with Nick, she said:
We never dated !!!!
Whether is true or not, you are the judge. What did you think about it? Comment below:
Ten Facts about Katheryn Winnick
1. Katheryn Winnick was born on December 17, 1977, and is 40 years old.
2. Katheryn Winnick was born in Etobicoke, Toronto, Canada.
3. Katheryn Winnick started his professional career in 1999.
4. Winnick's full name is Katerena Anna Vinitska.
5. Katheryn Winnick started martial arts' training at age seven.
6. Katheryn Winnick is currently single.
7. There were rumors of Katheryn Winnick's dating relationship with Travis Fimmel and Nick Loeb.
8. Katheryn Winnick's brother Markjan Winnick is also an actor.
9. Katheryn Winnick won silver medals for Tae Kwon Do in the Canadian National Final.
10. Katheryn Winnick does not like politics and does not take any sides.