Turn your Wounds into wisdom as Oprah Winfrey said. For those few people, who have not watched The Oprah Winfrey Show, she is a media personality, TV host, actress, producer, philanthropist and the list goes on.
Nevertheless, Oprah Winfrey became a billionaire with a net worth of whopping 3.1 billion dollars despite being born in poverty that she had to wear a potato dress. Stay on the page to know her incredible story. We bet you will get inspired.
Oprah First, 'People are Talking' to 'The Oprah Winfrey Show'
Oprah Gail Winfrey, unlike other rich billionaires, made money by herself. Hence the ninth richest self-made woman, according to Forbes. Let's know her rags to riches story.
Oprah Winfrey on Forbes magazine's 400 richest people in America list Source: Forbes.com
It all started in the 1970's when Oprah Winfrey first got transferred to a new show, People are Talking. Apparently, because she was too emotional for a news co-anchor and reporter.
Source: pinterest.com
Nobody thought Oprah could be a match for Phil Donahue, a famous TV host at the time, let alone a black female breaking his show ratings. Moreover, the media was then dominated by white men.
Oprah Winfrey proved everybody wrong when the show broke Donahue show's record as the highest-rated talk show in Chicago.
Her grandma recognized small Winfrey's talent before anyone. She told Oprah owned the stage once she could talk. Time magazine even wrote praising her as
What she lacks in journalistic toughness, she makes up for in plainspoken curiosity, robust humor and, above all empathy. Guests with sad stories to tell are apt to rouse a tear in Oprah's eye .They, in turn, often find themselves revealing things they would not imagine telling anyone, much less a national TV audience.
Thus started her never-ending journey to stardom and fortune. So there you go; produce and hosts your own show.
Not that fast, folks. You gotta be emotional and learn the game of giving and taking empathy but she was a natural.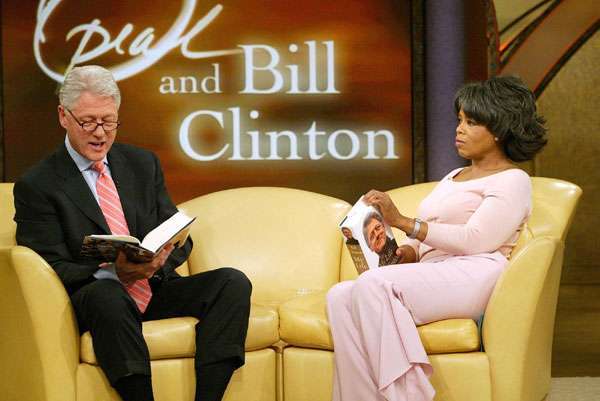 Bill Clinton on The Oprah Winfrey Show Source: chinadaily.com.cn
Although this show was the ace card that flooded her with money along with fame there are still other cards left to unfold.
Oprah is admired by many people as an influential woman who rose from rags to riches yet stayed true to her ground. This nature of hers added essence to her core values.
Oprah, the Cable Queen started her own Channel
After her successful show, multimillionaire Oprah bought the ownership of "The Oprah Winfrey Show," the main source of her wealth, generating $300 million a year during its peak.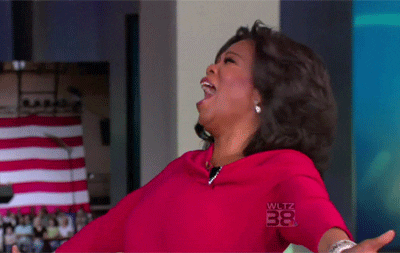 The queen of daytime, Oprah started her own production in 1988 called Harpo in addition to her channel but later she sold it in 2016. She ran The Oprah Winfrey Show in Harpo studios from 1990 to 2011.
Harpo Studios campus on sale for $32 million Source: telegraph.co.uk
Did you notice anything interesting behind the name, Harpo? Spell Oprah backward! LOL. Her name Oprah was also an accident. Her original name Orpah was actually misspelled.
This might have worked like a charm for her. You could try changing your name too.
Additionally, Oprah also initiated a campaign by launching a network in 1997 called Angel, aiming to help needy people.
The Angel Network collected millions of dollars and in turn granted a $100,000 'Use Your Life Award' to people who dedicated their lives to improve the life of helpless people.
See the video here on Hitberry.
https://vimeo.com/139266287
By the year 1988, Winfrey turned to be a millionaire at the mere age of 32 with a net worth of $30 million.
In 2000, Oprah owned a magazine, O The Oprah Magazine which was selling 2.5 million copies on an average.
The first Cover of O Magazine in 2000 Source: etonline.com
Winfrey, now 63-year-old further obtained her own satellite radio channel. Meanwhile, she was also doing several Broadway shows, acted in several televisions, movies, and even musicals.
In 1985, Winfrey co-starred in the movie, "The Color Purple" for which she even received an Academy Award for Best Supporting Actress.
Oprah in The Color Purple
Source: thebritishblacklist.com
All her possessions, wealth and incomes combined together earned her more than $225 million a year. Later Oprah Winfrey also organized a Book Club, co-authored a bunch of books.
Toni-Morrison-on-Oprah-Winfrey's-Book Club
Source: achievement.org
At the same time, she also ran "Oprah & Friends", a new 24-hour channel and launched her own official website. Oprah.com.
Ex-president Barack Obama awarding Oprah the Medal Of Freedom
Source: hollywoodreporter.com
In 1995, she became the richest woman in entertainment. Her net worth at the time had soared to $340 million, not so far being a billionaire.
As if the entertainment mogul did not own enough channels, Oprah added another channel called OWN: Oprah Winfrey Network in 2011.
Source: pinterest
Despite all these multiple sources of income, her major share came from her hard work or in her case, talk shows.
Oprah, the Self-made Woman Creates Her own Promised Land
Born Kosciusko, Mississippi, Oprah Winfrey was bullied by her friends and traumatized because of her poverty. But look at her now.
Oprah is richer than Michael Jordan, Tiger Woods, and Will Smith combined. Why, she is the first black woman billionaire, after all. Check her Forbe's profile.
Given the trouble, she had to go through, sexually abuse and molestation and early pregnancy, Oprah knew many other women were also experiencing the same. She understood that the only one thing that could change this is education.
Oprah interviewed by David Letterman as she opened about her traumatic childhood
Source: dailymail.co.uk
Oprah gave her $40 million to build a school for girls in South Africa: the Oprah Winfrey Leadership Academy. She has donated time and again, giving millions away to several charities too. Hence she is a giver too.
Here's a video how the school changed the lives of many African girls.
https://youtu.be/cvC94JE1avc
But what is the use of being filthy rich when you can't use some for your luxury after all you got one life to live? Oprah is well aware of that.
As a matter of fact, she travels around the world in her own $42 million, custom-designed Global Express XRS jet.
$42 million custom-designed Global Express XRS jet in which Oprah Winfrey travels the world around. Source: pinterest
Similarly, Oprah has been living in a $52 million Montecito, Calif., estate, since 2001 which includes a teahouse. The gardens of the promised land as she calls are said to have filled with a new rose hybrid produced by her gardener over five years period.
52 million Montecito Calif Estate or the promised land of Oprah Winfrey Source: businessinsider.com
The Legends rose is said to have black tips and ruffled petals dedicated to the 18 African-American women—the legends
The gardener spent five years producing new rose hybrid for the state's garden Source: oprah.com
The Presidential Medal of Freedom receiver owns several other mansions, one in Kula, Hawaii and another one in Maui and a vacation home on the shores of Antigua.
Oprah owned vacation home in Antigua Source: businessinsider.com
Oprah seems to be very fond of different types of houses as she is reported to have a shore house in Lavallette, NJ, a ski villa in Telluride, Col., and a home in Douglasville, Ga.
Idyllic farmhouse owned by Winfrey in Kula Hawaii since 2002 Source: businessinsider.com
Hell Oprah even owns a street not literally but a street in front of the Harpo Studios named after her, Oprah Winfrey Way. How cool is that?
Oprah seems damn happy when the Mayor, Richard Daley renamed blocks in front of Harpo Studios, Oprah Winfrey Way Source: theGrio.com
Although Oprah Winfrey is the richest self-made woman in America, highest-paid television entertainer, powerful celebrity and much more, yet she will stay as our gal, the lady from The Oprah Winfrey Show.