Hoda Kotb is in Relationship with Joel Schiffman After Divorce from Burzis Kanga, Detail Here
Hoda Kotb is in Relationship with Joel Schiffman After Divorce from Burzis Kanga, Detail Here
Breakups and divorces are just common in the present context. We often hear about divorces and re-marriages. Even after their divorce and breakups, they find new partners and start enjoying their relationship. Moreover, some of them even get success in their new relationship. On this note let's talk about Hoda Kotb and Joel Schiffman's relationship.
NBC's news anchor and TV host, Hoda Kotb after divorce with Burzis Kanga, is happily enjoying her life with her partner Joel Schiffman. Well, let's know more about Kotb's relationships.
Hoda Kotb is in a healthy relationship with her partner Joel Schiffman
After her unsuccessful relationship with Burzis Kanga, Hoda Kotb is happily enjoying her days with an American financer Joel Schiffman. Kotb was previously married to Burzis Kanga in 2005. But just after two years of their marriage, the couple divorced in 2007.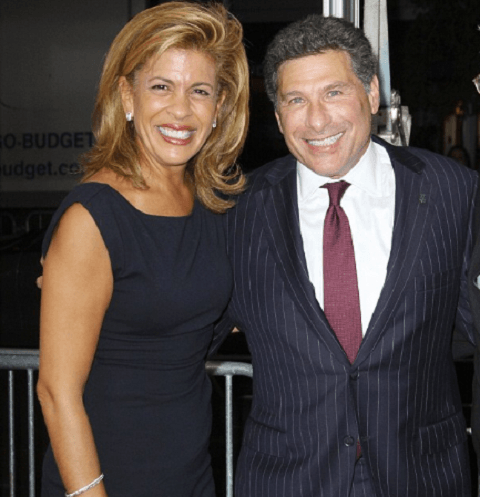 [ CAPTION: Hoda Kotb and Joel Schiffman ]
[ SOURCE: Dailymail ]
After her divorce with Burzis, Kotb started dating an American financer, Joel Schiffman. But Kotb successfully kept her relationship secret from the public. As we know that, truth can never be hidden forever. Similarly, the truth behind her relationship with Joel also ultimately revealed itself.
Kotb revealed her boyfriend's name after dating him for about a year. As per the source, Kotb and Joel met each other for the first time when they both attended the Wall Street event. Well, they are dating each other since 2013.
[ CAPTION: Hoda Kotb and Joel Schiffman ]
[ SOURCE: Usmagazine ]
In June 2017, the couple celebrated their fourth dating anniversary. Although it has already been four years of their dating, the couple is not married yet. Hope the couple soon get married.
Hoda Kotb and her partner Joel Schiffman welcomed their first child
The couple has already celebrated their fourth dating anniversary in June 2017. And yet the couple is not married yet. However, they have welcomed their first child into their lives. The couple has adopted an African child and is happy to have the little angel in their lives.
As Hoda is a cancer survivor and it was biologically challenging for her to conceive, the couple adopted a daughter, good for them.
Kotb and Joel welcomed their first child a daughter Haley Joy in February 2017. And Kotb officially mentioned about their child to the public through the morning show with a surprise and announced that she had adopted the baby girl.
She also said that "She's Valentine's baby. She is the love of my life." And further added,
"I didn't know my heart could feel like this. This is a moment in my life that I never thought would happen, and here it is, happening to me."
[ CAPTION: Hoda Kotb and Joel Schiffman ]
[ SOURCE: Instagram ]
Joel shared the first picture of their daughter in February on his Instagram with just two heart emojis on the caption.Likewise, on the occasion of their fourth anniversary, in June 2017, Kotb shared a beautiful picture of their three-month-old daughter on her Instagram.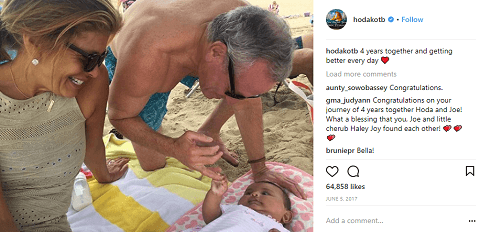 [ CAPTION: Hoda Kotb and Joel Schiffman ]
[ SOURCE: Instagram ]
In the picture, we can see the couple enjoying their precious time with their daughter on the beach. The couple is happy to be with each other. Although they are not married at the current moment, they may tie a knot in future. If they get married in future, we will surely share the information with you. Till then stay in touch with us.